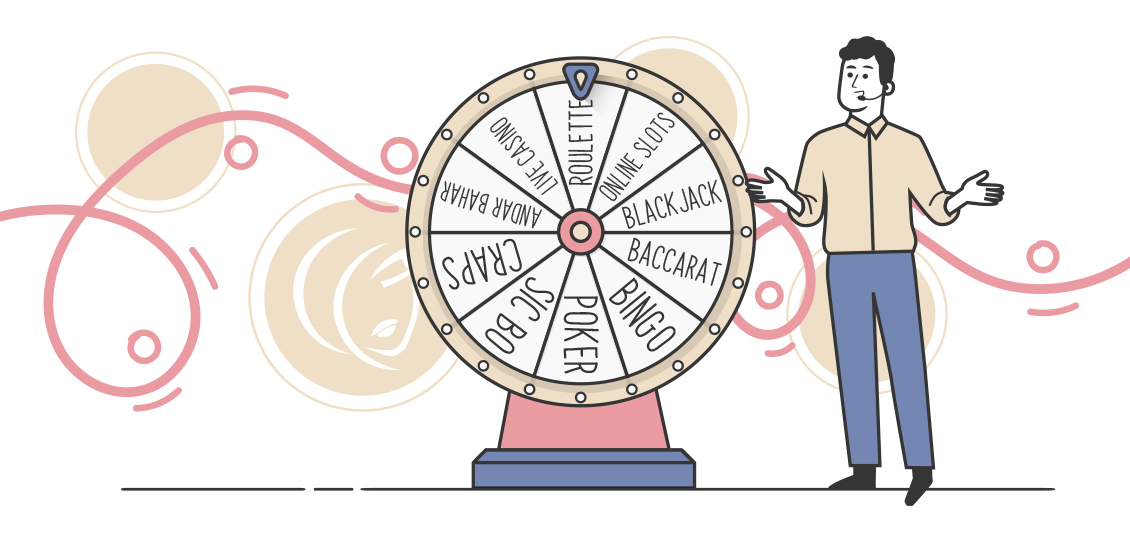 It's hard to cram all types of casino games found at online casino sites into one sentence. Experienced players know that, even if you are able to list all types of casino games, you still need to learn how to choose the right casino game for you. That's what we are here for.
This article gives you a comprehensive overview of the types and genres of gambling games found at female casino sites. Below you'll find a list of casino games as well as detailed descriptions of each type of game. We also have a guide for picking the best gambling game according to your tastes and preferences.
Types of Casino Games
Consider this guide to be divided into two parts: the first is where we introduce you to a detailed casino game list with all types of different casino games. In the other half, we teach you how to pick the best casino game for you.
In this section, we intend to show you all the types of gambling games that exist in the iGaming ecosystem. That includes online slots, bingo, as well as card and dice games, video poker, and even live game shows.
---
---
First Things First…
The first thing you should know about going through a casino games list is that there are several ways to classify them.
The easiest way to distinguish between games is to verify whether they are online or live casino games.
In most casinos, the lobby is split into two parts – the online and the live casino section. The former features RNG gambling games, i.e., the classic online casino games. The latter is reserved for live broadcasts of tables and game shows happening in real time.
You can also look at games as low-roller and high-roller games.
Low and medium-roller games are more for casual gamers, while high-roller games are made for players with deeper pockets. According to several studies and industry reports, female casino players prefer casual casino games that aren't as risky as high-roller tables.
Another popular way of categorising games is by branding them either as games of skill or games of luck. Luck-based games are games in which players invest little to no input to get the result, like roulette and slots. In skill-based gambling games, the outcome depends on the player's game proficiency. Prime examples are poker and blackjack.
You also have real money and free casino games. All gambling games are real-money games, meaning you can bet and win actual cash at those tables. Free games refer to demo versions which use fake, or fun money. You play for fun, not profits – the money you win in such games is not real!
Of course, these classifications aren't definite. Read below for better clarification.
Quick Summary: Game Classification
To sum up: there are several ways to classify gambling games on the internet:
Online versus live
Low-roller versus high-roller
Luck-based versus skill-based
Real-money versus free casino games
We'll discuss each categorisation in detail below.
Online Casino Games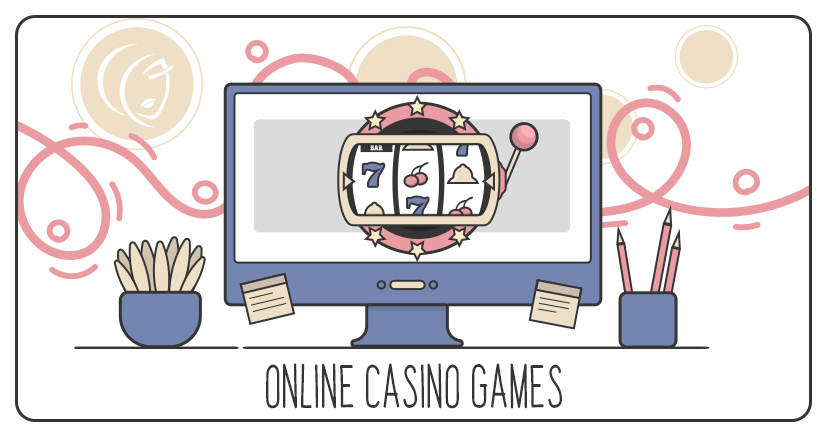 Online casino games are virtual casino games playable 24/7 at online casino sites. 
Generally speaking, when we say 'online casino games' we can refer to all gambling releases available at online casino sites. However, when we differentiate between online and live casino games, it's important to note that online releases are RNG, i.e., they use Random Number Generator, and are not played in real-time as live casino games are.
Here's a full list of casino games that are offered at online casinos for women:
Slot machines
Table games
Video poker
Bingo
Keno
Scratch cards and other speciality games
Video slots are the biggest and most diverse category, with thousands of releases launching each year. Other genres aren't as prolific but that doesn't mean they are not popular. On average, female players mostly go for slot machines and bingo (especially at UK casinos) because women generally prefer low-risk gambling to high-risk games.
Slot Machines
Video slots are currently the biggest category at digital gambling sites. However, as they are repetitive, they can easily become boring. To keep things interesting, software designers try and come up with fresh designs, themes, and mechanics for the players. So far, innovation has kept the slot game afloat and the players on their toes – and It's only failed to get acquainted with the vibrant slot ecosystem before you start playing online casino games for real money.
Slots have reels, so you can pick between 3-reel slots (the minimum number of reels) over 5-reels and 6-reels all the way up to InfiniReels (which basically means there's no limit to the number of reels you can get in one game).
Besides reels, the number of paylines is also important. Software companies have found several ways to increase the number of and thus attract more players. Slots can have from 1 to thousands of winning ways. Megaways, a legendary slot engine, offers up to 117,649 ways to win, and it has been the supreme slot mechanic across the globe. Over the years, suppliers devised upgraded versions which produce more ways to win, so be sure to check out such games if that's something you can be interested in.
Besides reels and paylines, players also care about themes. By far the most popular theme is Vegas, as well as ancient Egypt (and Greece and Rome, for that matter). There are also pirates, dragons, Irish leprechauns, fairies, and lost kingdoms – fantasy plays a key role here – but also branded slots bringing your favourite movie and show characters to life on the reels.
Table Games
We will discuss blackjack, poker, roulette, and baccarat a bit more below in the live casino section, as they are more popular in real-time terms nowadays than in RNG forms.
Table games are casino games that are played at a table. Those include previously mentioned blackjack and baccarat, poker, Andar Bahar, Sic Bo, Teen Patti, and even roulette in a way.
The main characteristic of these games is that they are played at a table in real mode, but in RNG terms, it's a static game that includes no human factor in the presentation. In other words, you won't see a single soul, except for the game, and you will play the game alone, not in the company of other players that chat with the croupier.
The most popular table game at online casinos is blackjack, most because it's a skill-based game which requires a certain level of proficiency. Not everyone can play blackjack, a fact many women realise as soon as they step inside a luscious online casino lobby.
If you are looking more for the classic casino thrill, you will love the traditional table games. The best advantage of online table games is that they are available 24/7, and they work as excellent training grounds for new players. If you want to build skills, it's better to start by playing online casino table games. Bonus points if you play for free as you will save money and still get to have fun!
Video Poker
We have been around for quite some time and we have to admit: we are not exactly sure why video poker remains all the rage to this day. Frankly, video poker is a watered-down version of poker, but given how difficult it is to translate poker into online terms, video poker bridges that gap most perfectly.
Video poker is also less complex than its live-action counterpart. It's also the reason why slots are called pokies in Australia – just ask the Aussie players.
It is still among the most sought-after categories at gambling sites, despite being far from lucrative and explored at the moment.
Bingo
The uncrowned sovereign of all gambling games – bingo! Ladies, you know how much we love bingo, so we won't waste words on waxing poetry in the name of bingo balls. Bingo is, and always has been, a remarkably popular pastime for many players. It has managed to resist many obstacles, innovations, and changes in the gambling realm, which is why it's still an attraction at gambling sites worldwide. The biggest market for online bingo is by far the United Kingdom. The UK has hundreds of casino websites which wouldn't dream of offering content without a dedicated bingo section.
If you grew up watching bingo games in bingo halls, online bingo will be a perfect match.
Keno, Scratch Cards & Specialty Games
Keno is another ball game that's quite similar to bingo. If you are into bingo, you should also try keno – it's a fun ball game which lets you pick your numbers (bingo doesn't). Newer casinos group it with speciality games as there aren't many keno games, so they are often all lumped together in a random corner.
Besides keno, the Specialty category also offers scratch cards, which are perhaps the most casual games that you can imagine. Easy, carefree, and entertaining, scratch cards are the embodiment of effortless entertainment. Few other games can compare to this unique game category.
The main reason why speciality games are so great is that they are a good way to take a break from adrenaline-fueled gambling. Ladies love it as it gives them a breather, and can be fun without being a costly option.
Live Casino Games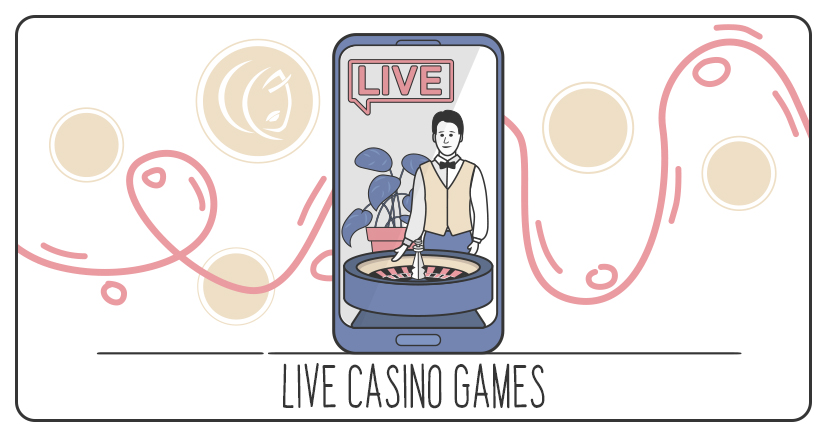 On the other side of the spectrum lie live casino games.
Live casino games are classic games played in real-time with the action being broadcast to the players.
There are two kinds of live games – studio-based and casino-based tables. Studio games are set in special studio environments built to host the game in question. Casino-based games are streamed from actual land-based establishments, adding a bit of that old-school, busy casino floor vibes for authenticity.
---
---
When it comes to categories, you can play any gambling game under the sun, including slot games. Live slots aren't a thing at the moment, but there are efforts to make them more mainstream in the future. For now, the main live dealer games that you can enjoy include:
Blackjack
Roulette
Baccarat
Poker
Sic Bo
Live game shows
Before we move on to the next section, we will briefly discuss each type of live casino game we listed above.
Blackjack
If you are a classic casino punter, you will definitely need to try blackjack. It's just the way of the world – you enter a casino, you open the blackjack lobby, and you play.
Blackjack, besides roulette and baccarat, is among the most coveted gambling games in the live niche, having hundreds of live blackjack tables on our top casino game lists. You might ask us: if it's a traditional game with the same set of rules for the past hundreds of years, what's so interesting about it? And how come there are so many live blackjack tables online?
Well, where there's high demand, there's high supply. What players want, players get – and even though blackjack isn't among the favourites for female players, we mustn't forget that iGaming is still a bit male-oriented, and many male players choose blackjack.
Roulette
What we said about live blackjack applies to live roulette as well. There aren't many changes in terms of rules – roulette is even more rigorous in terms of changes than blackjack – but software companies have been doing their best to bring innovation and refreshment into live roulette online.
As a result, we've gotten many roulette variants, we've seen the dealer missing – in auto and instant roulette, there's only the wheel – and we've seen prizes being randomly multiplied by the thousands. The most recent improvements in the field have brought in a fresh supply of fans who are enjoying what 'new' live roulette tables offer.
Baccarat
Another popular pastime is baccarat. Besides the first two games, this easy-to-play card game has been a constant both in European and Asian casinos. In fact, it's perhaps the most played traditional gambling game in Asian casinos, besides Asian-native gambling games.
Baccarat is a luck-based game, and its simplicity and unpredictability made it a fan-favourite choice. Even its many variants and spinoffs became famous, such as Punto Banco, Chemin de Fer, and Banque. A game quite similar to Baccarat named Dragon Tiger is trending in live casinos as well.
We have a detailed guide for baccarat games – both in live and online forms – so if you are into baccarat, don't hesitate to investigate. We will also teach you how to find the best baccarat casinos which offer bonuses and special promos for online baccarat games.
Sic Bo
Balls and dice are the definitions of luck games, and if there's a game that's played in live mode with dice, it's Sic Bo. No other game can come close in terms of popularity to Sic Bo, an Asian-native gambling game played with two dice.
Live Sic Bo was first introduced by Evolution, soon followed by Pragmatic Play and other live content providers. Today, all casino software companies who value their reputations have at least one Sic Bo live table in their arsenal.
We also think that the reason why Sic Bo is so widespread is that craps are hard to translate into live terms. Simply put, it took suppliers decades to think of a way to create a live craps variant that makes sense, as the social aspect is vital in craps. Live craps exist – but Sic Bo cannot be dethroned as the superior dice game.
Game Shows
A popular category that's reaching new heights of popularity each day and bringing new players into the fold is game shows. Game shows are live entertainment shows that feature a reality-themed show in live mode. Evolution popularised the genre with the addition of Live Dream Catcher and Monopoly. Soon enough, Mega Ball, Deal or No Deal, Crazy Time, and many other live game shows joined the fray.
Today, live game shows have their own sections in the lobby, and each release is a unique game with its special features, custom studio, and insane bonus prizes and perks. We at Casino Chick are well aware of the appeal live game shows hold for players worldwide, so we try to keep a full stock of the latest game shows in our game reviews. If you are not into traditional gambling but still want to try something in live mode, live game shows might be the answer to your prayers. Just prepare yourself for a wild ride, as they are very risky and highly volatile.
Low Roller VS High Roller Games
We've covered categories and types of casino games online. However, to fully understand how games work and how to choose the right one for you, you must also factor in the other three classifications.
Low-roller games are releases created for casual gamblers. Casual gamblers are players who prefer lower stakes and less risk, meaning they are there mostly for the fun, not for the money.
The same thing is for medium rollers, who are also casual players mostly focused on the fun part of gambling, rather than profits. Low and medium-casual players prefer online slots, bingo, keno, and speciality games.
On the other side, we have high rollers or players with deep pockets and a penchant for betting big. They wager a lot of money on a single round, and they expect big profits, which is why scratch cards and other speciality games are not appealing to them. They mostly go for live dealer table games and sometimes even slot machines with high volatility and massive win potential.
Luck-Based Games VS Skill-Based Games
Gambling heavily relies on luck. To be a gambler means you are putting your money at risk with the hope of hitting the right outcome, well aware that it can go both ways. Sometimes you win, sometimes you don't – it's all about Lady Luck.
However, not all gambling games rely solely on luck. Those that do not are called skill-based games, as they require a bit of input by the players before the outcome is revealed.
Over the years, cunning players have found ways to tip the scales in their favour and affect the house edge to be player-friendly. Those 'methods' are today called casino game strategies and betting systems, whose sole purpose is to increase winning chances by teaching the players what, when, and how to bet.
The most famous example is blackjack, a skill-based game par excellence. It's up to the players to decide what happens with the round, and you best believe players will do everything in their power to sway the house edge into their court.
Another skill-based game is poker, and we can also label keno as one.
On the other hand, slots are luck-based games, just like roulette. The same applies to baccarat, and Sic Bo. In these games, the outcome relies on pure luck and chance, meaning there's nothing players can do to affect the outcome.
Free Casino Games VS Real-Money Games
Another great way to distinguish between gambling games at online casinos is to pick between free and real-money gambling variants.
All gambling games are real-money games by default.
It wouldn't be gambling if it didn't include real money, you know? However, you are not required to play gambling games for real money only. Some providers and casinos also offer you a chance to try the games for free by playing in demo mode.
Demo mode is a great way to get a sense of the game and experience what it has to offer by playing for fun. Casual gamers, ladies especially, love playing for fun – and if they like the game so much, they are sure to give it a go in real-money mode.
Not all games have a free mode, though. You cannot play live dealer releases in free mode, as it is available only in real-money mode. You can play most slots for fun, though.
Casino Chick is big on free games, so you can find more info about free casino games in our guide above. Free games are an important part of the process, as they can help you build proficiency before you start with the real deal. In that sense, they protect your assets from unnecessary risks. And money management is paramount, ladies!
How to Choose the Best Casino Game for You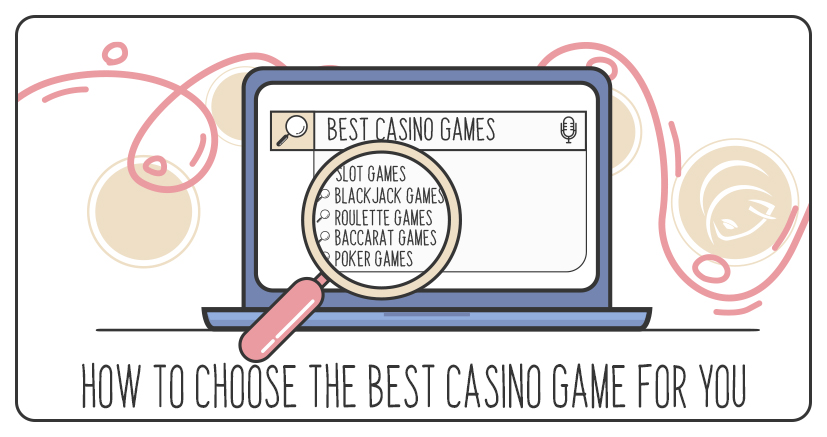 The process of choosing online casino games for you is not difficult, but there are things you should keep in mind before you bet actual money.
We already have a detailed guide for every casino game that you can play at the casino. Don't hesitate to try out each and every casino game here!
But if you aren't too keen on trying out each and every casino game on the site, but instead want a proper guide which will teach you how to pick the best game for your tastes, we got you.
Here are the most important steps in choosing the right casino game.
Identifying the type of casino games that you enjoy
Choosing to play online or in live mode
Narrow down the selection using game features and elements
Picking the platform: play on a desktop or mobile
Got that? Let's discuss the steps a bit more.
Step 1: Pick the Game Type
The first thing you need to do is identify the genre you like the most. From what you've seen above, do you have a sense of a genre that seems the most interesting to you?
For instance, is it slots? Or are you more into traditional gambling games? Just choose the type of casino game you find interesting the most.
If you are unable to decide, you can use the classifications we've described above. The division between low and high-roller games might help you here, as well as the luck-based and skill-based divisions.
Ask yourself: are you into big bets? Are you there to earn money, or have fun? If you are the type of person who likes to influence games and aren't completely sold by the luck aspect, then skill games it is! Moreover, if you want to play with wagers bigger than the minimum, you can also check out high-roller games. However, we must warn you: high roller games are extremely volatile and risky, which means you constantly risk losing big sums of money. Don't do it if you are not ready to part ways with that money.
Step 2: Live or Online?
In the next step, you should choose the mode of gameplay that suits your tastes the most. By now, you know the genre of games that appeal to you the most, which makes this step quite easier. For instance, if you chose slots, you know that you are automatically in the online realm and thus should head straight into video slot territory.
If you are more into table games, you do have a big choice to make: are online table games the right choice or should you give live games a go?
Two things affect this decision: your taste and skill level.
If you want the authentic casino vibe, the closest to that is live gambling. However, if you are a novice with little to no experience, live tables might be a big step for you. Consider trying RNG table games as they are less risky than their live-mode counterparts. An excellent way to bridge the gap is to play Evolution First Person games which are online versions of popular live tables. In each First Person game is a button that leads you straight into the live version of the game.
Step 3: Check out Game Features & Technicalities
Now that you've chosen the genre and mode, it's time to think more about the content. Content will help you narrow down the selection to a reasonable number. I don't know if you've heard but there are literally thousands of gambling games out there. There's literally no way you would be able to try them out all in this lifetime. And besides, that's our job, so the only thing you should do is read our game reviews.
But we're digressing. Features, everybody. Okay, what about them?
Well, features and specific game elements help you decide between different releases within the same category.
In table games, features don't really play a significant role as there's little to no diversification as with other casino game types. Roulette is roulette, just like blackjack is blackjack no matter what you do – but there are ways to make it spicy (with multipliers, side bets, and bigger payouts). Therefore, game technicalities are vital for new players.
If you are into slots, features are crucial as they define slot machines. Nowadays, slots come packing free spins, multipliers, wilds, and insane game mechanics and engines, so investigating features is a must if you want to play slots.
Step 4: Play on Desktop or Mobile?
Finally, the last step before you plunge deep into the iGaming ocean is to decide the screen on which you will play. This is in no way a deciding factor, as you can enjoy most modern releases on any device you want.
Moreover, gaming companies are more and more using the mobile-first strategy which entails developing games for mobile phones and then scaling them to fit desktop screens (the opposite of old-school games). Thanks to this approach, new games fit screens better, have zero lag and latency issues, and boast incredible graphics and visuals that are realistic and seamless.
Therefore, the size of the screen dictates the type of experience you're in. Playing on a desktop gives you a bigger screen, but you are also tied to the computer and are sitting at home. Mobile phones are smaller, but they can be taken on the go – and who doesn't like to play games on the go?
Think about the experience you want and find games that tick every box. Don't settle – there's too much choice nowadays to settle for something that doesn't feel like you 100%.
Conclusion
And that's it, the only thing left is to pick a site and start playing casino games. Or if you've been following our strategy tutorials, you have already picked the casino and claimed the welcome bonus. You are ready to start playing.
Stay tuned for more helpful guides from Casino Chick and enjoy various games reviewed by our team. We're here if you have any questions – just drop us a line in the comments section and that's it!
Frequently Asked Questions