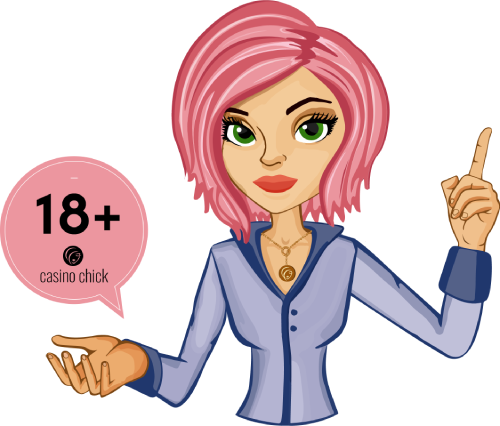 RESPONSIBLE GAMBLING
Gaming and gambling should be all about having fun. Most people will engage in some sort of gaming/gambling activity at some point and most that do consider it a recreational activity.
Occasionally though, casual gaming tends to grow into problem gambling and Casino Chick understands risks that come along with gambling.
She finds it her responsibility to raise awareness of these risks as well.
CasinoChick.com team also thinks of it as our obligation to help you recognise any potential harm that may be caused by excessive gambling and prevent it from happening.
With that in mind, Casino Chick is fully committed to promoting Responsible Gambling.
The first thing a player needs to remember at all time is that gaming/gambling should be understood as a leisure activity aiming to provide fun and enjoyment. This can only be if players learn how to remain in full control and prevent gambling from consuming their life and becoming a pathological, compulsive problem. Problem gambling recognises no gender and it can affect women and men, young and old alike. Once it reaches a point that it disrupts and interferes with your personal life, gambling should be addressed as a problem.
Recognising the issue is the first step towards full recovery and on their path to achieving full responsible gambling, players are encouraged to approach their family and people that are close to them. Players should also consider reaching out to professional organisations such as the BeGambleAware or the Gambling Therapy, organisations and free online services offering support to people hit by problem gambling, residing both within and outside the United Kingdom. Furthermore, GambleAware is a leading service providing education and treatment services aimed to reduce problem gambling in Great Britain.
Casino Chick fully supports the work done by these organisations but is also encouraging all players who might be affected or at risk from gambling to check the following list of suggestions and guidelines that could help them understand a problem and set limitations to gambling impulse in order to make it fun and exciting again.
Don't Gamble to Make Money
Gambling is not supposed to be considered a profession and understood as a means to make money. People struggling with a gambling problem will think they can beat the casino and chase that big win which might never come. Always try to play for fun and the thrill. When the fun stops, you should stop too.
Gamble with what you Can Afford to Lose
Money management is an important subject in gaming/gambling. You should always determine a sum of money in advance and allocate a weekly/monthly budget for gaming and always stick to it. Never exceed the pre-determined budget.
The idea that you have to stop losing eventually and that it is mathematically impossible to constantly be on the losing end will push you deep into the hole you'll struggle to get out of. If you lose money on gaming/gambling, never try to get it back by wagering more and exceeding your limit. This will, by default, lead to even bigger losses.
Deciding in advance on how much money you want to spend on a session is guaranteed to keep you safe. A vast majority of online casinos out there and especially the vetted establishments Casino Chick is backing on her list will offer you a chance to set a deposit limit on your account. After this is set, you won't be able to exceed the pre-determined amount.
Identify Emotions that Lead to Gambling
Think about what drives you towards gaming. Do you play to pass time and simply have fun in your spare time? Is it out of boredom? Identify the emotion triggering the gambling impulse and you're halfway to keeping it under control. Never play when you're feeling down, anxious, depressed or upset.
If gambling affects your other daily activities, if you're losing the sense of time and spend more and more time gambling and thinking about it, you need to react before it's too late. Never choose gambling over family, friends and work and make sure to speak up about your problem.
You can always get in touch with Casino Chick and she'll make sure to point you in the right direction.