About Apple Pay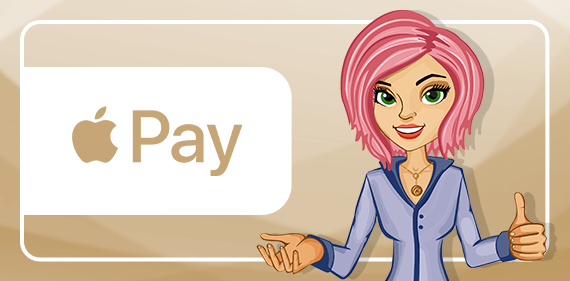 ApplePay was launched in the United States in 2014.
Since then, the banking service has expanded rapidly. It was first introduced in the United Kingdom in 2015, shortly after its American debut.
Their worldwide spread has since managed to include countries all around the world.
ApplePay is available in France, Switzerland, Spain, Singapore, Hong Kong, Australia and New Zealand, and more.
How to Make Deposits and Withdrawals with Apple Pay
Not many casinos accept Apple Pay as a deposit option. However, those that do make the depositing process pretty quick and easy. Here is how to deposit at casinos with Apple Pay:
First, you log in to your casino or betting site.
Choose Apple Pay from the list of available paying methods.
Input the amount you wish to deposit in the provided field.
Select the Apple Pay button.
Verify your transaction by using Touch ID on your iPhone.
Your funds are immediately transferred from your e-wallet into your online betting or gaming account.
Authentication makes Apple Pay unique and reliable. The verification process with Apple Pay guarantees safety and security while paying in internet casinos.
Voila! You are now ready to gamble online, girl!
How to Withdraw at an Online Casino with Apple Pay
Unfortunately, Apple Pay has no mechanism by which to withdraw funds back to an Apple Pay wallet. 😔
So, if you choose to deposit using this option, you'll also have to register a credit/debit card.
Alternatively, select a bank account or e-wallet service with their casino to withdraw funds.  For now, Apple Pay cannot be used for withdrawals at gambling sites.
Fees & Timeframes
Those casinos that accept Apple Pay as a deposit method do not, I repeat, DO NOT apply any fees to such deposits.
There is also no fee whatsoever attached to transactions by Apple.
Therefore, all deposits are free of charge, totally secure and instantaneous.
Why Use Apple Pay
Because it is fast, easy and most importantly, the safest option out there.
Any transaction through Apple Pay generates a unique number to your device. Therefore, you do not have to disclose any of your personal financial details with the ultimate destination of your funds. In this case, that would be an online casino. Furthermore, each deposit is also further protected by Apple Touch ID.
Your most recent purchases stay only in your Apple Wallet. This functionality is ideal for tracking how much you have deposited at your favourite casino. A great advantage if you're playing on a strict budget.
Plus, anything you deposit via this e-wallet is immediately at your disposal, completely free of charge.
Pros and Cons
Easy to use

Speedy & time-effective

100% safe & reliable

Instant transactions
Not available for withdrawals from online casinos

Android users cannot use Apple Pay