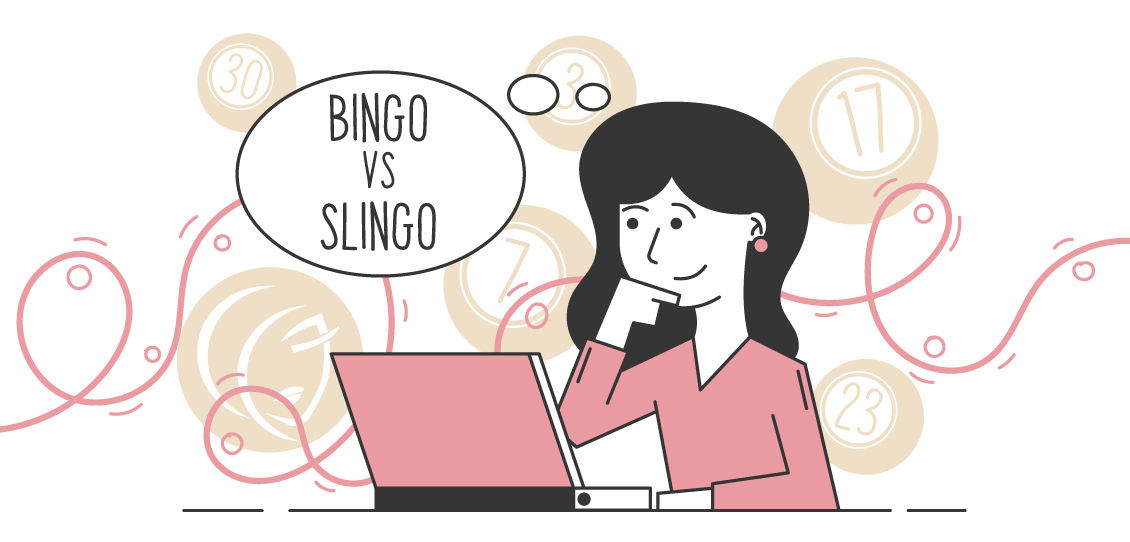 Slingo, bingo – they sound almost identical, right? They are exceptionally easy to confuse as well. We get questions from countless girls who play casino games about these games' nature and the difference between Slingo and bingo.
That's why Casino Chick decided to investigate the matter and bring you, dear readers, closer to the notion of Slingo games and bingo releases. As you are probably more familiar with bingo, we'll focus directly on key distinctions between these games. Moreover, we will teach you how to play Slingo and where to find the best Slingo sites.
Bingo vs Slingo
Bingo is a lottery-style game with pre-selected tickets and numbered balls. The game's goal is to match the numbers on the card with the drawn balls using the principle, the more, the merrier. Avid fans of bingo know how enthralling the game can be both in live mode and online. Even though live bingo halls have been the staple of gambling fun for many UK citizens, the online bingo rooms have slowly taken over as the popular heir to the immense bingo realm.
Precisely this love for bingo was the spark that created Slingo games. Today, both the original and the hybrid are famous, but how to tell them apart? What is Slingo? Let's start with the basics.
What Is Slingo?
Slingo is a hybrid of bingo and online slot games. Using tickets and reel number draws, players match numbers on the reel with the grid. If they complete lines, they get a payout. A line in Slingo is called a Slingo. Catching slingos increases your payout until you reach the top payout.
Although there are several variants of Slingo – and the game itself is a variation of bingo – the most common types include 5×5 grids with 5-row reels. One single reel below the grid rolls and displays numbers and Wilds (some versions feature Jokers). The games typically use 75 numbers, which is a bingo game element. If you complete at least one Slingo, you will get a chance to play Free Spins or purchase additional spins to increase the payout. However, extra spins cost more than the initial bet.
And now the big question.
What are the differences between Slingo and bingo?
A Comparison Between Bingo and Slingo Games
Bingo uses balls and pre-determined numbers on purchased cards. Depending on the number of balls (75-90), you try to hit as many numbers as you can during the draw. Slingo is similar but different. It uses 75 numbers and pre-determined cards, but the draw is slightly different.
While the number draw stayed in Slingo, the hybrid uses a reel (a slot element) to cast numbers on the grid. Matching the digits on the grid with the reel brings you closer to completing slingos. Whenever a number appearing on the grid shows up on the reel, it is marked off. However, while bingo plays out within a single-round draw, Slingo uses ten spins (or more) to showcase numbers you might match with the grid. Again, these spins, as well as free spins some variants offer, stem from online slots.
Instead of a drum and number calling, you have a slot reel that showcases digits you are to strike off from the Slingo board.
Key Differences
Slingo uses slot elements like reels, free spins, and special symbols
Bingo plays out in one round, while Slingo offers between 10 and 20 spins
Bingo features only numbers, while Slingo games might include several other symbols
There is no number calling in the hybrid variant
The History of Slingo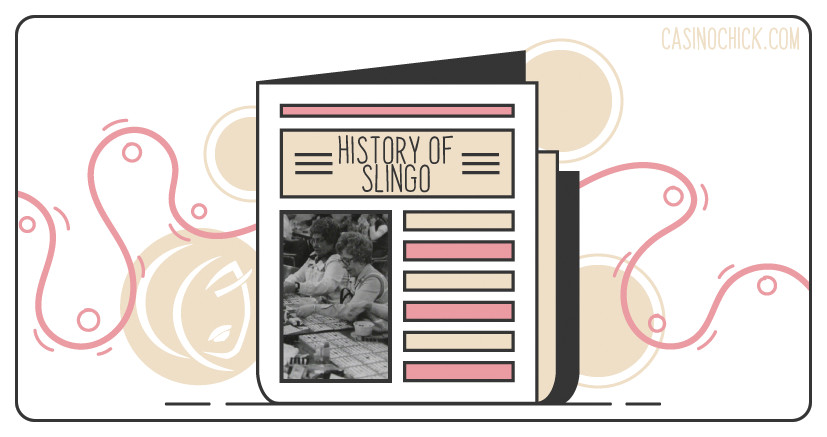 How did we come to such a variation? What happened to Slingo?
These are all legitimate questions we intend to answer right away. The story of how Slingo was invented is slightly shorter than bingo, as the original lottery-style game has been around for centuries. The new version, or better yet, the hybrid, has been around since 1994.
In 1994, Sal Falciglia Sr invented the game by combining the two of the most popular casino games – slots and bingo. Between 1994 and 1997, he developed the concept and adjusted it for land-based gambling halls. Soon, the game appeared in casinos and spread like wildfire across the US gambling scene.
The Slingo Inc. company grew steadily for years, launching several products like physical scratch cards and Zynga-supported free to play social games. However, the biggest milestone happened in 2015, when Gaming Realms acquired the company and started the first real-money gaming site online. Soon after, the Slingo Originals company was born, a gaming development company tasked with creating Slingo games for the UK and the US gambling markets.
Slingo Originals
If you want to play this fun hybrid game, you have only one place to look for inspiration. The only company that produces Slingo online games is Slingo Originals, a Gaming Realms subsidiary tasked with creating top-tier Slingo bingo games. Gaming Realms owns both the brand and the company, which means you won't find this type of games in any other portfolio.
Slingo Originals works with a slew of eminent platform providers and casinos, and they all have a right to showcase these clever creations in their virtual halls. In other words, if you find a slot-bingo game in a casino, it's because the site has signed a licensing deal with this same company.
Over the years, the firm has launched a string of highly successful releases, even picking up a couple of awards and accolades along the way. Their first two releases were Slingo Riches and Slingo Extreme, quickly followed by Deal or No Deal Slingo. The latter was made thanks to a brand deal with Endemol, the Deal or No Deal franchise owner.
The Originals subsidiary first set its sights on the US market. Rush Street Interactive was the first operator to distribute these releases to American casinos. A grand UK distribution plan was set in motion only a year later, and well-known gambling brands like LeoVegas and 888 jumped on the Slingo bandwagon.
The company is licensed by MGA and the UKGC, which means it is free to join any market that falls under the two reputable regulators' jurisdictions. It also means each release is tested and reviewed before launch and has passed all security and fairness tests. Right now, the company offers 40+ licensed games.
How to Play Slingo Online
Online Slingo bingo games are a combination of two of the easiest to play genres, which means getting around such a game is not hard either. Nevertheless, Chick is here for all you might need, including showing you how to play Slingo online.
To play Slingo, you will only need basic knowledge of bingo and slots gameplay. As you know, the hybrid mixes in elements of both games, like 75 numbers and cards, as well as reels and free spins.
Here is an example of a typical round of online Slingo bingo.
The player sets the bet for the round
The Play/Spin button starts the round of 10-20 spins
If the numbers on the reel match any number on the grid above, they are marked off
Occasionally, a Joker or Wild might appear, allowing you to choose which number spot you want to be marked off
If you get at least one Slingo, you will get a chance to enjoy additional free spins after the default spins end
You can also purchase additional spins for a higher price in hopes of chasing better payouts
If you don't reach free spins, the round will end, and you can start a new one
Variants may include specific rules and gameplay alterations, but this should not deter you from regular online Slingo playtime. Our advice is to go slow with the bets before you increase them. You never know how temperamental the game might be! Also, the additional spins you get to buy at the end might be pricey. So, be careful when you reach them as you might risk a lot of money for nothing.
Top Slingo Games to Try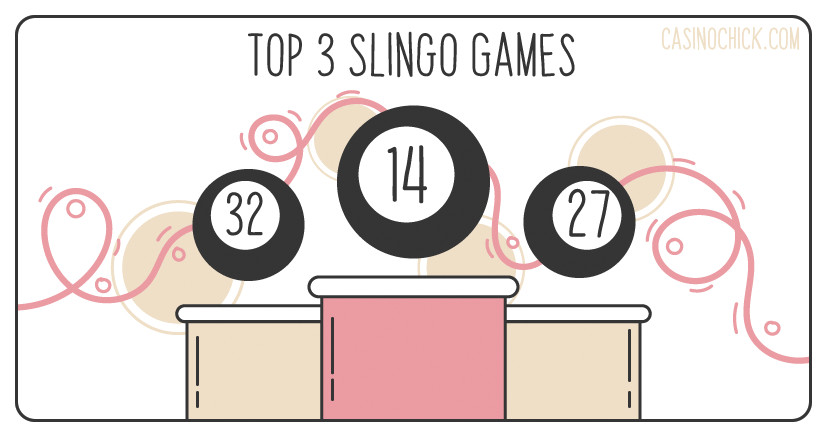 We've shown you the nature of this marvellous amalgamation, as well as the rules you'll have to follow once you start playing. But what to play? Is there a top choice among the 40 or so Slingo Originals?
Yes, there are. Here are the three most popular Slingo bingo games each player should try out.
Slingo Rainbow Riches
The girls interested in the bingo-slot combo usually start from the Slingo Rainbow Riches game. However, once they get past the novelty barrier and learn how to play Slingo Rainbow Riches, the sky is the limit. This exciting release offers you a chance to experience the best Irish-themed Slingo game on the market. The release is the product of a collaboration with Microgaming, the original Rainbow Riches online slot owner.
Monopoly Slingo
Another shiny gem in the Originals' portfolio, Monopoly Slingo, is here to show you the real beauty of Monopoly mixed with bingo! Built on the legendary Monopoly board game, this release uses Jokers, Chance and Community Cards, as well as 25 property cards to bring you payouts. SG Digital and Hasbro Inc, the owner of the Monopoly brand, are behind this magnificent release.
Slingo Starburst
For our third-placed Slingo game, we had to think really hard before we chose a title. Slingo Starburst, inspired by NetEnt's epic Starburst slot, had stiff competition. We had to choose between Slingo Classic, Slingo Berserk, Slingo Deal or No Deal, and dozens of other games that deserve a spot here. Starburst variant won because we were hooked on this game from the moment we started playing it. Since Starburst does not need any introductions, we will let you get acquainted with this mix on your own.
The Best Bingo Casinos Online
All this talk about the hybrid variant has made us want to play it, but we cannot forget about the original bingo. Online bingo is one of our favourite pastimes, but we cannot play at casinos that do not meet all our top criteria.
Here are the best bingo online casinos where you can enjoy various bingo rooms, variants, and even special bingo casino bonuses.
All listed venues own licenses from reputable regulators. Plus, they are not only abundant in bingo games, but some even offer Slingo games. Check out their reviews for more info!
Where to Play Slingo
Finally, we've reached the part where we show you the best gambling places to chase your slings out there. Ladies, we hope you are as excited to try out these ingenious creations as we were because we have only the best Slingo bingo casinos lined up for you.
Our first choice for a beautiful slot-bingo combined play is Mecca Bingo. Although it is dedicated to online bingo mainly, it's a haven for all creative spinoffs and variants of the number-calling games as well. Our warm recommendation indeed.
You can also swing by Kitty Bingo, as it has a superb collection of Slingo-spinning releases kept inside an entire section. This paw-tastic website accommodates ladies from all walks of life, and there's no doubt you'll be satisfied by their bonus offers too.
Finally, a site capable of charming every gambler in the book is home to a stunning selection of Slingo Originals' releases – PlayOJO. When it comes to gaming materials, this operator is certainly not playing around, although you do get an electrifying cocktail of releases you most certainly cannot run out of.
All these sites are licensed, regulated, and kept in check by strict authority bodies. Rest assured, you can explore the diverse ecosystem of bingo variants, including the slot crossover, anytime and anywhere you are. The question, "Where can I play slingo for free" does not even have to enter your thoughts with these venues. Visit the venues and play Slingo for free – or for real money if you are brave enough.
Conclusion
What's a girl like you going to do when she's out of gaming ideas? Play Slingo bingo, of course! Casino Chick made sure to present you with all the necessary knowledge you might need about the hybrid and original games. We've discussed their main differences – as well as similarities – but we also pointed out the rules, gave you an example of a round and top Slingo online games.
As you are equipped with playing skills, you can visit any of the recommended venues above and play Slingo for free and real money anytime you want. Of course, if you are still a bingo hardcore fan, no problem – we have a solution for that too!