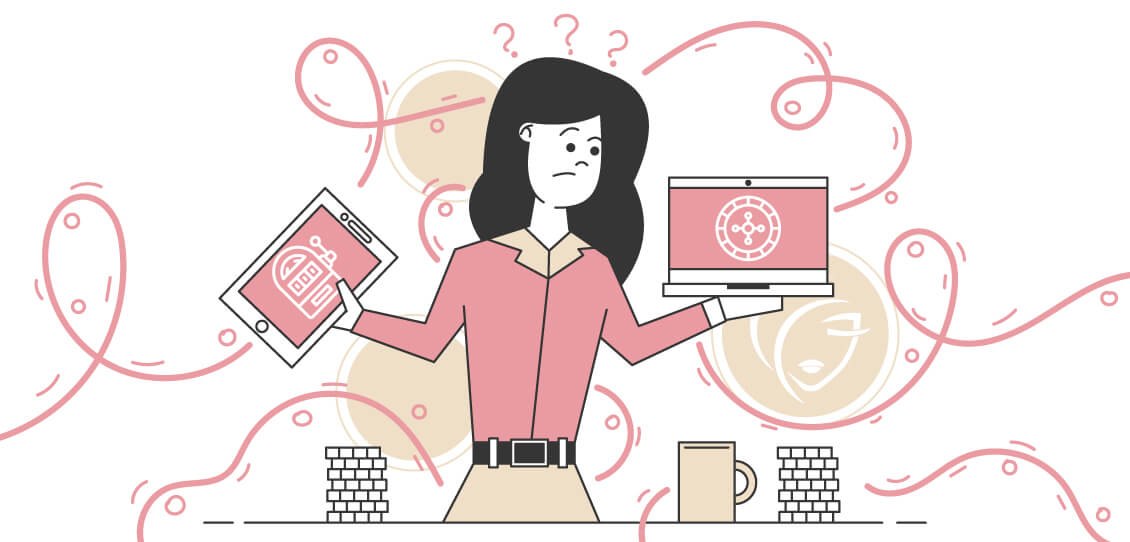 Alright, so you have found an online casino and it seems legit.
The designers polished the interface to a T; the vibe is welcoming, thumbnails of popular slots take turns on the shifting banner, everything's flashy and dandy, and so on. These things are appealing to the eye, but all that glitters is not gold. Have you had experiences with rogue online casinos? If you have, you will know that the attractive looks can be a cover-up for what's underneath the surface.
"Appearances can be deceiving."
Hold up, I am most certainly not saying that if an online gambling venue looks good, it has a dark secret; absolutely not. The appearance is important – it is the first thing you see after all, but some other factors are crucial.
Now that we have that controversy out of the way, let's get back to the topic.
When we are making a decision as big as sharing our private information with someone, we ought to be careful. It's key to get to know the person or the firm before we go ahead of ourselves and spill the beans. Why is it so important? First of all, the private data that the company got the hold of because you had provided it with it can be abused. It could be revealed to a third party, and an even bigger mess could be made. So better safe than sorry; thoroughly inspect the location before you choose to join.
"You should be able to take what's yours."
Secondly, you want to select the perfect online casino, don't you? You want to have fun, relax, and ultimately – scoop up some winnings, right? The thing with blacklisted casinos is that they do not want you to get rich. Their aim is to get your info, give you a false sense of winning, and take it all back. They will not pay out your winnings and will try to get their way around depriving you of what's rightfully yours.
Luckily for you, I have done the dirty job and tested hundreds and hundreds of online casinos, so that you don't have to.
Based on the in-depth, painstaking market research, I assure you that all you need to know about quality can be found in the following lines. Moreover, to narrow it further, here is the list of top online casino sites for women.
Red Flags
In order to make the best selection possible, it is vital that we all know what needs to be dodged, for our own sake. There are a few things I ought to warn you about before we dig in deeper. The saying goes, "The more, the merrier," and if you ask me, that is not always correct. Among over 1,000 online casinos, which is more or less how many of them there are, we need to separate wheat from chaff. And there is a lot of chaff out there, my friend. Roll up your sleeves and let's get going!
Roaming around a casino's website you might spot an About Us page.
In this section, casinos state a bunch of facts about their background and history, as well as security and safety matters, such as encryption, for instance. If the description of the used encryption protocols are not displayed clearly (128-bit or 256-bit Secure Socket Layer encryption), you should take what the casino says with a grain of salt. To prove genuine fairness of their games, good online casinos will tell you they use the Random Number Generator (RNG). If they don't say it, odds are they don't utilise it.
Another obvious caveat is a lack of essential information such as banking for example. Every creditable online casino has a Banking page, or at least thoroughly covers the topic within its Terms & Conditions. When the only way to find out what deposit and withdrawal options are at hand is by asking a team rep, things are getting shady. These matters should definitely not be treated as a secret.
Refusing to Pay Out Winnings
Rogue casinos are notorious for this one. They will use a system error as an excuse, keep you waiting for weeks and eventually offer you a 10-20% of your original reward as compensation. Don't wait for this to happen and check in advance with fellow players if they have had unpleasant experiences with payouts at certain online gambling venues.
When the website's design is sloppy and painfully unoriginal and dull, perhaps you should move on. This last one is not quintessential, but more often than not it translates into the casino's inability to be creative with game offering, bonuses and other important bits.
What does the BEST actually mean?
Now that we have established what to avoid, let's take a closer look at what are sure signs that the online casino at hand is bona fide.
Location restrictions
Licences & reputation
Extensive game portfolio & a multitude of providers
Banking
Bonuses & offers
Customer support
Interface and layout
Mobile-friendliness
_______________
Location Restrictions
This is common sense and I'm sure you have already thought of it. Due to legislative regulations, certain countries will not allow any online gambling activity, or limit certain operators from offering services to its citizens. You want to make sure that your citizenship is not an obstacle when joining an online casino. In most cases, the comprehensive list is found in the casino's Terms & Conditions, and when it isn't, you are free to contact a customer support agent.
In certain cases, you will be allowed to register and play at an online casino, but you will be permitted from collecting your winnings because of your country's law. Again, double-check with the casino before you jump on board. Most online casinos will let you use the Live Chat without having an account with them.
Licences & Reputation
An online casino is nothing without a regulatory body, let's make that clear. To be considered an eminent, fair and trustworthy place to gamble online, you have to have a name or two vouching for that reputation. The two strictest online gambling commissions are the UK and Malta, and they are the alpha and omega of iGaming. In addition to the duo, Swedish and Alderney Gambling Control Commission are second best when it comes to being strict. Not just any online casino will get their licences.
Worldwide famous online casinos such as Guts Casino and PlayOJO have in their books four and three licences, respectively. Queen Vegas Casino added Danish Gambling Authority's approval to the list as well.
One licence is better than no licence, that's for sure, but certain jurisdictions are infamous for handing out their licences far and wide.  Jurisdictions such as Curaçao and Gibraltar dangle somewhere in the middle; their licences are fairly easy to acquire, but the bodies are responsive to clients' complaints, so you likely won't get scammed.
However, there is a number of jurisdictions like Anjouan, Costa Rica, Panama and Seychelles whose licences are very easily obtainable. In other words, if an online casino is licensed only by one of these, you had better run!
PRO TIP: Keep your eyes peeled for other players' experiences on various commentary websites and forums and try to learn from other people's mistakes. Casino Chick can also help you with this. We only recommend reliable casinos and provide thorough analyses on their business practices.
Extensive Game Portfolio & Multitude of Providers
So, you have been chilling out in iGaming circles for some time now, and you know how the game works. You know who the behemoths are, and you have your favorite game. Perfect! Now you want to make sure that the online casino that you are considering actually has those games.
Typically an online gaming establishment will have its software providers listed on the bottom of the homepage. That makes the process easier, but it's not always the case. Sometimes you need to open the library itself and see what's on offer. Big names such as Microgaming, NetEnt, Evolution Gaming, Yggdrasil Gaming and NextGen are a green light. These developers come up with the most modern, entertaining and immersive games in the field of slots, table games and live dealer games alike, and that's why they're so respected on the market.
You also want to make sure that the casino encompasses a wide range of game sorts. A solid online casino will not offer you a thousand slots and zero table games. Every reputable online casino aims to cater for most players' needs, and therefore is equipped with a plethora of game types such as Blackjack, Roulette, Craps, Keno, Bingo, Scratch Cards and of course, Jackpots. In some cases you will get an advanced search engine, which will make your pursuit even easier. You can either filter your search or type in the name of the game manually, depending on the design of the platform.
Banking
A self-respecting online gaming location thrives to offer its clientele an ample diapason of banking methods. E-wallets have exponentially grown in popularity in the past few years, mostly due to the speed with which they are processed. Queen Vegas, for instance, offers one of the speediest banking services, with only up to a couple of hours needed to have your winnings on your account!
Cryptocurrencies have been the talk of the town, and for a solid reason. Many players prefer them nowadays, so having an online casino accept them is a great asset. Operators such as Vera & John, Space Lilly and Diamond Reels belong to this group.
Popular Ewallets (Based on Speediness and Security):
EcoPayz
Entropay
Neteller
PayPal
Skrill
Besides, it is important that traditional options like bank transfers, cards and cheques are included as well. In this case, "The more, the merrier," does apply.
Bonuses & Offers
Promo deals and bonuses are the online casino's way to make winning easier for you. They are also a way of expressing creativity. Let's take Mr Green casino as an example. This devoted online casino does a terrific job manufacturing innovative and engrossing promo deals virtually every week. This draws new clients in and makes existing ones stay.
Provided that you are searching for your new favourite online casino, these are kinds of bonuses you want to look out for:
Welcome offers
Daily/weekly/monthly specials
New launch bonuses
VIP or Loyalty programmes
Thematic promos are massive in the industry. To lure you in, an online casino has to step forward and make the promo as attractive as possible; obviously. Some of the questions to keep in mind when evaluating the quality of the promos are: Is the promo up-to-date with fresh releases? and Does the reward correspond to the wagering requirements?
After all of the key points have been ticked off the list and you decide to join an online casino, there is one thing left. If you like a casino, you will likely keep coming back. In this case, you should see if it pays off to keep coming back. Many online casinos offer exclusive deals for VIP players to reward them for their loyalty. These typically include promotions that regular players cannot access, as well as higher withdrawal limits and at times even more banking options offered. PlayOJO and Slots.lv are excellent examples of a smart VIP policy.
Customer Support
No matter how out in the open everything on the website is, issues still happen. You are allowed to have questions and doubts. A good online casino will have its customer service team ready and willing around the clock.
Quality Criteria:
Diversity (Live Chat, phone support, e-mail, online contact form, social media)
Availability
Skillfulness
Professionalism
Friendliness
You cannot plan when the issue is going to come up, so it's important that the support is available 24/7. A variety of communication options is also a massive bonus. Depending on the demographic, clients will prefer communicating via diverse methods.
If English is not your mother tongue, you will likely want to see the website available your native language. In most cases, the customer support team will be trained to reply in these languages as well. Mr Green agents speak multiple languages: Czech, Dutch, English, Finnish, German, Norwegian and Swedish. This makes resolving your issues much more efficient and faster.
To feel at home, merely speaking your language is not enough. While keeping the distance, a competent team member will know how to be friendly and humorous without coming across as unprofessional. Maria Casino's team representatives are polite and amicable, in addition to being fast and responsive.
Interface and Layout
This is where the appearance comes into play. I am deliberately placing this section near the end, yet not at the last position. Honestly, it is hard not to judge a book by its cover. If the book is so good, why not make a cover that complements the quality of the inside? Likewise, if you want to present a quality product (in this case, an online casino), you will wrap it in a nice paper and put a little bow on top of the box, won't you?
It is in human nature to have presuppositions, and our brains search to find details to justify our opinions. An experienced and capable online gambling operator knows this, and will not let this little detail ruin the whole show. Choosing the colour palette, symbols and characters that will be the face of the casino is almost as important as what is underneath the surface.
"The first impression matters."
The facility of use must not be underrated or overlooked. No one likes a slow website that takes ages to load. When pages lag and will not be displayed completely or correctly, that's a clear sign of laziness of the programmers. And these programmers were hired by the owner of the casino. If you are not up to the task, then why bother?
Look for a site with a smooth performance. If your Internet connection is strong and stable enough, pages will load in seconds. Nowadays, a growing number of online casinos are adopting the one-click system, which speeds up the process even more. Here you can check out the ranking and reviews of the best online casinos in Casino Chick's opinion.
Mobile-Friendliness
Speaking of smooth, this elegance and grace in performance on PC should translate onto mobile platforms as well. The possibility of downloading the casino software is a plus, but not a must. What is a necessity is to provide slick use on a smartphone or tablet. What good is an online casino if you have to be glued to your chair to gamble? You can do that in a traditional brick-and-mortar casino. Esteemed online casinos enlist a team of experts to design a top-notch mobile platform for gambling on the go. Additionally, knowing how ever-evolving iGaming is, not offering mobile gambling means being old-fashioned and obsolete. The best online casino will always keep up with the latest trends.
"Novelty & quality"
With such a demanding and critical industry and audience, the competition is ruthless. Every online casino has to fight its way to the top pouring its blood, sweat and tears. Novelty is key here if you ask me. Just keep new things coming, and you should be fine. Such casinos are where you should be spending your time.
Casino Chick checks them out all for you on a regular basis. Our team is always up to date with the latest, hottest news in the industry, and we keep our eyes open 24/7 for suspicious activity.