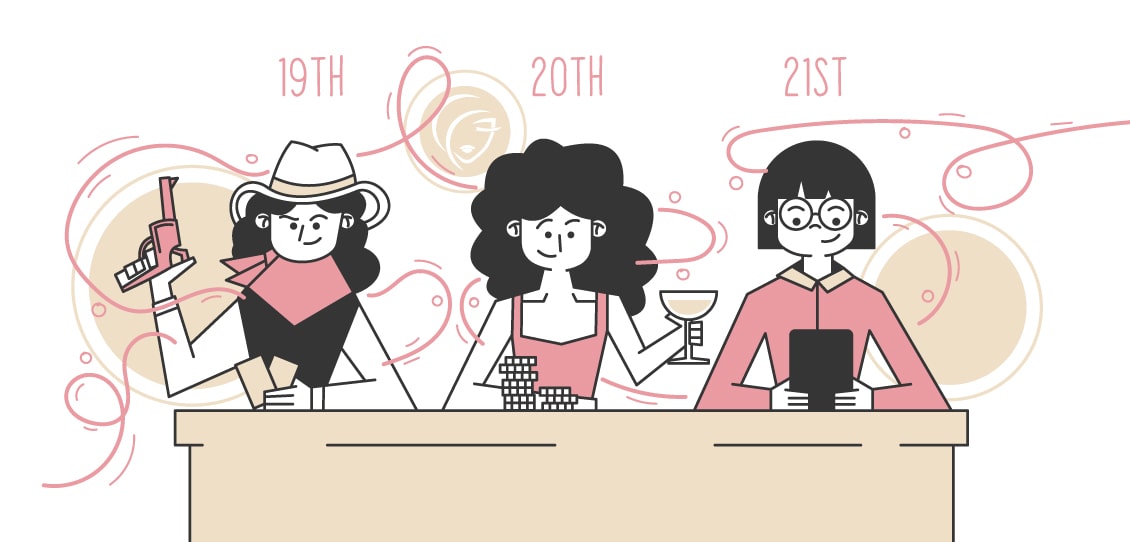 Why women gamble? 
The previously male-dominated realm of gambling is not male-only anymore. In fact, it never was! Women have carved out a place for men in the ever-growing industry of games of luck – with hard work, dedication, and patience. It seems that today we have more women in gambling than ever before. And we are here to show you exactly why that is so.
Welcome to Casino Chick's in-depth account of women in gambling, where we'll be discussing casino gaming from a female point of view. Dive into our study of girl gamblers and the evolution of women in gambling.
Women in Gambling History – The Timeline
Contrary to popular belief, women did not miraculously take up casino games in the past few decades. Long before internet gambling was a thing, (some) women were hailed as the top players, daring risk-takers, and experts in bluffing.
However, their stories remain shrouded in mystery and even labelled as trifle stories undeserving of attention. Truth be told, no one is surprised by this form of underrepresentation. After all, the biggest adversary of female casino players has always been a social convention.
But some brave women have resisted the ebb of time, and you can read their stories right here today. We present a timeline of female gambling to you, a chronology of women that have been changing and affecting the game for centuries.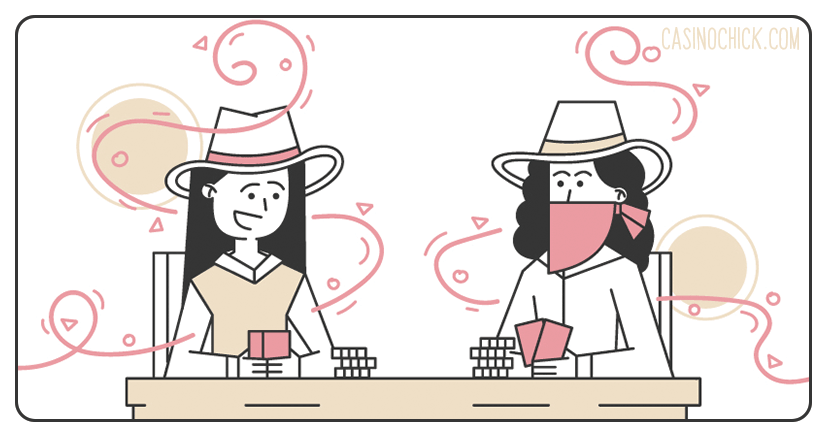 Ancient Rome and the Cult of Bona Dea
To see a woman gambling today would be a fairly normal sighting, right? Well, back in Antiquity, that was a controversial topic, to say the least. Don't get us wrong – girls did gamble. In fact, they participated in as many games as men did. And the best thing about it is that no one cared whether they were rich, young, old, or poor. Their proficiency spoke for them. But don't think it was all rainbows and sunshine for them.
In ancient Rome, Fortuna, the goddess of luck, and good fate was revered by all. Men worshipped her, especially those who enjoyed gambling. However, despite their respect for her, actual women were not allowed to play whenever they wanted. They could only engage in dice games – dice were popular in Rome – during the Bona Dea festival. That was an annual women-centric festival dedicated to Bona Dea, the goddess of fertility and chastity. During the festival, women of all ages would gather at night and drink, eat, perform sacrificial rites (mostly blood sacrifices), and gamble. In ancient Rome, the Bona Dea festival was the only time of the year when women gambling was allowed. And there were no men!
When Nero became the emperor, he altered the laws and introduced more lax laws for woman gambling activities.
Viking Pagan Witches and Ladies of Luck
While the Roman empire represented civility, the pagan tribes of the north like Vikings were deemed savages. The truth was far from that, as Norse tribes had an elaborate culture and traditions in which females were honoured more than Romans.
Women who belonged to the cult of Freyja were called volva, or seeresses. They were Viking witches associated with magic and the occult. They frequently engaged in gambling – yes, Viking ladies gambled – but said gambling involved dice and sacrificial rituals. Rolling dice back then was like calling upon the gods to grant mercy or help, and only the lucky ladies could bring satisfactory results.
Faro's Daughters
Fast forward a couple of centuries (more like thirteen), and we get to Georgian-era England. During the Georgian era, the social changes emphasized the divide in England into aristocracy and the non-aristocracy. All norms and conventions were based on strict rules of propriety each member of the ton had to follow. Unsurprisingly, the vast majority of rules for girls included restrictions. Women were not allowed to party, had to learn a plethora of skills, and most importantly, could not gamble in public. But, as history has already shown, women always found a way.
One specific group of women who stood out during the Georgian period is the Faro Ladies, a group of noble ladies who played faro. Those ladies were Lady Buckinghamshire, Lady Elizabeth Luttrell, Lady Sarah Archer, Mrs Sturt, and Mrs Concannon.
Starting from the Unlawful Games Act of 1541, virtually all forms of gaming were prohibited. The Act was updated several times, and in 1739, roly-poly, basset, ace of hearts, and faro were banned.
Faro Ladies defied the rules, as you can imagine. The ladies were of aristocratic origin, and they used to gather and play faro. Another infamous thing they loved during their playtime was discussing politics, another male-only activity at the time. These women gambling gatherings went on for a couple of years until the now-infamous "Proclamation Against Vice" from 1792. Their meetings became controversial and ultimately brought them disgrace. The ladies had to pay substantial fines for their illegal parties and were publicly shamed for their 'scandalous' behaviour.
Poker Alice of the Wild West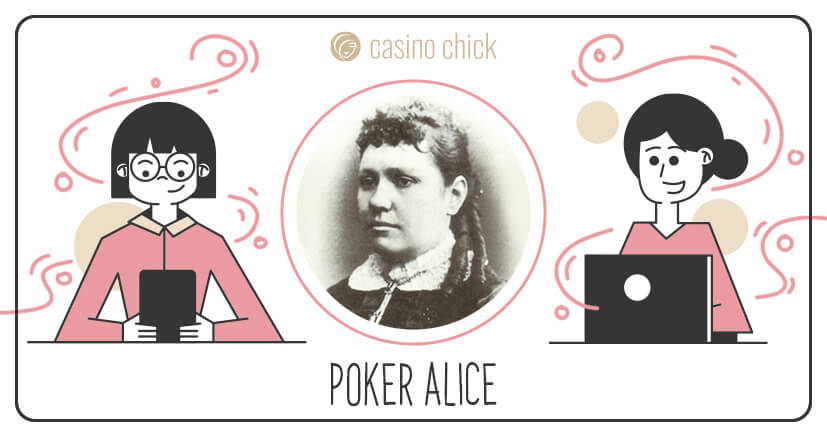 On the American continent, the late 1800s were the years of expansion and success on the American Frontier. By then, the Wild West was no longer wild, as a wide network of farms and ranches popped up across the western border.
It is precisely during this time that gambling became a popular attraction for the residents and visitors. The gaming scene was developed enough to attract Alice Huckert, who would even earn her nickname Poker Alice playing poker. She travelled to gambling houses across the continent, and ultimately landed in Colorado where she worked in a saloon.
Devon-born Alice Ivers Duffield Tubbs Huckert was first acquainted with poker through her husband. After his death, she started playing seriously, so she could support herself financially. Her good looks, sharp mind, and ability to count cards helped her advance in her career. She gradually became an attraction, with men gathering at saloons to watch her play. Her proficiency earned a lot of moolah, and she even opened her own saloon. A real badass casino woman who, armed with a gun and a cigar, defied the rules and conquered the Wild West all by herself.
Lottie Deno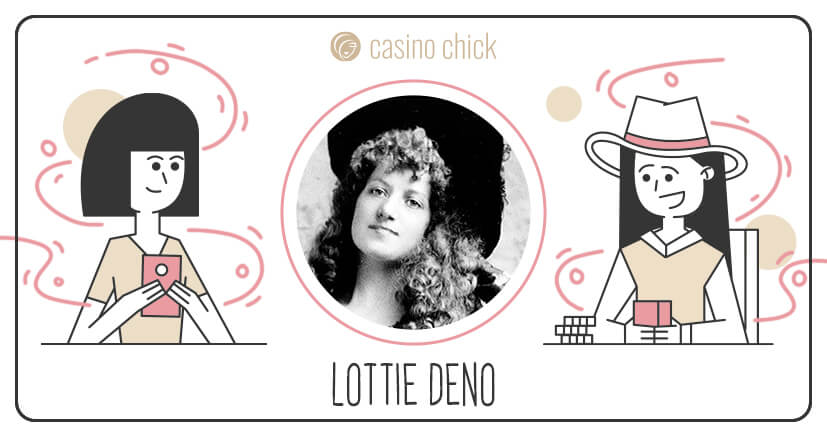 Another woman that managed to subdue the Wild West was the "Poker Queen" Lottie Deno. More dangerous than gunslingers and highway robbers, Lottie used to strip men of their cash at the poker table. Her only weapons were her mind and her cards, and the proof of her success is her hard-earned nickname.
Lottie Deno (originally Carlotta J. Thompkins­) was a Kentucky-born lady that travelled across the continent with her father who taught her to play casino games. When she fell upon dire times, she began playing casino games for money to support herself. During this time, she met Frank Thurmond, a fellow gambler, with whom she fell in love. The pair travelled across the Frontier, never staying in one place for too long (Frank was accused of murder in San Antonio).
They had numerous adventures during their travels, and Lottie eventually earned a string of nicknames and a reputation as a serious gambler. She defeated Doc Holliday, which earned her the "Poker Queen" nickname. She was also known as "Mystic Maud" and "Queen of the Pasteboards". Even Lottie Deno is a nickname (Deno is short for dinero, which translates as money from Spanish).
Mayme Stocker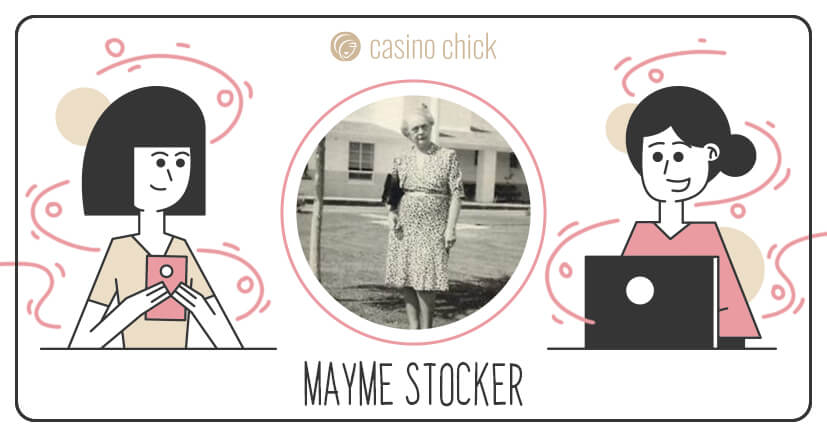 Mayme Stocker entered the annals of women gambling history when she became the first female casino owner in 1931. Stocker was from Pennsylvania, but she arrived in Nevada with her husband in 1911. Her Northern Club on Fremont Street in Las Vegas opened its doors for the public in 1920. At the time, gaming was allowed, but halls and venues did not possess valid licenses. But, Stocker was tenacious. Eleven years after her club launch, she received the first working license for her club. Now that's one fierce casino woman!
She built a popular venue for local gamblers and became a respectable member of the Las Vegas society.
Judy Bayley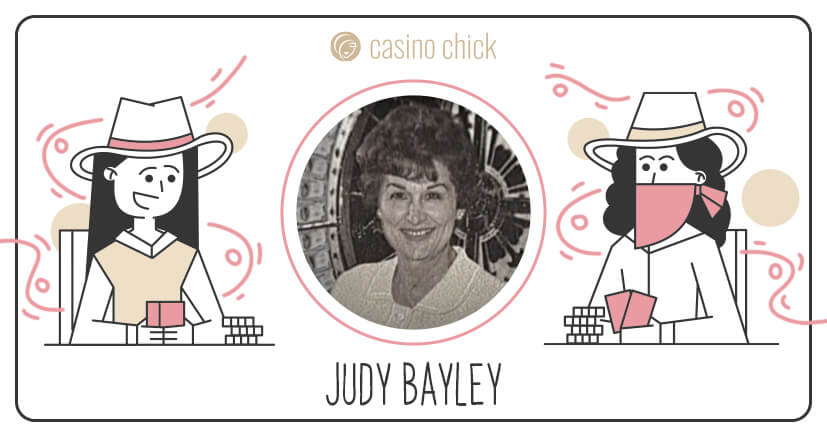 Twenty years after Mayme Stocker earned her casino license, another casino woman rose to fame. Judy Bayley was not exactly a player, but rather a casino owner. A female entrepreneur with a keen eye for entertainment, Judy established several casino halls and hotels with her husband. After her husband passed away, Judy became Nevada's first lady casino owner. They also opened the Hacienda Hotel in Las Vegas.
She knew her way around marketing, which is how she managed to promote her hotels and casinos. The enormous success she achieved in the industry brought her the nickname of "The First Lady of Gambling". Today, there is even a theatre at the University of Nevada in Las Vegas named after her.
The Modern Times: Duke and Selbst Take Over
With Bayley, we reached the end of the 20th century. The 21st century brought in considerable changes for the entire civilization, and casino women participated greatly.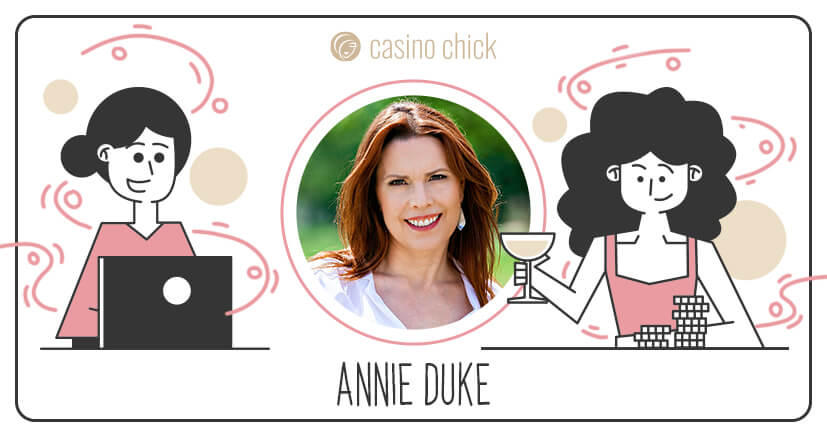 In 2000, the World Series of Poker Championship saw the heavily pregnant Annie Duke take the 10th position on the leader board. She was 9 months pregnant, but that did not stop Annie play and win a prestigious place at the Championship. After two years, she returned and entered the 2004 World Series of Poker Tournament of Champions and – won. Six years later, she was the winner of NBC's National Heads-up Poker Championship.
She holds one WSOP gold bracelet, has written several books on her technique, strategy, and experiences in playing poker. Before Selbst appeared, Duke was the highest-winning female player in the history of WSOP. Thanks to her success, she earned the "The Duchess of Poker" nickname. Duke retired from poker in 2021.
The timeline would not be complete without Vanessa Selbst, the current highest-earning casino woman.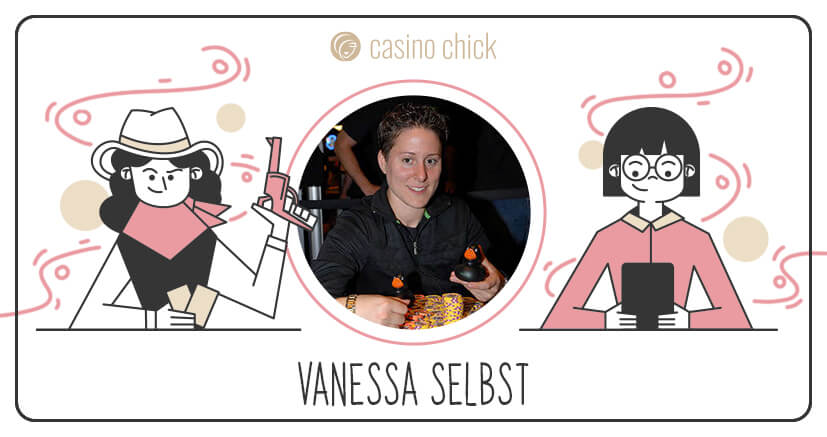 In the entire history of poker, no lady has achieved better results! Selbst is a pro with 3 gold World Series of Poker bracelets, nearly $12 million earnings from live poker, and a Team Pokerstars Pro member.
She is the only woman who reached first place on the Global Poker Index. As she was born in 1984, she is still young, which means her career is yet to flourish. We look forward to seeing what this lady can do in the competitive casino industry!
Change of Perception – Women Reshaping Gaming
As we have seen from the timeline, casino women had a tough time earning their rightful place at the tables. The road was long and paved with controversy, but we finally made it. Ladies have withstood tempestuous conditions not only inside the lobbies but within the offices as well. A case in point, there are more females employed in the industry now than ever.
Examples of successful female executives that hold coveted positions are astonishing. Granted, the situation could be better – it can always be better – but the current situation is more than satisfactory. For instance, a few of the high-profile executives are actually women. Evolution, Microgaming, and NetEnt are just some of the companies that have placed women in charge. For instance, the CEO of NetEnt is Therese Hillman, who was appointed the Chief Executive Officer in May 2018.
We cannot forget to mention Ebba Arnred and Lydia Barbara as well. These two are prime examples of how women dominate the software industry. Barbara used to be the Head of Innovation at Microgaming, while Arnred is still the Chief Marketing Officer at Play'n GO. Another successful casino woman to come to mind is Denise Coates.
Denise Coates is the founder and the joint chief executive of Bet365.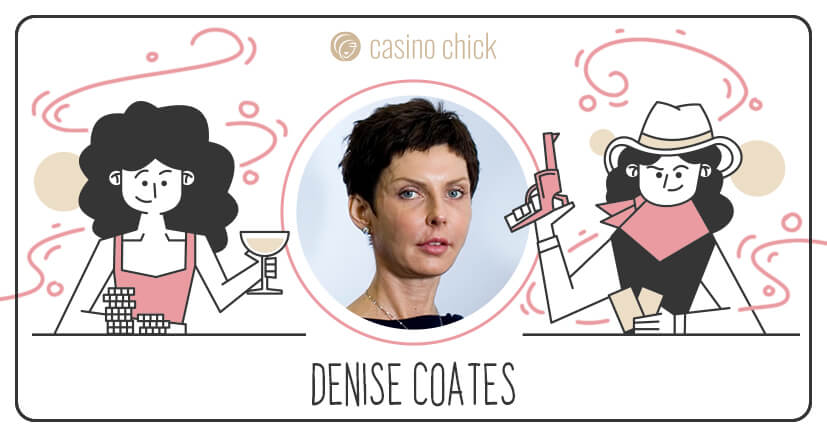 She launched the online betting site Bet365 in 2001. With a rich family history in bookmaking, she worked in the sector for years before acquiring her betting shops. However, Bet365 quickly shot to fame and soon became one of the world's most successful bookmaking brands.
Another important example is Araksi Sargsyan, the former Business Development Manager at Digitain. She joined the industry in 2013, landing a job as a customer service representative at BetConstruct. Sargsyan currently works as the Head of Business Development at DS Virtual Gaming.
Inspiring Equality
Women in casino surroundings are now a common sighting, but there is still a residue of stigma from the past years. However, the media and companies involved in the sector's development are investing a lot of time and effort to honour and reward women for their dedication, effort, and work. The International Gaming Awards are the best example of that.
The prestigious award ceremony honours companies that have shown great results in the previous year – each year. And for more than 11 years, the manifestation has recognized and hailed women in casino gaming.
A plethora of categories exists, including the WiG Diversity and Employee Wellbeing Awards. The organization is outstanding, and it makes a point to thank and encourage every female leader currently working in the competitive iGaming industry.
Women as Gamblers – Exploring Female Gambling Habits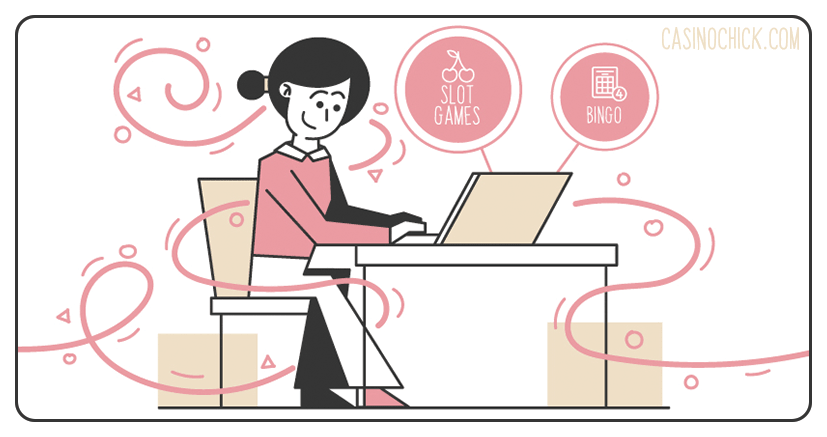 Now, we are returning to our question from the beginning of the article.
Why women gamble? More importantly, how women gamble?
Why do they join the best casino sites for female players and play top casino games? Well, the answer lies in the very nature of the woman.
We all know female nature is vastly different from males (and we know that well!). The motivation for gaming for women, just like everything else, greatly differs from the motivation boys have upon entering top casinos online.
While men chase winnings and the adrenaline rushes, women in casino halls look for escapism. They are there to distract themselves, to pass the time doing something entertaining, rather than chase millions.
Of course, there are exceptions, but the bigger portion of female gamblers is there to have fun – not make money; the dough is just a plus. Gambling between women is a fun experience, as they enjoy playing at real money online casinos with their friends.
Women take up 43% of the market. When it comes to gaming habits, studies have shown that girls usually place smaller wagers than men. On the other hand, they do it more often – small bets but more often. This opens a new question, do women gamble more than men?
The Optimove study which yielded such result was from a couple of years ago, and the results also focused on the medium used for casino games. For instance, men prefer to use desktop devices or visit land-based venues, whereas females feel better when they play via mobile phones.
Finally, when they successfully find the best online casinos for girls, they tend to stick to the brand longer than males. In general, women in casino entertainment are more loyal to the brands they like.
Women and Casinos – How Women Perceive Online Gaming
Typical casino women today represent an important part of the gaming community, but they remain severely underrepresented. Case in point is the insufficient research and study material for various segments and aspects of women gambling, including gaming patterns, styles, and motivation.
Another thing that seems to be missing from the picture is how female players perceive gaming online.
A study showed that females have different gaming preferences (more on that later) and disparate play patterns. One finding suggests that men have been involved in gaming for longer than ladies. The female players have shorter sessions than men, as well.
Finally, motivation arises as one of the biggest differences between male and female casino players. While men play for the adrenaline and money, girls tend to play mostly for fun. Yes, they invest real money, but the thrill mostly lies in playing the game, rather than winning something out of it. Girls are also more likely to gamble if they are bored or looking for a new way to pass the time.
The other side of the coin shows that girls are more likely to feel shame and guilt when they experience problems or risk addiction.
Girl Gamblers Favourite Casino Games Online
If you are a regular visitor of top online casinos, you already know the type of content you can find there. Modern online casinos games are a truly diverse collection of titles. Moreover, anything you can imagine, it's already there!
Although there is a great number of ladies who play table games and live dealer titles, most casino women go for slots and bingo. These two remain the top two categories that appeal to female players.
Bingo, especially in the UK, is a beloved type of game that attracts millions of players per year. According to numerous studies, most of those punters are females. Software providers have tried to increase their bingo verticals in recent years, which is why there is now a surplus of bingo games online.
Best Bingo Casinos Online
We have a list of the most frequented online bingo casinos where ladies like to play. Here are the best bingo casinos for girls online.
The venues offer a diversity of content, but their shared trait is the devotion to bingo. Each offers dozens of bingo rooms, minigames, and Slingo titles which ladies love.
Best Slots Casinos Online
Besides bingo, the ladies are going crazy over new slot games. After all, who could blame them? The modern slot game products are innovative, revolutionary, and highly entertaining. Here are the best slot casino sites for female players.
Naturally, there are more slots than bingo titles, as new slots come out nearly every day. Each of the popular venues hosts thousands of casino games, with slots being the top category in each.
Women and Problem Gambling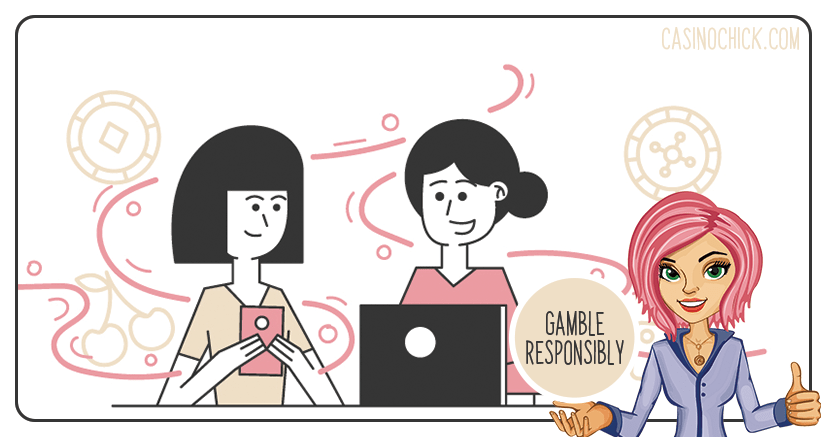 Questions surrounding woman gambling and addiction problems have started swirling in the past few decades with the introduction of online casinos. Granted, there aren't many online casinos for girls, but women have found a way to enter the realm nonetheless.
Unfortunately, with the increase in women gambling activity, the number of women reporting problems and addiction has grown.
The studies into the effects and potential risks of gambling for female players has shown that women can easily get addicted, but they are not likely to seek help. The number of registered female problem gamblers has increased, but experts are worried the number is not a realistic representation of the real situation. Instead, they fear many women hide their addiction to avoid shame and disgrace.
This goes to show that, even though we have managed to lift the taboo off the female casino playtime, many still feel embarrassment and mortification over their addiction. Companies and psychology experts are still investigating the psychology of gambling between women, which means more data will arrive soon. Until then, scientists warn that a new approach to problem gambling for females should be introduced as the regular, old-fashioned ways of preventing and helping endangered (male) players are obviously not working.
Conclusion
So, the story of how women succeeded in securing a place at the big table is long, but more importantly, informative. We have seen how determined and fierce ladies have managed to make a path for us towards acknowledgement and respect in the highly competitive gambling industry.
It remains to be seen where the road ends – but for now, it is clear we are off to a great start. Women in gambling today have more rights and recognition, as well as acceptance and support. But there is still work to do.