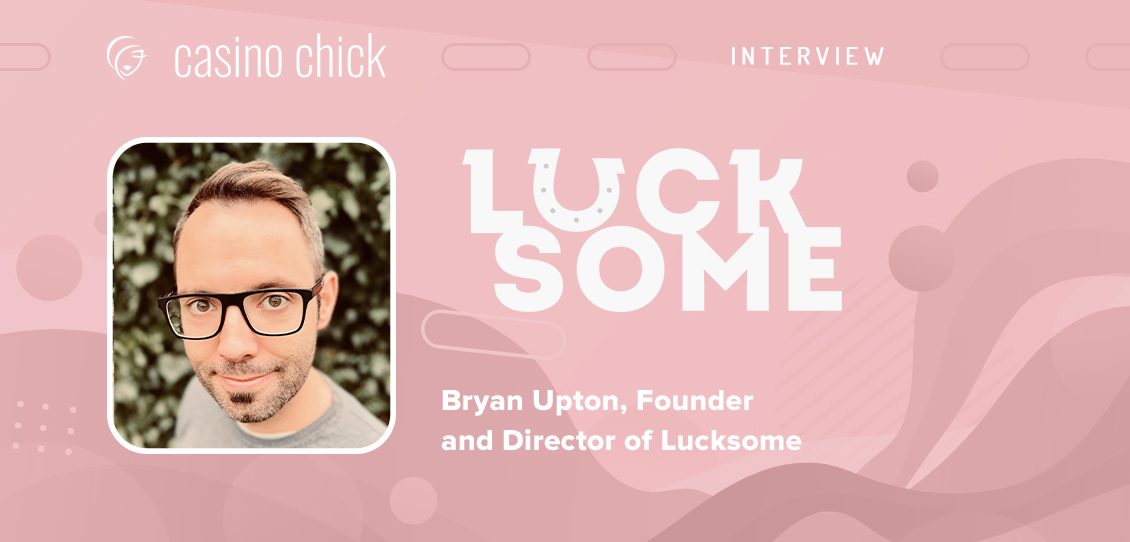 By now, Lucksome has become a common sight here at Casino Chick, so there's no need for introductions. The growing software provider has been our guest here at Chick thrice before, and each time we had a blast while discussing games, events, game production, and a wealth of other interesting things.
Read our previous interviews with the team:
Today we're talking again with Bryan Upton. We'll see what Lucksome has been up to these past few months and discuss some new slot arrivals. Read our full interview below.
The last time we heard from Lucksome was in December 2021, right before the end of the year. How has 2022 been? What has changed at Lucksome since we last spoke?
We've just been working really hard and getting good games out. We've released Voodoo Temple, but we've also got some great new games coming and new concepts that we're playing around with.
We know you have exciting new releases lined up for the start of summer! Of course, we are hinting at Voodoo Temple and Bon Bomb Luxpots. Voodoo Temple slot came out in May, so fans have enough time to enjoy it before Bon Bomb Luxpots drops. Can you tell us more about Voodoo Temple? What is the best part of the game?
Voodoo Temple is a 2-4-3-ways game on a five-by-three, and two things make it wonderful. The first is these multiplying masks together with our High Priestess Wild; she's the central part of the game. When you get her, she activates those multipliers and they multiply all of the winnings that you get on that spin. So, the more wilds, the higher the multipliers. Adding on to that, we have the Shadow Spins, which goes into a hot streak-type mode in the game where the RTP elevates quite significantly and you have five spins in the base game where those multipliers can go really high. If you're lucky enough across the game, you get a multiplier boost, and that's also powered by the priestess. She casts a spell and increments the multiplier you've activated in free games that can go up to 70x. That can deliver a massive win obviously.

The flow of the game runs fast, especially when Shadow Mode activates. And then there's the Bonus Buy feature – what do you think about Bonus Buy slots? How does this functionality affect the players' experience?
We're in the world of on-demand and instant gratification at the moment. Before bonus buy was around, you'd play a game and a lot of the time you played to get to the bonus because that's where the juicy bits are and the really interesting, super-cool things. With bonus buy you bypass all of that and get to the bonus game, so it fits in with the way the world's been going, but the experience is quite different – the fact that you missed the lead up and the anticipation. I really think about it like… when a film is on TV, in broadcast, it's somehow different than if you click a button to watch that same film. It feels so good that it's there; you're like, "Oh wow. I love this film. I'll watch it". So sometimes when you hit a free spins bonus (or other feature) from a 'natural way' of triggering it, it's super exciting. So you do miss all that [with bonus buy] but – having said that – if your bonus is super good, really, really interesting and you want to cut to the chase, who are we to say which way you go! So that's why we provide the option for it.
Bonus Buy is also available in the new Bon Bomb Luxpots slot coming in July. What is more, the new game will include a Bonus Buy feature with different volatility levels – which will undoubtedly create a dynamic experience. What other surprises await us in the upcoming game?
We're using a well-known mechanic – which is this prize ladder – and we've put it into a Megaways game. It's our first Megaways game, but the Luxpots is the bit that I want to emphasise because I'm building a Megaways game but I don't want it to be lost with all the other Megaways games. So it's just called Bon Bomb Luxpots and then it has Megaways in it, so to speak, but the bits that make it great are that we've got this prize Luxpots ladder with pretty nice prizes in the base game, and when you get into the free games that prize ladder can be multiplied.
The bombs that trigger getting up that ladder, lock in free spins until no more bombs have landed. So, you get a bomb in spin one… it spins again… and you get another bomb, now all are locked. You spin again for another bomb… and you keep going, so the prize ladder's totting up, and what you're hoping for is that a multiplier bomb will come in and multiply the entire prize ladder. Whatever you've won on the spin when the bombs payout will also be multiplied.
_____
"Before bonus buy was around, you'd play a game and a lot of the time you played to get to the bonus because that's where the juicy bits are and the really interesting, super-cool things. With bonus buy you bypass all of that and get to the bonus game, so it fits in with the way the world's been going, but the experience is quite different"
–Bryan Upton, Lucksome

_____
I think the other thing is the bonus buy. In Voodoo Temple the prices are different according to how many scatters you buy. You buy three, four or five, and then the price goes up accordingly. From there you can then choose if you want, low, medium or high volatility. However, with Bon Bomb we don't plug them both in at the same time. What we've done is said, 'well VIPs want to be smart with their cash, so we'll put in a second chance re-trigger'. We're saying, 'it's 300x your bet to buy the VIP option – which is the most expensive – but if you win 60x your bet back or less, you can keep those winnings that you made AND we'll re-trigger the bonus for you again' – that's our Double Lux feature.
On the flip side the cheapest one is actually the most volatile – that's 60x your bet. So what we're doing is matching the price versus the player motivation. For example, we've noticed a lot of volatile game players will probably play at a lower end because they would like to convert a lower bet into a much larger amount So that's quite a new (and important) design philosophy riffing on the bonus buy behaviour we're seeing.
We had a glimpse of the Bon Bomb slot, and we think it's poised to become a real summer hit. What are your hopes in terms of game performance once the slot launches?
Well, every game we released is generally doing better than the last. As we get more operators interested in what we're doing, more players are aware and willing to make that first click to try our games because they see what we're doing is good. We hope to keep that trend going especially as it's our first Megaways game. I'm looking at the reviews and they're really good so far, so I'm thinking it'll do well.

How do you like these two releases? What are your favourite things about them that you think other players might enjoy as well?
In Bon Bomb I really like the Double Lux feature – I really do. I think I'd probably play that one a lot more. Occasionally I like to go a little bit higher volatile, but generally I think that would cater quite nicely for me, I also love the way the bombs lock and multiplier the prizes which gives a great feeling of potential. In Voodoo Temple I love the shadow spins a lot; when they kick in it's really cool because you've now got five spins of something potentially quite awesome to come. In some markets you can't do it, but you can enable the shadow bet which then doubles the chance of the shadow spins coming in, which is also neat and the RTP goes up, so I usually play on that when I'm playing it as well and that gives you a more interesting experience getting these shadow spins to come in…plus, I love the flames on the reels. This is my favourite thing!
What about other games? Can you give us a sneak peek of the Lucksome 2022 roadmap? What's next for Lucksome?
The next game is a fantasy Egyptian theme which is coming in September called Gates of Etherea, and we have a really funny Christmas game that we're very proud of and working on which you should look out for; I think everyone's going to find it really really funny and fun to play.
Last year was quite eventful for you. What do you expect from the rest of 2022? What will be the main company focus in the second half of the year?
Our games are getting into more markets. The first two games we ever made are out in Italy recently, which is good. Then our first game went live in Canada recently, and I expect some of our games with start to go into the US. I'd say that North America and Italy would be a focus for us in terms of specific games design focus – not that we're shirking the rest of the world(!) but there are some focus markets for us. We have a system level product that we're working on which should have been out last year but will hopefully out this year.
Thank you for your time, we appreciate it! Is there anything else, you would like to share with our readers? A message for our female readers, perhaps?
The games designer for Bon Bomb is Josefin Uppeke (the funny Christmas game is also Jo's), who you've spoken to before, so check that interview out. If your readers want to interact with us, then feel free to contact us on social media or go to our website lucksomegaming.com – we love to hear from our players!