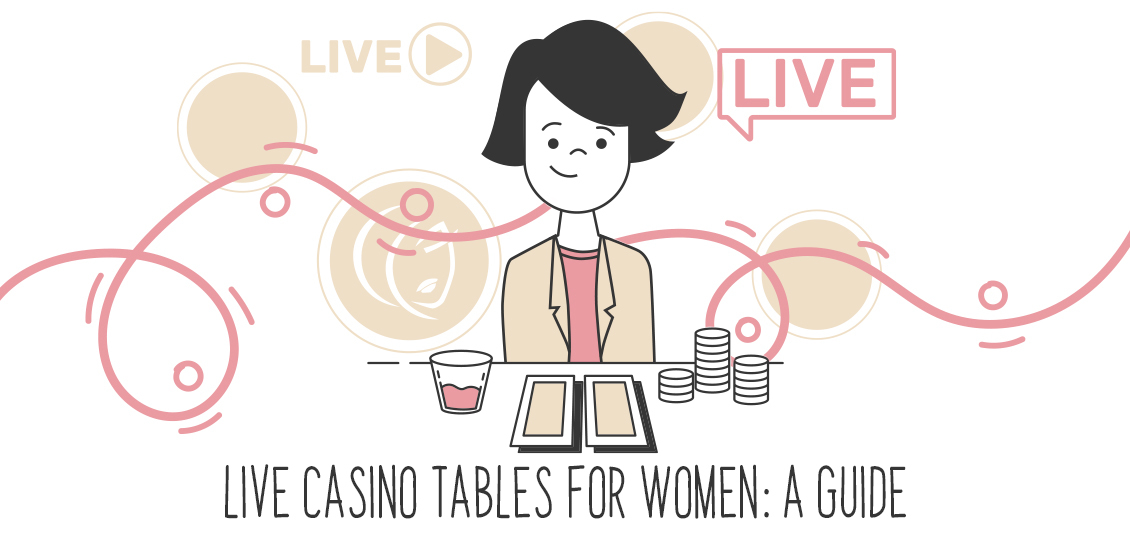 Are you wondering how to properly pick live casino tables for women? Worry not. Live casino games such as live blackjack, live roulette, and live baccarat have swept the entire iGaming industry off its feet when they first appeared. They continue to be the preferred poison for many gamblers on the internet, which is why Casino Chick decided it's high time you learn how to pick live casino tables for women.
This guide right here will teach you not only how to pick a live dealer table, but also how to pick the best live casino sites to join in 2023. Oh, and don't worry – we also included a tiny list of the top 10 live dealer games to play in 2023 – courtesy of our expert Chicks.
How to Pick a Live Casino Table
The vital part of the experience at any gambling site online is knowing how to pick the right game. Ok, sure – there are thousands of games online, so it's not exactly like you don't have choices – but you can still make a mistake by choosing a game that does not fully suit you.
For that reason, we decided to show you the ropes of live dealer gambling by giving you a rare glimpse into our game-searching process.
The first step is to decide your search pattern. Do you have a specific game producer in mind? Or do you perhaps have a favourite type of casino game that you enjoy and therefore consider it best to start there?
Essentially, the surest way to browse games is to pick a category/genre/type and start there. This is the smartest way, because players who are there to play roulette won't pay mind to baccarat and blackjack, and vice versa. But, there are also players with a clear provider preference, and those players are not exactly willing to compromise with playing just about any game from the lobby.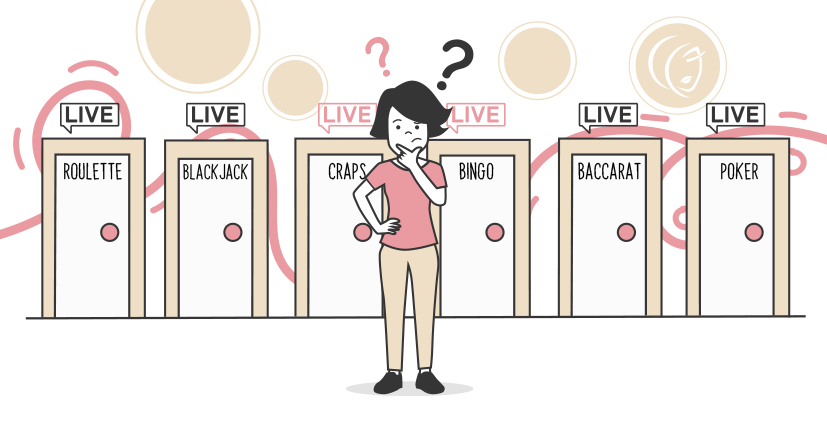 🔍 Search by Category
Search by category is arguably the easiest way to get your hands on new live dealer tables. These days, most gambling operators group their content into two main categories – online casino games and live casino games.
Since the topic for today is live dealer gambling, it's obvious we should head straight to the live casino part of the lobby. Once there, you will notice subcategories or genres of live dealer games.
The most common live games are:
Roulette
Blackjack
Baccarat
Poker
Sic Bo
Craps
Bingo
Game Shows
The look of the lobby is quite subjective and varies from casino site to casino site. However, most operators do highlight the most popular genres such as Roulette and Blackjack – or they might feature them as Table Games or Roulette Games.
---
---
Our advice for all players, regardless of their proficiency level, is to always start from the home page. There you will see the latest releases in all categories, and most often, the list will feature a hot new live dealer table.
Another reason why searching by category is good is that, if you are a player of roulette, you are probably going to look for roulette games, and blackjack will be of no interest to you. But we are well aware that many of you like to mix it up a little, so browsing other categories is imminent (unless you are a robot who always plays the exact same game over and over again).
🔍 Search By Provider
The second method for searching for games in the live dealer section is by Provider's name. This option is often available, but there have been instances where casinos do not display which providers are present in the lobby. You are then forced either to type in specific game names or sift through endless casino reviews in hopes of finding info if a provider is included on the list.
And all this applies only if you have a specific provider in mind, of course! Players with an affinity for a certain content supplier will undoubtedly know what to look for, while novices might get stranded trying to decipher if the content found under the name 'Evolution' or 'Pragmatic Play' is worth their time. In our humble opinion, it definitely is – both Evolution and Pragmatic Play are outstanding game-makers – but the decision is ultimately yours.
---
---
Since 'search by provider' has a few drawbacks – may not always be included, and requires a deep understanding of the industry – here is another way of locating games. Search by name!
Search by name is available at every gambling site, so you don't have to worry about having/not having this option. It's an advanced search technique, and players use it only when they are 100% certain of a game they want to play.
🔍 Search By Win Potential
Picking a game based on the win potential takes a lot of effort on your part. Players, beware – this is not for inexperienced punters. Players with a lot of experience know their preferences and know how to distinguish games that are suitable based on win payouts alone.
How so? Well, high rollers are deep-pocketed players with big spending habits. They invest a lot per round, and in turn, they expect to win big. Okay, they do not expect big wins, but they know that there are chances for them to win big.
---
---
On the other hand, casual gamblers who are not there for the profits but rather for a good time, are not going to pick high-rolling games on a regular Tuesday. Why? Because they run the risk of losing a lot of money!
Casual, low rollers are mostly focused on slots and speciality games such as keno, while high rollers are mostly turned towards traditional gambling games. Plus, more and more live game shows are coming out with ludicrous win potential promises thanks to multipliers and crazy bonuses incorporated for high rollers. In other words, players who want high profits will look for high profits, and they are most likely going to go for games like game shows, and multiplier-filled live casino games.
Top 10 Live Casino Games in 2023
2023 has barely begun, but we already have a list of favourites for the entire year. Ladies, we hope you are ready for the adventures 2023 brings because there are several top-notch live dealer games you simply cannot miss this year!
Here are the best live casino game releases to check out in 2023:
The Greatest Cards Show Live (Playtech)
Royal Poker (Ezugi)
Buffalo Blitz Live (Playtech)
EZ Dealer Roulette (Ezugi)
That's not all, folks! The new year is bringing us even more surprises than the past one. For now, we don't have much info about upcoming live dealer releases, but we promise to update you as soon as we learn something new.
For now, we know we are getting three exciting new games from Pragmatic Play in the first half of the year, so be sure to keep an eye out on our game database section.
Here are the games Pragmatic Play plans to release in the first months of 2023:
Snakes and Ladders Live 
Vegas Ball Bonanza
Mega Baccarat
Vegas Ball Bonanza is a live version of bingo, and we expect Mega Baccarat to be a continuation of the MEGA live game series. Snakes and Ladders Live is a live game show made after the legendary Snakes & Ladders, and Pragmatic Play even has two slots that came out in 2022 honouring the game. We are looking forward to seeing the live game show version, as the producer promised a fast-paced immersive experience that brings dice and the familiar race-style board game to life. Stay tuned for more info and other exciting releases!
How to Pick Live Casino Sites
Did you think we'd end this guide without giving you step-by-step instructions on how to find and lock down a live casino website? You know us, we aren't going to leave you hanging like that.
Besides, more and more live casinos for women have been opening in the past five years, and that's just the beginning. We are hopeful that the industry is finally ready for female-centric live casinos, as many studies have shown that female players represent a big part of the player base in today's online gambling.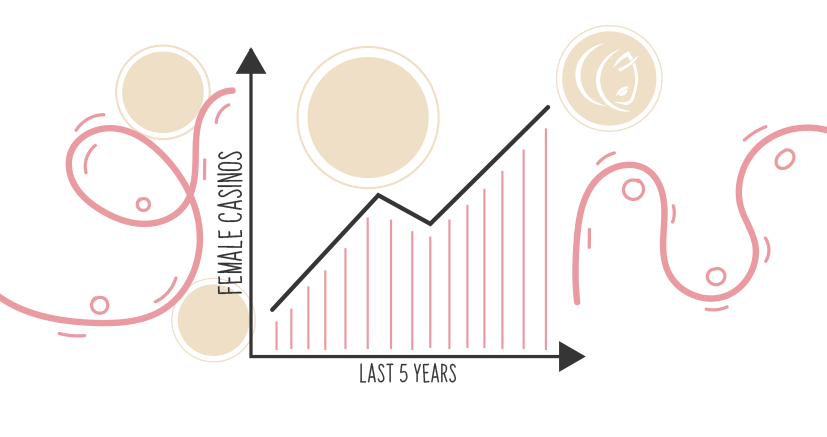 We already have several guides that are quite helpful for finding and joining online casinos. However, regular online casinos and live dealer sites have some (small) differences. For starters, the list of priorities is a bit different.
If you want to find a reliable online casino, here's what you should think about.
PICK LIVE CASINO TABLES FOR WOMEN: A CHECKLIST
Live casino game providers ✔

 Licencing and jurisdiction ✔

 

Platform compatibility ✔

 

Choice of live casino games ✔

 Supported banking ✔
With real-time gambling games, the focus is always on quality instead of quantity. While there are thousands of slots online, live table numbers are calculated in hundreds. Creating a live game takes a lot of time and effort, as well as money. Hence, there's a reason why software companies make dozens instead of hundreds of live tables.
Therefore, you should focus on finding a casino that supports your chosen content supplier, not offer thousands of games. Pay attention to the content selection as well, as the site must offer categories of games you play and enjoy.
There is also the question of licencing – and this applies to all types of casinos, not just live ones – and the availability. You cannot play if your country is a restricted market!
Before you sign up and deposit the first sum of real money, please also check whether your preferred method of banking is supported. Pick a reliable deposit and withdrawal method and investigate deposit and withdrawal limits, as well as processing times.
And as live dealer games gain popularity, operators try to accommodate the players in any way possible. That includes platform compatibility.
Newer casinos try to offer downloadable mobile apps for iPhones and Android phones, but even if there is no app, you can always access the mobile site via mobile browsers.
Further Reading
Once you pick live casino tables for women and a casino that ticks all of the boxes, it's time to join and start playing.
Here are a couple of cute guides you might find useful:
Q & A: How to Pick Live Casino Tables for Women