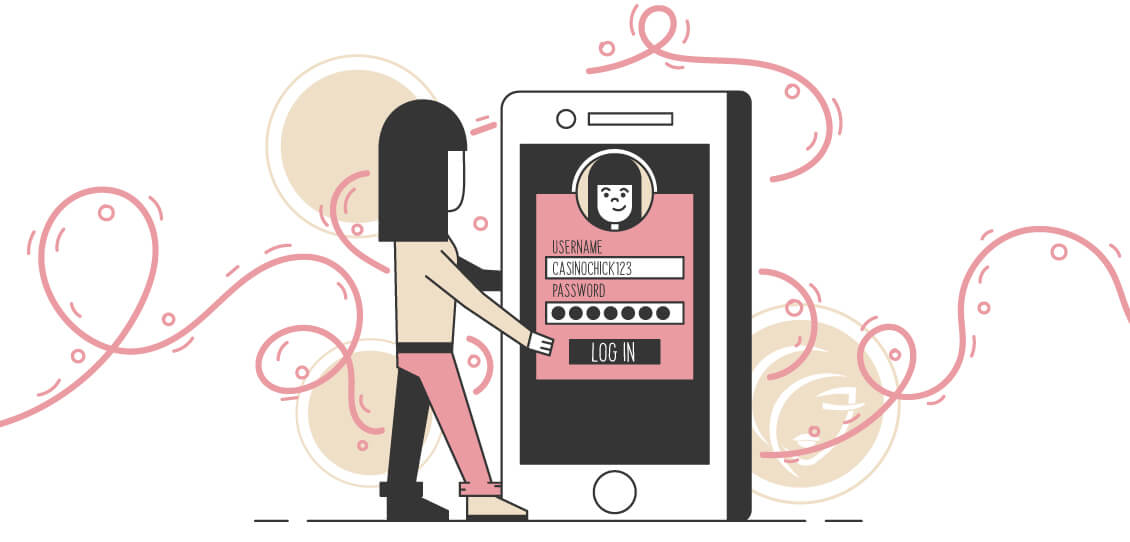 Are you looking for new ways to entertain yourself?
It seems to me you are since you are on this page. In this easy-to-follow tutorial, I am going to walk you through the whole procedure of creating an account with an online gambling venue.
There are a few things you need to know about an online casino before joining. Make sure the one you are signing up with is the best choice.
Casino Chick will aid you in making the selection.
First and foremost, you need to choose an online gambling operator. While it sounds simple, this matter should not be taken lightly. In my opinion, it is the most important step of the way. Only once you are sure that the online casino you are looking at fulfils all criteria, then and only then should you share your private data with the site.

As Easy as ABC!
Most online casinos allow registration in 3 or 4 steps, depending on the operator, and the steps roughly consist of the following pieces of information:
Contact information
Personal details
Security & preferences
Claiming the welcome bonus
Before we delve into each individual step, we need to enter the registration page.
What you want to do is find the button where it says something along the lines of 'Create an Account' or 'Sign Up Now'. Depending on the interface of the website of your chosen online casino, the pages will vary in appearance. Some sites utilize the one-click system so a cloud-like pop-up area will appear on the screen and ask for your information. Other sites will go for a new tab or window – it all depends. But more or less, they should all look quite similar. As an example, we are going to take a look at how Queen Vegas Casino approaches the process.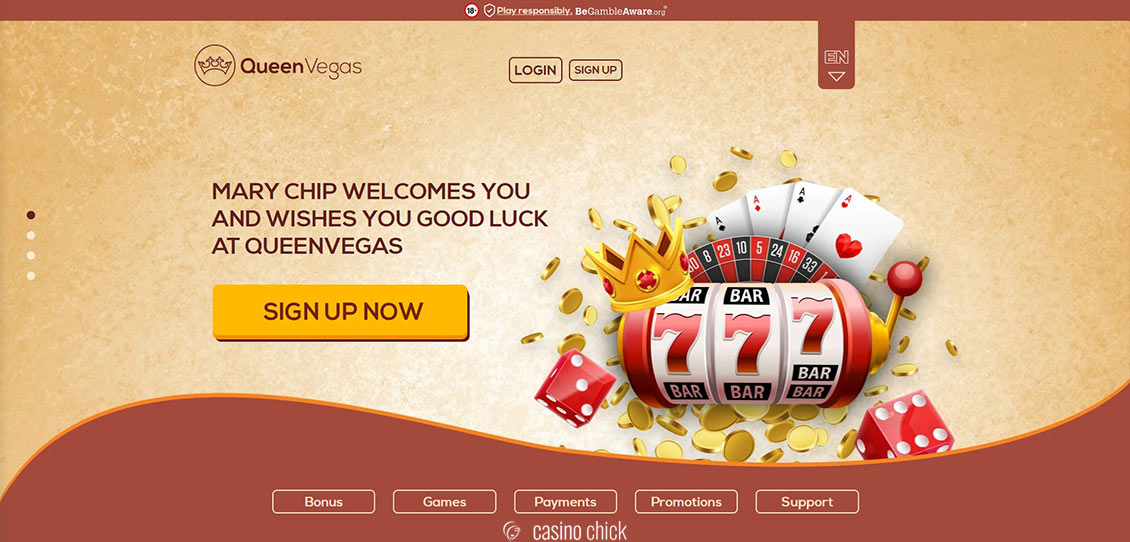 Contact Information
In the case of Queen Vegas Casino, the first thing you will need to do is provide the online casino with your name and personal information such as date of birth, gender, and occupation. The final two things you'll need to enter during the first step is your email address and mobile phone number.
It is important to remember that not all casinos have the same procedure. For instance, some venues will include  unique code sent to your mobile that you can use for logging in and surprises coming up later on (promo deals, bonuses, etc.). Bear in mind that some online casinos merge contact information and personal details into one step. We've gone ahead and entered our information to show you how it looks like. Notice the green check marks that mean your information is correct (not a scam).
Personal Details
Unfortunately or not, you will need to say bye to some of your personal data.
But don't worry; it is all in safe hands if you followed my instructions closely.  Private data, including your full name, birth date and gender have already been requested in the first step. Now, the second step entails disclosing your full postal address.
Other online gambling destinations might ask for your personal information first, and then go on and ask for your mobile number in the following step. Don't worry about the order of things. Just remember that you are probably going to have to disclose all personal information when signing up.
"Why do I need to share my mobile phone number?"
In order to verify your identity and prove to the online casino that the provided info corresponds to you, you need to give away some kind of external communication method. I will talk about other identity verification methods later in the article.
Certain online gambling operators offer their clientele the automatic localisation engine. In other words, you can type in your postal address, zip code, city and country manually, or you can allow the engine to situate you on its own. Most online casinos use advanced engines, so if you consent, the casino will find you easily.
After you have provided all that is required of you, you can go on and click on Continue.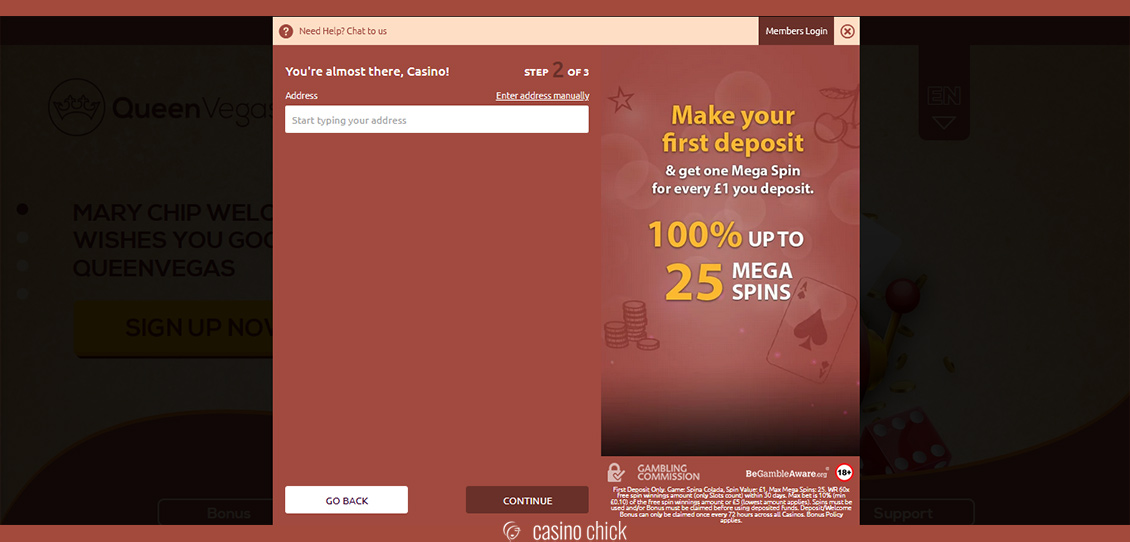 Security & Preferences
An important step for all casino users is security & preferences setup. Sometimes you need to think of a password in the first step, but other times, that comes later. Queen Vegas Casino has designed a separate section for security measures. Much like when creating any other account, such as email account for example, you get to select a username and password. Another venue other than Queen Vegas may offer you a list of Security Questions.
Some instances of the SQs include:
What is the name of your pet?
Your first car's make
What was the name of your primary school?
Your father's date of birth
What is your mother's maiden name?
As you can see, if you have ever created an account with gmail or live/hotmail, you will be familiar with these questions. Simply select one of them to your liking and insert the answer in the gap underneath.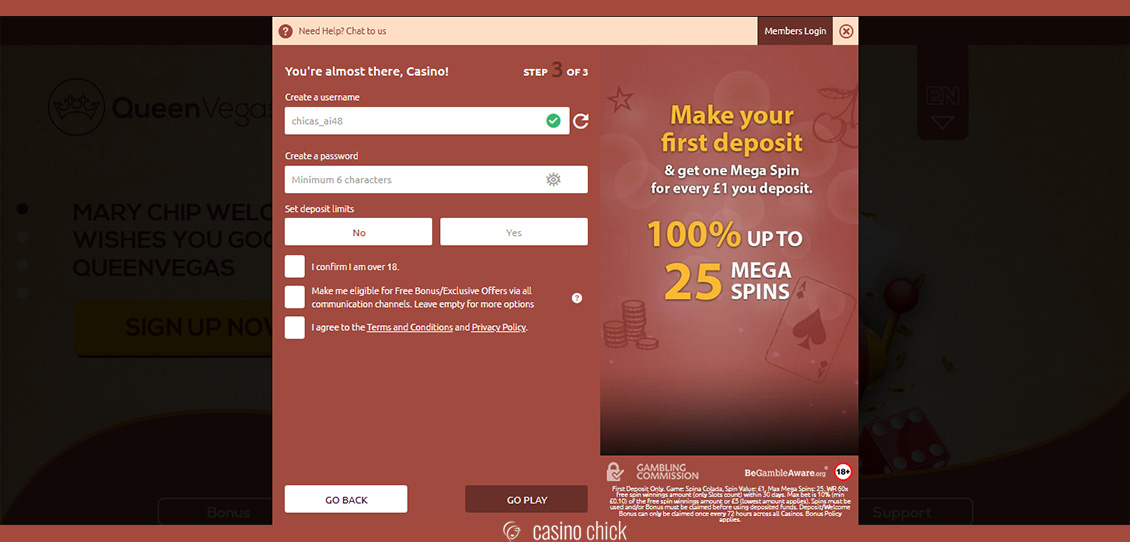 You will be given the chance to create your very own and unique password. Typically, an online casino will have a list of password requirements that you need to comply with. Usually, your one of a kind password needs to be at least 6-character long, containing at least one letter and one number. In some cases, the pass will need to have a symbol such as a full stop or punctuation mark, for example. It depends on the operator, and it is a matter of privacy and making sure no one figures out your password.
Once you've selected an appropriate username and set up a password, click on the boxes to confirm you are of legal age, sign up for the casino promo materials, and agree to Queen Vegas T&C. And that's that – you have successfully completed the step 3 of 3 necessary steps for joining Queen Vegas casino online.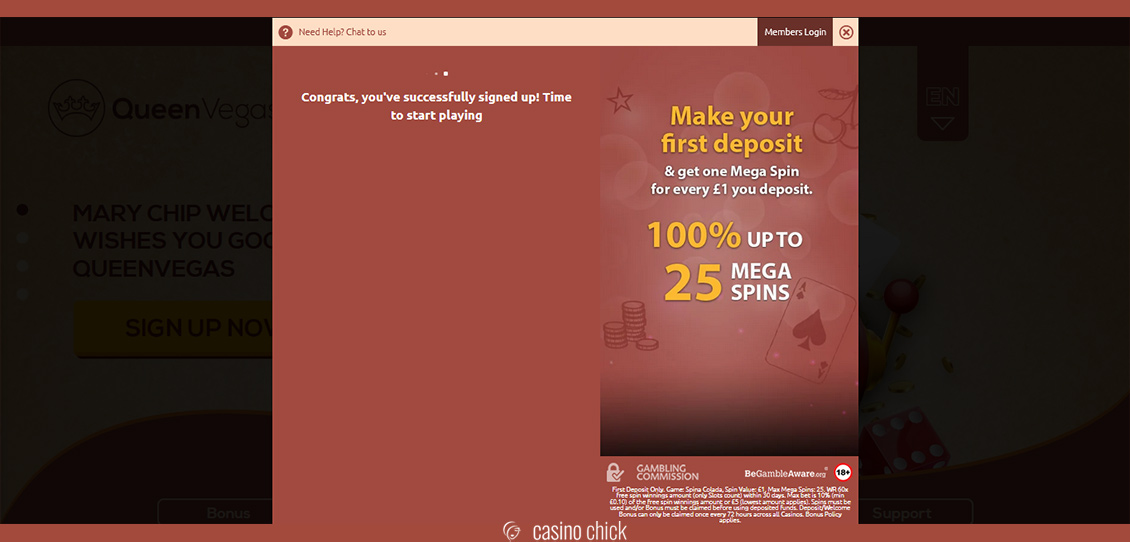 Congratulations! You are now a proud owner of a (hypothetical) online casino account! If you want to play at Queen Vegas Casino for real, we suggest you head straight to the casino and sign up for real.
Claiming the Welcome Bonus
The Welcome Bonus is arguably the best part of any casino experience. All gambling sites offer some sort of housewarming gifts – be it free spins, bonus cash, or both.
However, if you want to claim a welcome bonus, you have to be careful to follow all steps before you get the free perks. For instance, some casinos insert casino bonus codes. Hence, if you have a promo code, this is your chance to redeem it!
At Queen Vegas Casino, you are not immediately asked to make a deposit, but you can do it if you want to. The Welcome Bonus can be claimed as soon as you make the first deposit. Head to the top of the casino page to place your first deposit and claim the Queen Vegas Casino welcome bonus.
The strategy of attracting new customers with welcome bonuses is as old as time. A vast number of online casinos are more than open about their new client offers. They will in fact list all of the bonuses that you can choose from, normally right next to the registration section.
The Checklist 
Let's do a round-up and see if you have chosen the right online casino.
You want to make sure that the online casino accepts your preferred currency, offers a wide range of banking methods and naturally, has your favourite games. All of those bits of information and other criteria you will need to make the right choice can be found on Casino Chick.
Credit and debit cards and bank wire transfers have been common banking methods for years now. What makes an online casino truly advanced is offering a wide range of other options such as e-wallets, online banking, instant banking and fast transfers. Zimpler, Trustly and Sofortüberweisung are ideal methods for all of you in a hurry, as they cater for instant deposits.
Being of the legal age is imperative. If you are under 18, you will not be allowed in any licensed online casino. Other than typing your date of birth, you will have to provide evidence. Upon making your first deposit, you will be asked to provide your banking details (credit card number and so on). Later on, when withdrawing your winnings, especially if they are over 5,000, you will be asked to verify your identity.
In most cases the account holder just needs to visit the Cashier section and upload the following documents: a copy of your ID card/passport/driver's licence, a filled-in withdrawal form, complete banking information and a valid proof of address not older than 3 months. However, some online casinos are stricter than others. To prove you are old enough to gamble online, certain online casinos will ask of you to video chat with one of its agents. In this case, a Skype video call will be arranged with you via email.
Every self-respecting online casino will make sure that the data you are entering upon registration actually belongs to and describes you. This way no third party could ever access your account without your consent. An account is directly linked to the person who created it, and reputable online casinos strive to keep it that way.
Before sharing private data, some online gambling establishments will ask you to choose if you would like to play free games for fun or for real money. This is a decision that you have to make in advance and on your own.
If you ask me, playing for real money is actually much more entertaining than "playing for fun". Take the risk. If you always play safe, you will never get to see what's on the other side.
Bear in mind that Queen Vegas casino was used here just as an example of an online casino we support. You are free to choose any other venue you like on the internet – just make sure it's reliable and legit.
Casino Chick, as your loyal friend, has chosen a list of the top 5 online casinos for ladies that you may want to check out (and ultimately join). We made sure to mention the main reason why we like the casino, so you might pick the site easier. Check out our list below.
"What do I do next?"
Now that you are all set, you can make your first deposit. If you have any additional questions about signing up at online casinos, check out our frequently asked questions below. Toodaloo!

Frequently Asked Questions