About Sofortüberweisung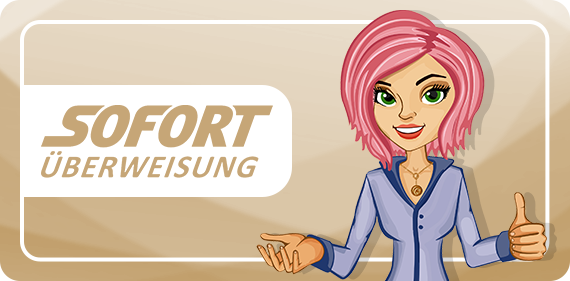 Sofort Banking, to some also known as Pay Now or Sofortüberweisung, is a payment method that arose in 2005 in the German financial market. The company that launched this digital bank transfer method allowed customers to pay for items online by connecting their banks with merchants.
However, since 2014, the former Sofortüberweisung is known primarily as Sofort Banking. Why the change, you may ask? Easy – they had a rebrand. Well, not a simple one, though, as the company was acquired by the Swedish financial powerhouse Klarna. Since then, Sofort has been integrated into the big brand Klarna Group which offers financial services to citizens in over 17 international markets. If you like numbers, that's over 85 million active users – and the numbers are growing.
So how does Sofort Banking work? Well, this is a digital bank transfer, which means it connects with your bank account using the data you provide. Once the service makes a connection, it will transfer the money you've selected to the desired location (in this case, it would be a casino). The process takes less than 5 minutes, so Pay Now is a dear service to many ladies in Germany, the Netherlands, and Belgium.
How to Make Deposits and Withdrawals with Sofortüberweisung
Are you new to Sofortüberweisung? Don't worry, we have you covered! We will show you how to finalise deposits via digital Sofort casino deposits, and then you will be free to claim delicious Sofortüberweisung casino bonuses. Are you ready for Pay Now?
Visit your casino banking page.
Choose Sofort and wait for a pop-up window.
Pick your bank from which you want to draw funds.
You will then be taken to a different window to enter Sofort credentials.
Enter the sum you wish to transfer.
Enter the TAN (Transaction Authentication Number).
Confirm the transfer and wait for it to process.
Sounds easy, right? It is easy. Of course, the first step is always the same – you enter the Cashier's land and start a new transfer. Luckily, the whole ordeal lasts shorter than with most other services. You should get your money within minutes. If you want to claim a welcome bonus, make sure you've highlighted it and entered the required bonus code (if needed) before you get to enjoy your Sofort bonus.
HOW TO WITHDRAW USING SOFORT
Sad news, girls – you cannot withdraw using Sofort banking at online casinos. The payment option is merely there to connect your bank with the merchant/casino, so there's no way to store funds that could be then withdrawn.
This saddens many ladies across Europe, but it is what it is. Your only option is to get another payment service to perform the withdrawal duties. We highly recommend e-wallets for this, as well as cryptocurrencies. Credit cards are the most reliable, but they take so long to finish the transfer that you end up wondering was it worth it in the end.
Fees & Timeframes
Sure, you get a host of advantages with his option, but what will this cost you? We are used to the fact that nothing good in this world comes for free. Luckily, we might be wrong about Sofort Banking, as casinos don't charge a single cent for using it!
Moreover, deposits are instant, so there's no waiting for the money to appear where it is supposed to appear.
There's one thing, though – you must check with the company to see if you have some charges for using the service in the first place. Visit the official website and check out all potential fees before you sign up for this service.
Why Use Sofortüberweisung
Is Pay Now a good casino banking option? What are the advantages of using Sofort Banking at online casinos?
So many questions, yet one single answer – yes. Yes, it is a good option for your gambling endeavours, and yes, there are so many advantages that we'll list right below. First, the service is free, meaning online casinos won't require additional funds as compensation. Next, it is quite secure. Klarna is at the top of the European financial sector precisely because they put a lot of time and energy into protecting their customers. Hence, do you think they would allow players to use something that's anything less than perfect?
Now, we do know that Sofort Banking casinos have one drawback – they do not allow withdrawals. This is a sad thing because, with Sofort withdrawals, the payment service would be unmatched across the gambling industry. But it is what it is.
Pros and Cons
Safe payments protected by TAN and encryption

Registration is not needed

Top choice for sites in Germany

Owned by the Swedish finance giant Klarna Group
Does not accept withdrawals

A limited choice of countries where it's accepted