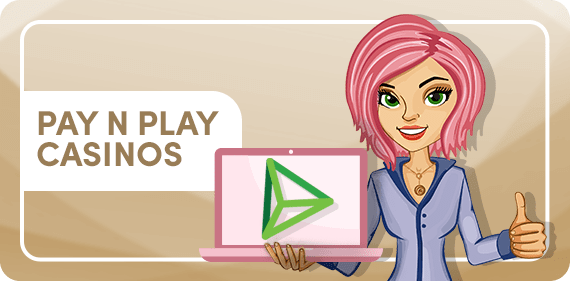 Have you heard of no registration or no-account casinos? If you haven't check out our exclusive page on the topic. In short, no-account gambling sites work by using the player's unique BankID and Trustly to instantly log in. In that sense, Pay N Play casinos are very similar.
This progressive banking solution arrived as the product of Trustly's impressive innovation and the market demand. For many years, e-wallets ruled the world of online gambling. And while they offer faster and easier withdrawals than, say, cards, they still have disadvantages.  One huge drawback of e-wallets concerns prolonged registration.
Statistics show that 24% of players give up during the registration process. So, Trustly came up with a product that quickened the entire tiresome procedure. Evidently, players were getting tired of tedious and exhausting sign-ups.
Trustly originally introduced Pay N Play in 2008 and it debuted as Trustly's unique direct payment solution. It was at the annual ICE London gaming event when the Swedish banking brand premiered its new concept. The goal was to establish a simple payment solution for European players. To achieve the vision, Trustly eradicated several unnecessary steps from the registration procedure.
Namely, the company discovered that filling out the registration form is not necessary to play at online casinos. By using this method, visitors are motivated to make the first deposit simply because their time is not wasted.
How Pay N Play Works
Let's observe in person how a typical transaction at Pay n Play casinos looks.
When you enter a gaming site, the first thing you need to do to play for real is register. And since Pay n Play casinos work without registration, this is how it goes. When clicking the Play Now or Sign up button, choose it as your preferred sign-up option.
You don't need to complete a tedious registration form and waste your time typing. Imagine being a slow type – it could take 15 minutes to just join the site! Don't even get us started with that tenacious Next button.
So, instead of typing your full name, address, etc. manually, just link your bank account with the casino account. How? By selecting this method.
It is a reliable and secure way to spend money in online casinos. By directly using your real bank account money, you know exactly how much you're spending. The instant banking system is there to speed up the waiting process. While using modern encryption systems found in all leading banks, the Trustly offspring ensures completely safe banking all-around. On top of that, the infamous watchdog Swedish Financial Supervisory Authority supervises every step of the way. By using your unique BankID, players can be convinced that their banking is safe and secure.
Then, players can deposit directly from their bank account by choosing this method. In the next step, Trustly verifies your identity and transfers necessary KYC (Know Your Customer) data to the operator. So, in just one click or tap, you both register and deposit. If something's revolutionary, then this is it!
It's like killing two birds with one click!
Where Is Pay N Play Accepted?
Right now, this solution is only available in the following countries – Sweden, Denmark, Finland, and Germany. The company is looking to extend its reach towards Holland and the United Kingdom, too. However, for the time being, punters from huge markets like the US and Australia cannot use this advanced payment solution.
With that in mind, CasinoChick.com fathomed the best casinos with Pay N Play. Here are the crème de la crème casinos:
| | | | |
| --- | --- | --- | --- |
| | Casino Name | Best for Players from | Register |
| ❶ | Pelaa | Sweden 🇸🇪 | |
| ❷ | Guts | Germany 🇩🇪 | |
| ❸ | Kassu | Finland 🇫🇮 | |
| ❹ | Casoola | Denmark 🇩🇰 | |
| ❺ | LeoVegas | The UK 🇬🇧 | |
You may read misinformation on where Pay N Play is available. This is the only complete list of countries with it right now. In case the company successfully spreads its influence elsewhere, you bet that Chick will be the first to tell you!
On the other hand, Trustly users reside in 29 European countries, not to be mixed up with its subtype.
HOW TO DEPOSIT AT PAY N PLAY CASINOS?
So, you've found an attractive Pay N Play casino with solid bonuses. If you as us, the next step is quite obvious – you need to make your first deposit. This is what you need to do:
Load the chosen Pay N Play casino homepage.
Select it as the sign-up method.
The website will automatically offer the system for depositing.
Click on Pay N Play.
Trustly confirms it's you and sends your KYC details to the operator.
Your transaction is finalised by entering your BankID.
Start playing with real money immediately!
To obtain a BankID, you need to talk to your bank teller. Request your digital signature or e-identification to have it issued. Only when you've acquired a BankID can you use it in modern casinos.
This is the list of the banks that issue BankID digital signatures:
Swedbank
SkandiaBanken
Länsförsäkringar Bank
Danske Bank
Sparbanken Finn
Sparbanken Gripen
Ikano Bank
KYC is short for Know Your Customer or Know your Client. Banks came up with this concept to ensure that the identity of clients is genuine. The KYC process involves verifying the person's identity by checking all their details, including full name, bank account number, address of residence, and so on.
HOW TO WITHDRAW FROM PAY N PLAY ONLINE CASINOS?
Withdrawals work the same way as deposits. It's a one-click process after which your money is instantly sent back to your bank account.
This is how it looks, step by step:
Head to the Cashier.
For your preferred withdrawal option, choose Pay N Play.
If asked, enter your BankID.
Confirm the payout request.
Trustly acts as the mediator and immediately cashes out.
What's more, cashouts have even more perks. Namely, if you close your web browser or the connection crashes, your data won't be lost. You can simply log back in through your online bank via Trustly. Resume playing at your favourite casino like nothing happened.
ADVANTAGES OF PLAYING AT PAY N PLAY CASINO SITES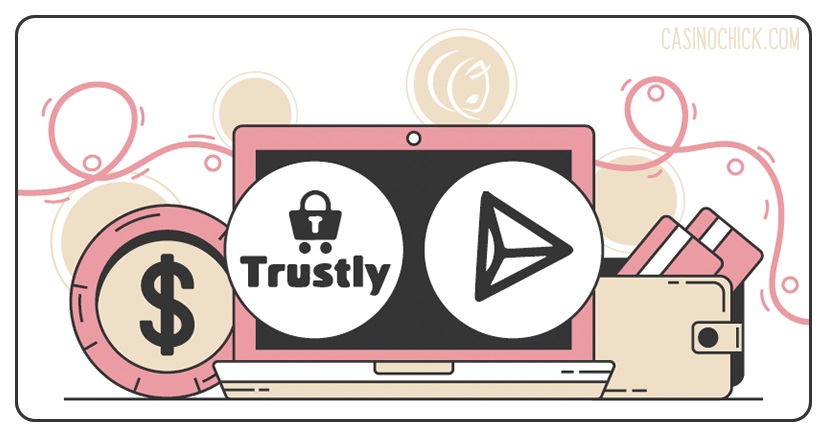 So far, you must have noticed a few huge advantages of playing with this method. Let's go through them in more detail.
Light-Speed Cashouts
Perhaps the most notable perk of Pay N Play casinos concerns efficiency. This product was invented to achieve the speed no other solution does. And Trustly did a terrific job manufacturing such a method. It is the fastest and easiest payment system ever invented. It is only a matter of time when it will extend to cover the majority of countries worldwide.
Simple Verification
Another facet modern that girl gamblers especially appreciate is the simplicity of use. This goes hand-in-hand with the previous point we made. Pay N Play casinos save your time by contacting the registration and verification times. After all, we're talking about a one-click system, which is why no-account (no registration) casinos came to be. Trustly operators don't let you spend ages creating an account.
100% Safety & Security
The structure upon which the system was developed is similar to those found in long-standing traditional banks. And as you know, conventional banks are vaults that are pretty hard to break into. Trustly's system works in the same way. In layman's terms, lady punters who use Pay N Play are fully protected. Additionally, their funds are safeguarded by the latest and regularly upgraded encryption protocols.
Pay N Play Casino Bonuses
Finally, we want to examine the fun side of this payment method. Other than being outstandingly convenient, the instant bank often comes with lucrative casino deals. Nowadays, Pay N Play casino bonuses are commonplace. And your best casino pal, Casino Chick, covers those in detail. Sometimes, you don't even need promo codes to claim a bonus. If you're interested in the best casino offers, browse them here.
PAY N PLAY CASINOS VS REGULAR CASINO SITES – PROS & CONS
Our mission here at CasinoChick.com, among other things, is to provide detailed and honest casino comparisons. The same dynamic applies to Pay N Play casinos. After combing through the web for the best casino sites for girls, we must feature these reliable operators. But to keep things as transparent and informative as possible, we compared old-school casinos with Pay N Play ones. Here are the results:
| | |
| --- | --- |
| New Pay N Play Casinos | Traditional Casinos |
| ✔️ Advanced payment system aligned with contemporary gaming needs | ✔️ Widespread and easy to choose from |
| ✔️ Created for smooth mobile use | ✔️ Popular due to long-standing reputations |
| ✔️ 100% safe due to proven encryption protocols & KYC | ✔️ Bigger revenue than new casinos, and therefore larger jackpots & payouts |
| ✔️ New & immersive casino games | ❌ Sometimes lack innovative banking solutions |
| ❌ Still not as numerous as conventional ones | ❌ Less future-oriented |
As it is evident, this modern payment system is comprised of pure perks and no flaws whatsoever. At least, our overall experience with the payment solution has been impeccable. The very banking system is simple and straight-forward, which is its main trait. So, the actual UI with Pay N Play casinos is free of faults.
However, some legal boundaries make these casinos inaccessible to players from many countries. Thus, the lack of accessibility is the only drawback. Only punters from Scandinavian countries and Germany can use it. But we've got some good news, too.
Since Pay N Play is owned by Trustly, which operates globally, we have hopes that its product will also spread. These expectations are all but high, considering how progressive a company Trustly is. The Swedish banking giant is arguably the leading firm in the industry.
PROS
No lengthy registration
No additional Trustly account needed
Resume Play possible
No need to remember usernames and passwords
Reliable KYC & information transfer systems
Reducing waiting times
Quicker withdrawals
CONS
Unavailable in popular markets like the US, UK, Australia, and New Zealand
Still limited number of operators accepting it