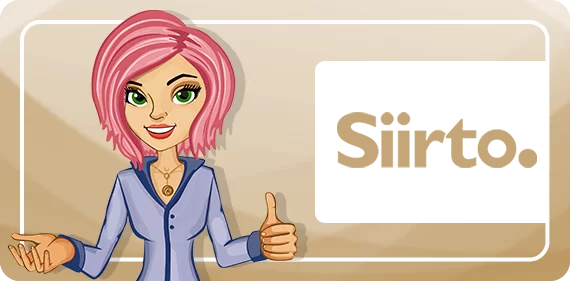 Siirto is first and foremost a mobile app. If you live in Finland, you can visit your app store on your mobile phone, enter your bank account credentials and link it with your bank.
Siirto works with the most popular Finnish bank Nordea, so many users consider it a Nordea-owned service. However, Siirto is not restricted to the most popular bank in the country. Besides Nordea, you can link Siirto on your phone with accounts at OP Bank, S-Bank, and Bank of Åland.
Before you pick a casino and start playing gambling games, you will first have to set up your app. That is easily done with a simple app download and sync. After you finish setting up the app – it takes literally two minutes – you are ready to use it. And this is the most entertaining part of the adventure because you essentially get to enter your mobile phone number and pay with it. That's it – no other personal data required!
Phone numbers are the only information the merchants/casinos require to start a transaction. Sure, you still have to confirm the transfer, but that won't be difficult in the least.
The service was started in 2017, and its customer base has grown exponentially over the years. Right now, more than million users regularly use Siirto for their payments for their banks.
It doesn't matter if you are new to Siirto or not. The app is so easy to use that it takes approximately 2 minutes to get a hang of it. Therefore, if you choose it as your new preferred payment option for casino sites in Finland, you won't have a problem learning how to deposit and withdraw.
But just in any case, here's a step-by-step process for Siirto casino deposits.
Visit the banking page at the casino.
Start a new deposit and pick Siirto as the option.
Enter the sum you wish to transfer to your casino.
Enter the phone number connecting Siirto with your phone.
Confirm the transfer from the app.
The money should be in your casino account within minutes.
The process is easy and virtually painless, so you won't have to waste time on figuring out how what works. And if you want a bonus with your new deposit, be sure to check out the list of offered casino bonuses in the promo section!
HOW TO WITHDRAW USING SIIRTO
Siirto withdrawals exist, ladies! As you know, many payment services accept deposits but not withdrawals. Siirto is not one of those, because it only acts as a transfer point between your bank and the casino.
If you want to use it for withdrawals, we recommend first checking whether the casino accepts withdrawals. Not all casinos do! But if you have one that is fully on-board with casino cash outs, here's the list of steps for withdrawals using Siirto.
Visit the banking page at the casino.
Start a new withdrawal and pick Siirto as the option (if it's not chosen yet).
Enter the sum you wish to transfer from your casino.
Enter the phone number associated with your Siirto account.
Confirm the transfer from the app and follow any subsequent instructions.
Wait for the money to appear in your account.
In case you claimed a casino bonus, please make sure you have checked all casino rules and requirements. Do not try to withdraw funds unless you are certain you've met the goal for casino withdrawals.
Here's the short description for fees & processing times:
It is free to use.
Both deposits and withdrawals are processed instantly.
If you want to use this option at your casino, you're in for a treat – you can use it for free non-stop, and your transactions will go through as soon as possible. Instant deposits are not newsflash, but instant withdrawals are – even though they are not accepted exactly everywhere.
The service does have limitations, though. For instance, the maximum amount of oney that you can pay to some service such as a casino is limited to €1700 per day. In other words, you can deposit to a casino up to €1,700 and not a cent more per day. Withdrawals at the casino, i.e. money that arrives to your bank account via Siirto is not subject to any kind of limitation.
Siirto is easy to love because it offers an abundance of perks with minimal drawbacks. The reason why so many users in Finland have downloaded the app and linked it up with their bank accounts is that it gives them the benefit of instant transactions anywhere they are, anytime they want.
The only thing that Siirto needs is your phone number, and once you've entered that (and the sum) the money is quickly moved to where it is supposed to be without any kind of fuss.