About POLi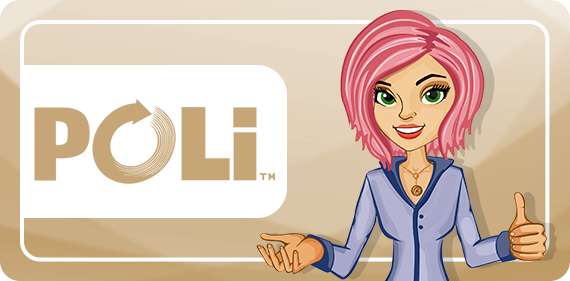 The Australian internet banking service has been on the Aussie financial market since 2006. A decade and a half of secure and expedient payments have made POLi one of the favoured payment methods in NZ an AUS. Kiwis use it while shopping, quick money transfers, and paying bills – but online casino account funding remains a favourite application.
The Melbourne-headquartered service is an internet banking service connecting your bank account with the merchant (in this case, the casino). In doing so, POLi transfers money by acting as a transfer channel between the bank and the casino account. The entire process lasts a few minutes tops. But the best thing is that you do not have to register with the banking provider at all. All you need is a bank account accessible via the internet.
In the following sections, we'll explain in full what is this service, how to place POLi deposits at gambling websites, and the advantages of using it at gambling sites. Sit tight, you are about to meet one of the greatest payment services in gambling online.
How to Make Deposits and Withdrawals with POLi
The biggest advantage of using POLi deposits is the service's simplicity. Ladies frequenting online casinos for girls only need a couple of minutes to learn how to use it. On second thought, they need even less than two minutes, and you'll see shortly why.
Here is how to place a deposit with POLi at online gambling sites:
Visit the casino homepage and become a registered player.
Head to your profile and open the Cashier section.
Initiate a new deposit request.
Enter the sum you wish to transfer.
Pick POLi from the list of offered payment services.
Choose the bank you have an account with.
The site will redirect you to your bank website, where you should enter transfer details.
Confirm the transaction.
The funds should already be in your account.
It doesn't get easier and better than this. POLi allows you to transfer funds within seconds, and you don't even have to have an account! All you need is a bank account, your username and password, and the amount of funds you wish to transfer. The payment service will do the rest of the heavy lifting. Moreover, don't worry about safety because the service does not store or remember personal details like passwords and usernames. No one can cheat, scam, or financially hurt you if you pick to play at Australian casinos using POLi.
How to Withdraw at an Online Casino with POLi
Unfortunately, you cannot withdraw from gambling websites using POLi. The service is only a transaction channel, not a place where you can store funds. That being said, you will probably have to pick another payment service to suit your needs.
If the gambling website accepts cryptocurrencies, we highly recommend Bitcoin as a withdrawal method. It is both fast and easy to use and offers impenetrable anonymous transactions. On the other hand, Visa could suit you rather nicely if you are more of a credit card user.
Fees & Timeframes
Given there are no POLi casino withdrawals, the question of timeframes and processing is eliminated from the equation. Deposits, like with most other casino payment options, is instant. You get to enjoy your money within minutes.
Moreover, the company has a great initiative wherein it strives to offer free services to the customers. Merchants pay the full price, not you. The price is 1% of every transaction which goes through the internet banking company. Casinos pay the fee so that you would not have to.
Why Use POLi
Now, a million-dollar question: What perks does POLi offer?
Well, the most obvious benefit is the instantaneous and free transactional ability. You don't have to wait for days or even hours. You can start playing exciting casino games right away without a worry in your mind!
Another great aspect is user-friendliness. It is effortless to navigate and use. Plus, you don't have to have an account; just pick its logo from the list and transfer your money!
It is also very safe. This is especially important if you use it for internet gambling purposes, as you never know what could happen with your transfer. With this payment option, worries are the last thing on your mind.
The only potential downside could be the absence of withdrawals, but this should not be an obstacle. Casinos in NZ and AUS are fully equipped with other banking options which support withdrawals, so you won't have a problem finding a suitable transaction method.
Pros and Cons
Free and instant payments

It does not require registration.

It is quite popular at Aussie and POLi casino NZ sites.

Does not keep or remember personal and bank information of its customers.
You can use it only in Australia and New Zealand.

Does not accept withdrawals.