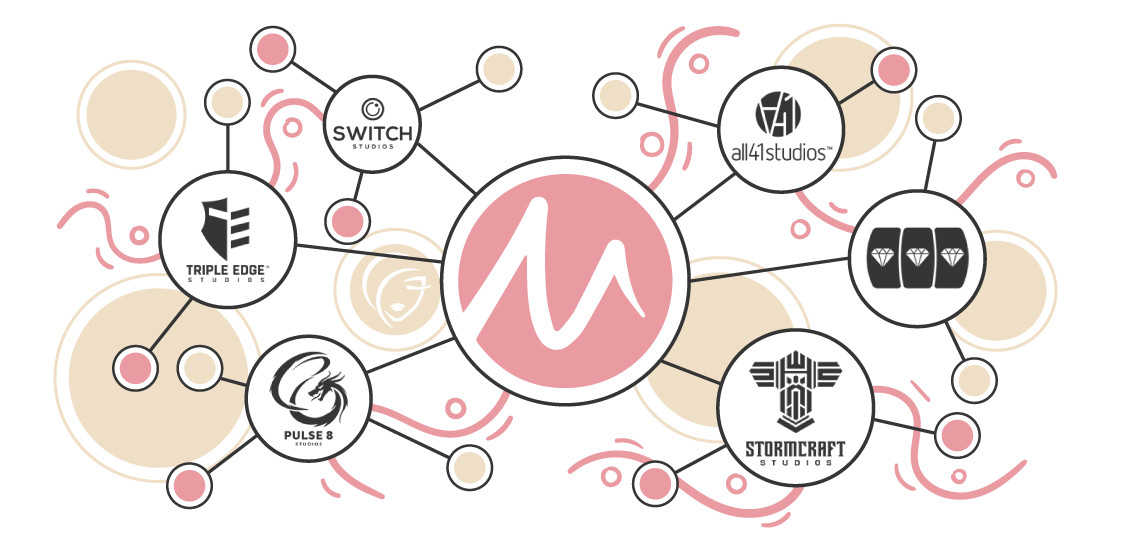 Microgaming is a powerhouse, and as such, it has a massive network of independent studios working hard to deliver top content to Microgaming casinos. Casino Chick has covered a number of studios, and we had exclusive interviews with most of them. But here we are, ready to show you what they are all about.
In this article, Casino Chick explores the most important independent studios to ever grace the halls of Microgaming casinos. We have the top 3 Microgaming independent studios whose slots you need to try right now.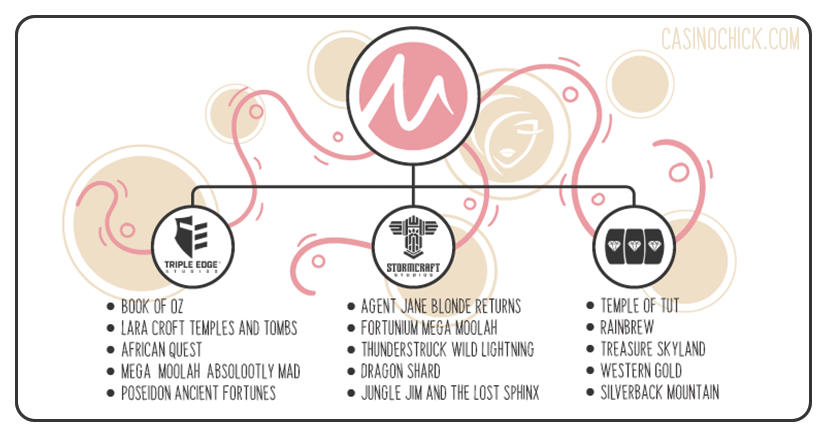 Casino Chick hopes you like what we prepared for you! We will start from Triple Edge Studios, one of first small-scale game studios to join Microgaming's network of content suppliers.
Triple Edge Studios
Triple Edge Studios is among the first game studios to join the network and release content for Microgaming. This young company joined the web back in 2018, making it a newcomer to the game-making scene. But that's not the actual start of the Triple Edge story. The company came into existence a year before that, so the team isn't exactly inexperienced. However, the company found recognition and fame once it became an exclusive Microgaming studio.
Triple Edge Studios embodies the tenacity and patience it takes to create top-tier games for a company such as Microgaming. Although they've been launching games for the brand for only a couple of years, they've managed to launch quite a few smash hit releases. Therefore, it is one of the first names that comes to mind when you say 'Microgaming independent studio'. The first time Microgaming fans heard of this studio was in 2018 when Microgaming announced their arrival at the ICE 2018 Totally Gaming event in London. The debut slot with which Triple Edge wowed the crowds was the branded Playboy™ Gold slot.
Thanks to the interview we've had with Inga Valinta, the Creative Design Lead at Triple Edge, you are probably familiar with Triple Edge Studios. We had the pleasure – and honour – to hear what it's like to be a part of Triple Edge's team straight from Inga. She revealed how it's like to work with Triple Edge experts and their most memorable releases. If you want to hear what Inga had to say about her company and work experience, swing by Casino Chick's interview with Triple Edge Inga Valinta. 
We will now introduce you to short company info as well as the best Triple Edge Studios games. Stick around for a list of the best Triple Edge casinos too!
Short Company Facts
Company Headquarters: Boca Raton, Florida, USA
Established in: 2017
Game Speciality: Online/Jackpot Slots

Number of Games:

24+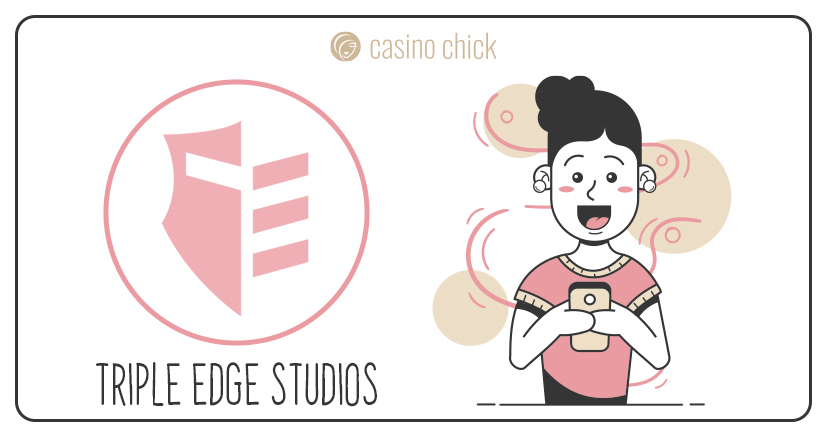 Most Popular Triple Edge Slots
Like we already mentioned, Triple Edge Studios introduced itself to the players with the Playboy Gold slot release. This was the fourth game that the studio produced, but it was the first built exclusively for Microgaming. However, as this is a branded slot, the company used Microgaming's rights acquired from Playboy in 2013. Before Playboy Gold, the supplier had made Oink Country Love, 108 Heroes Multiplier Fortunes, and Halloween.
Today, the company is famous for its works Book of Oz, Lara Croft Temples and Tombs, African Quest, and the legendary Mega Moolah: Absolootly Mad.
Book of Oz & Descendants
We cannot talk about Triple Edge without talking about Book of Oz slots. Book of Oz Lock' N Spin HyperSpins is a 2019 release which came a couple of months after Lara Croft® Temples and Tombs™. The first of several instalments to grace our online casinos, Book of Oz is the company's dashing introduction to the Book of slot subgenre. However, the game was so well-received that Triple Edge decided to continue the story with another release. Book of Oz Lock' N Spin is a game decorated with a little something, the popular HyperSpins feature present in several Microgaming slots. The series also contains Sisters of Oz and Legacy of Oz releases.
Lara Croft Temples and Tombs
Lara Croft® Temples and Tombs™ is an Egyptian-themed slot that features the famous heiress Lara Croft. The daughter of James Croft travels the world in search of lost relics, and this time her journey has led her to the Temple and Tomb of the Golden Scarab Jackpot. As soon as the game came out, it became a big success, delighting players industry-wide with its intelligent features, striking visuals, and top-notch potential. It's a branded release, so join Lara and win big if you are in the mood for some archaeological adventures!
African Quest
The third slot on this list of most successful Triple Edge Studios slots is the African Quest slot. African Quest is a 5×3 slot that looks a bit like the original Mega Moolah slot, so it's no surprise fans were delighted both with the design and the game's potential. African Quest has a decent collection of features that cover Free Spins, Multipliers, Respins, and Free Spins choices. Although the theme looks quite simple compared to other more elaborate releases, African Quest is not a game you should easily disregard. TO date, it has been one of the most successful Triple Edge Studios releases to exist at Microgaming casinos.
Mega Moolah Absolootly Mad
No fan of progressive jackpot games would say they aren't familiar with Mega Moolah. It's simply impossible not to know the record-breaking jackpot slot that paid millions to lucky players worldwide. But although the original continues to be a top choice for thrill-seekers, Microgaming – along with Triple Edge – decided it was time to bring in fresh blood. And what better alternative than by introducing Mega Moolah to the world of Alice in Wonderland? Mega Moolah Absolootly Mad is Triple Edge Studios' contribution to the growing family of Mega Moolah linked slots that you Absolootly have to try. It has everything a slot fantasy enthusiast would want – a superb theme, ridiculously good visuals, and a dazzling progressive jackpot that's yours for the taking.
Poseidon Ancient Fortunes
The latest of its inventions is the Poseidon Ancient Fortunes slot that Triple Edge bolstered with Megaways and WowPot jackpots. At the moment, players have two choices – one features only Megaways, while the other has both the Megaways engine and WowPot jackpots. Set in ancient Greece, Poseidon Ancient Fortunes tells the story of the Greek god of the sea (and earthquakes, horses, and storms). The ill-tempered god is not exactly warm-hearted, but he is generous and fair. Play your rounds right, and you might walk away with a colossal prize from the Pot and Unlimited Multipliers scattered throughout Free Spins. The sea of Greek-themed slots (excuse the pun) is rich with godlike creatures and games that offer big payouts, but Poseidon Ancient Fortunes ticks all the boxes for those who have become disillusioned with the repeated tropes of Greek mythology.
Top Casinos for Triple Edge Games
Where to play Triple Edge slots? Sure, you can find them at most Microgaming online casinos, but which site would you deem the best? Casino Chick has the answer.
We've collected the best Triple Edge casinos where you can play Triple Edge slots for real money and fun. Yes, you can play all the games listed above, but there's more to its portfolio than meets the eye. Don't be afraid to explore the world of Triple Edge and become infatuated with its inspiring characters, appealing features, and aesthetically perfect releases.
Stormcraft Studios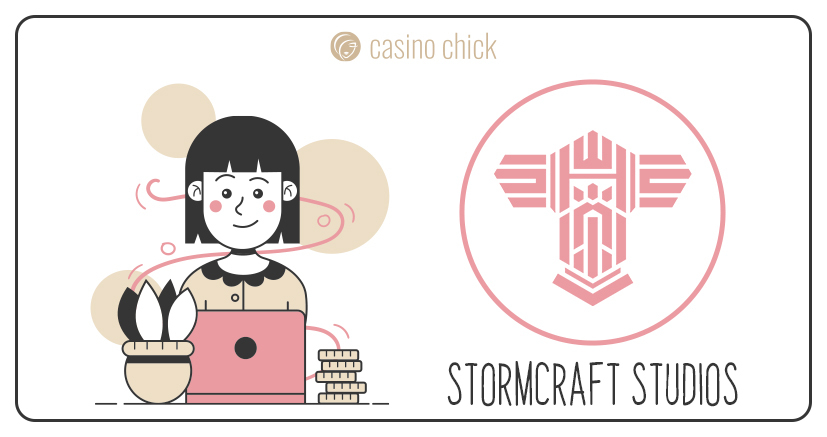 Stormcraft Studios is a company that knows what it wants and how it wants it. Also, Stormcraft slots are more than games – they are unforgettable gaming experiences others are desperately looking for. The realm of slot releases represents a saturated market where designing new themes and game approaches seem both a vital and nearly impossible step. So what more is there to invent? Well, if you ask Stormcraft, plenty of things.
The company joined Microgaming's network around the time when Triple Edge became a Microgaming brand. These two companies are considered the foundation of the network, given they've both been there since the early days. And thus, they have been given big tasks of reforming and redesigning some of the biggest Microgaming classics. That's how Stormcraft birthed Fortunium Mega Moolah, a steampunk paradise that carries the legendary Mega Moolah progressive jackpot. But the road to the successful jackpot sequel took a few years to reach full potential. Stormcraft represents a team of experts who have been in the industry for decades. In other words, they know what they are doing!
The South African company first appeared on our radars in 2018 during ICE in London. The debut slot – Fortunium – brought the three core Stormcraft principles to life – innovation, craftsmanship, and entertainment. Innovative design, impeccable craft, and above all, an inexhaustible source of fun for millions of slot players are what makes Stormcraft – Stormcraft.
The company is located in South Africa and is currently under the guidance of Terrence Igesund. Terrence has been the creative mind behind some of the most popular Microgaming games, including Immortal Romance and Game of Thrones. In addition, he and his team of experts create some of the best put-together games ever to be showcased at an online casino running on Microgaming software.
Short Company Facts
Company Headquarters: South Africa
Established in: 2018
Game Speciality: Slot Games

Number of Games:

11+
Most Popular Stormcraft Slots
Stormcraft Studios might not officially have a big library, but the team's influence extends across dozens of Microgaming titles in the portfolio. However, only a dozen games proudly bear the stamp of Stormcraft Studios (for now). Despite having only a handful of them, choosing only the top five to display here was exceptionally difficult. You'll see in a bit why is that so.
Agent Jane Blonde Returns
The blonde superspy Jane Blonde is back, and she's better than ever! Stormcraft Studios crafted the long-awaited sequel to Microgaming's superhit Agent Jane Blonde. The sequel brings new tasks for the agent, as Blonde gets to save the retro-wave world from doom. Players act as her sidekicks who use special game features to boost the game's winning potential. Speaking of features, Jane returned bearing Stacked Wilds and Respins. The game offers only two boosters from a player's point, but these boosters will be more than enough to successfully carry out the mission. The slot finally arrived in Microgaming casinos in March 2021, and a dazzling third instalment is already planned for January 2022.
Fortunium Mega Moolah
Expert slot crafter Stormcraft Studios' debut release was Fortunium, a steampunk slot with a convenient Portrait Mode, making casino gaming infinitely better. Stormcraft is one of the first companies to fully grasp the power of the mobile-first approach to gaming. Inside Fortunium, players a pair of steampunk adventurers Victoria and Maximillian, whose goal is to stack symbols and activate the Win Booster™.
Following the success of the first slot, the slot-maker decided to up the ante with a new and improved version of Fortunium. Hence, they decided to use one of Microgaming's most prized possessions – the Mega Moolah progressive jackpot network. As a result, the Fortunium Mega Moolah slot is linked to all Mega Moolah jackpots.
Thunderstruck Wild Lightning
The sequel to the legendary Thunderstruck II is here, and it's ready to become your new favourite slot. Thunderstruck Wild Lightning is the third slot in the Thunderstruck series and follows directly after Thunderstruck II.
Few players know this, but the team of visionaries from Stormcraft made the first two games. Hence, it was only natural for them to continue the series, but they brought it to a whole new level this time. Thunderstruck Wild Lightning boasts mesmerising 3D graphics, a captivating narrative, and superb game mechanics capable of dishing eye-opening payouts. The game also has an epic soundtrack that plays during adventures with Thor and other Norse gods.
Dragon Shard
Unlike other Stormcraft games listed here, Dragon Shard is not a sequel or a remake of a popular Microgaming slot. No, the Dragon Shard slot is all Stormcraft Studios! Dragon Shard is an epic fantasy story that takes place in the land of fire and ice. Mighty heroes looking for the Dragon Shard will have to fight on the grid to earn the powerful artefact. It's not Game of Thrones, but it does feature dragons – dragons as powerful as the heroes on the grid. The mythical kingdom is right at your fingertips, thanks to a slew of distinguishable Stormcraft slot features.
Jungle Jim and the Lost Sphinx
Another breath-taking 3D game to come out of Stormcraft's studio is Jungle Jim and the Lost Sphinx. Jungle Jim and the Lost Sphinx is a continuation of the saga of Jungle Jim and his notorious adventures. However, this time, Jungle Jim is headed to the golden Egyptian desert, where he will attempt to roll the Rolling Reels and follow the multiplier trail straight to the Win Booster in-game feature. However, the best thing about this game is not the inclusion of unique features – although that's great too – but rather the quirkiness of the 3D characters. Stormcraft did not just throw in crisper graphics; the 3D design team breathed life into Jungle Jim and made him more real than ever.
The Best Stormcraft Casinos
Stormcraft might have less than a dozen of slot games, but casinos are still fighting for the privilege to showcase its games. The evidence is the long list of online casinos that offer Stormcraft slots! We highly recommend checking out our top recommendations if you want the best of the best. However, if you want something else, check out our other Microgaming casinos reviewed and listed by Casino Chicks.
Here are the best online casinos for Stormcraft Studios slots.
JustForTheWin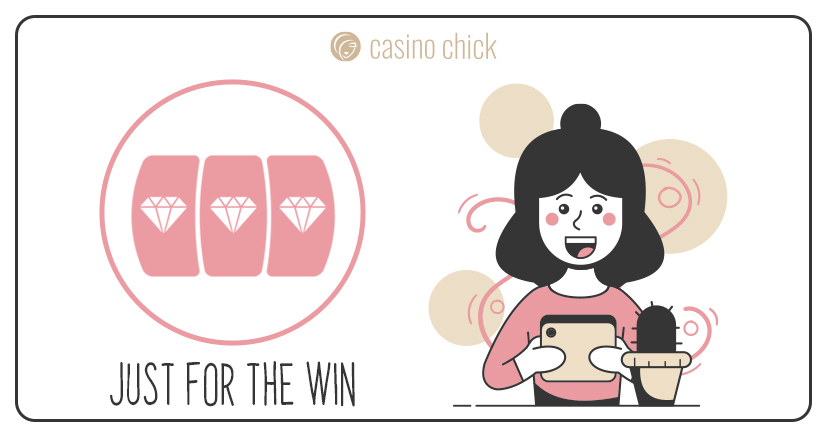 The author of over 40 casino games exclusively available at Microgaming casinos, JustForTheWin, is a master of its trade. The company stands behind some of the most popular new slots on the Microgaming platform, many of whom we've rated and reviewed on our platform. But now, it's time to meet the author whose work we've been admiring for years. So, ladies, please welcome Just for the Win, or as some of you might know from our Barbara Batári interview, JFTW.
Just For the Win is a Stockholm-based gaming company that has been designing boundary-shattering slot concepts since 2016. JFTW became one of Microgaming studios in the same year, thanks to a deal with the Quickfire platform. The first title that the developer explicitly made for Microgaming was Deco Diamonds slot, the third creation to follow after Goldwyn's Fairies and Lucky Links. However, in the past five years, JFTW was busy building its brand that outgrew most fellow independent studios in the network. Today, JFTW boasts a library worth 40+ casino game releases, as well as an impressive network of gambling operators eager to show off their new JFTW games.
Of course, one does not simply produce games for the Microgaming without meeting the super-famous Mega Moolah progressive jackpot. JFTW, like any other reputable studio, also has a slot that completes the Mega Moolah series called Juicy Joker Mega Moolah. We are beyond excited to show you its most memorable gaming designs from the past few years. So brace yourselves because we are going into one of the best content collections you've ever seen. And we are here just for the win(ning) titles.
Short Company Facts
Company Headquarters: Stockholm, Sweden
Established in: 2016

Game Speciality:

Online Slots
Number of Games: 40+
Most Popular JFTW Slots
Our biggest worry right now is not which games to pick, but rather how to eliminate so many games out of the equation and select only five favourites. Seriously girls, it's a tough task. JFTW is behind Juicy Joker Mega Moolah, an immensely popular progressive jackpot game. It also owns Wonder Woods, Emerald Gold, and Kodiak Kingdom. How can we pick the best JustForTheWin online slots? Well, we tried our best. Have a look at our list of the most popular slot games in JFTW's library.
Temple of Tut
The fourth JFTW release Temple of Tut is still popular. Styled to perfection thanks to great Egyptian aficionados at JFTW headquarters, the Temple of Tut slot brings players to the dark and mysterious treasure chamber of the great Egyptian pharaoh, Tutankhamun. By now, we've gotten used to Egyptian themed slots, but the beauty of Temple of Tut lies in the JFTW's unique way of designing games. The subdued style marks a successful escape from the familiar flashy and repeated images of classic Egypt games. Instead, the simple yet elegant design accentuates the game's primary purpose – entertainment. It's a low-volatility, low-payout game, so don't expect massive payouts.
Rainbrew
Ask anyone to name their favourite Irish-themed slot, and they'll probably say Rainbrew. Rainbrew is a place in a fantasyland where funny leprechauns brew their ale. Barrels of fun are what awaits all those who dare to enter the lair of notorious leprechauns and mess with their business! We appreciated everything JFTW did with this slot – it has engaging visuals, a great soundtrack, and a fancy new Sidewinder Feature that boosts winning ways. If you are a fan of Irish themes, Rainbrew – along with Emerald Gold – is a perfect fit.
Treasure Skyland
Imagine this: monkeys floating in the sky. Okay, does this sound good? What about monkey pirates in the sky? Do you like that? Because that's precisely what you sign up for when you enter JFTW Treasure Skyland online slot! Monkey pirates aboard a massive pirate ship that cruises on the clouds are the shortest description of the Treasure Skyland online slot. The mysterious slot transports players to a secret realm of magic where pirates must find their favourite treasure – bananas. A fun spin on the pirate theme that combines epic and fantasy elements are a perfect way to spend an afternoon at a Microgaming casino.
Western Gold
This is by far the most successful release JustForTheWin has ever had. The immense success this release achieved inspired the company to try and recreate it with subsequent slots. As a result, we got to meet Emerald Gold and Serengeti Gold, two slots that boast similar mechanics and features as the original Western Gold release. However, both Emerald Gold and Serengeti Gold are universes in their own right as they target the Irish and African-themed slot fans. Western Gold is a Western action-themed slot that combines high volatility and significant payout potential. Visit the land of gunslingers and sheriffs and hit the reels on one of the most popular JFTW slots ever.
Silverback Multiplier Mountain
The last item on this list is the Silverback Multiplier Mountain slot which landed here not because we like it the least but because it is the youngest of the five. Silverback Multiplier Mountain is a jungle slot where players juggle heat, the mountain, and wild animals in their quest to conquer the Silverback Mountain. Free Spins provide countless opportunities for increasing the payout as Increasing Multipliers come with each new round. Those who aren't precisely patient and don't want to wait to trigger the feature can purchase it via Feature Buy.
Top Casinos for JFTW Games
You already know that a number of online casinos offer JFTW casino games, but which of them is a good option for female players? Also, are there casinos that provide good JFTW casino bonuses?
The answer is, ladies and ladies, yes! We have a couple of the best JustForTheWin online casinos where you can play the latest JFTW slots and enjoy top bonuses while playing. All you need to do is have a look at our list below – or you can explore our full casino database and find other sites that are more suitable for you.
Other Studios to Keep an Eye on
Wow, this task has been a real struggle, girls! Don't get us wrong, we are not complaining – we love exploring new content on the Microgaming platform. However, considering how many studios develop games for this company, you can see why we struggle to pick only three to showcase here. We made it, but we cannot let this article end without mentioning some honourable mentions.
Ladies, if these three above don't cut it for you, do try and find these software providers at your favourite online casino:
Aurum Signature Studios – A go-to option for those who seek bespoke content
Alchemy Gaming – Turning ordinary themes into golden slot opportunities for players
Gameburger Studios– Author of tasty 9 Masks of Fire and Hyper Gold that leaves its competition in the dust
Neon Valley Studios – Making impossible possible with modern mobile-first games
Northern Lights Gaming – Creator of games that are a better sight than Aurora Borealis
Foxium – Estonian gods of slot-making that outfox the ordinary
Slingshot Studios– Claimed the fantastic Game of Thrones Power Stacks™ throne
Switch Studios – Perfect for modern classics/online table games expert
Don't worry; the list goes on! And given how successful Microgaming has been in expanding its list so far, we don't doubt we'll see many more additions to the network.
Conclusion
Whoa, we are finally at the end of this article! We hope you found it useful for your online gambling adventure. We did our best in exploring the constellation of independent Microgaming studios, even though picking favourites was tough. Our Chicks chose top 3 Microgaming studios that we consider the finest game suppliers at Microgaming right now. Stay tuned for more information about Microgaming independent studios and their games. Cheers, darling!