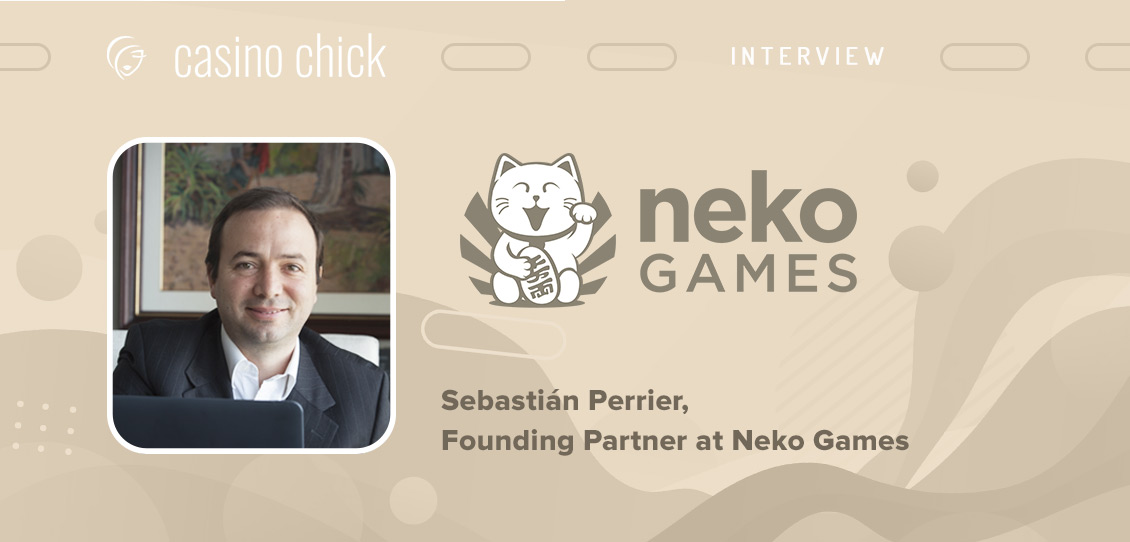 Neko Games needs no introduction here at CasinoChick. However, we are always more than ready to give the warmest welcome to one of our favourite bingo game creators.
Last year, we had the honour of meeting and chatting with the Founding Partner at Neko Games, Sebastián Perrier. He is back with us here, and we are more than ready to pick his brain a bit more and see what Neko Games has been up to since the last time we spoke. Enjoy!
Hello Sebastián, and welcome back to CasinoChick! We are glad you took the time to chat with us again. Tell us, what projects has Neko Games been working on since we last spoke? 
Thank you CasinoChick, always happy and honoured to talk to you. Since we last spoke, Neko Games has defined a solid 2022 roadmap which will see us double the number of games output from last year.
We had the pleasure of chatting with you last November, near the end of the year. Did you rest well around the holidays, and are you ready for new challenges in 2022?
Yes, we did take holidays and some time off. Remember we are based in Argentina, so it's actually summertime here during December and January. It's always good to take some time off and come back with new ideas and renewed energy. We are definitely ready for the new challenges of 2022 and we're excited to see if the iGaming market receives our new games with the same passion as we have developing them.
We talked about LatAm markets and video bingo popularity the last time we spoke. Has anything changed in that regard? What's new in the LatAm markets? And how is Neko Games adapting to those possible changes?
Indeed, video bingos are very popular in Latin America, but also in Spain. Actually, our latest release Bingote is top #5 game in Spain and Neko Games as a studio is already within the top #15 games suppliers in Spain, according to Slot Catalog.
The news in LatAm is that most countries continue the regulatory trend. For example, many provinces in Argentina are now regulated markets. Including Buenos Aires, Santa Fe and Cordoba, the three largest ones. Also, Brazil has voted to treat iGaming as a priority in Q1 2022. In this regard, Neko Games is following all regulatory processes and certifying the games accordingly.
We heard you plan to release your first video bingo game for 2022 soon. And the famous Latin American flavour is visible in the new game from the get-go! Please tell us more about the upcoming release.
Indeed, our next game is called 1524 Golden Quest and will be available to all operators as of 17 March. The new video bingo is inspired by the story of "El Dorado", the lost city of gold and riches in the middle of the South American jungle – located around what is now Colombia – that in 1524 led Spanish and European conquerors on a trek into the rainforests and mountains of the new continent. The main character "The Conqueror" journeys through the South American jungle navigating amazing bonuses to conquer all the riches as he searches for the great El Dorado Jackpot.

Are there any new special mechanics or bonus tools that you think will capture the players' attention the most?
The game offers the possibility to play with up to 4 tickets and buy up to 12 extra balls to increase win potential on any of the 19 prize patterns. The key additional feature is the El Dorado Jackpots, offering 4 different jackpot prizes up to 5000x! The game also offers a 6-level bonus game, a picker game, and the classic wild balls.
What is your favourite thing about the new game? 
The combination of a simple and intuitive interface with a thrilling story, high hit frequency and exciting features will provide a very attractive product for both operators and players. We believe this will satisfy the demand for big prizes, high quality, and thrilling experiences in bingo games.
You also used a recognisable Latin theme in your previous game Bingote. Are you satisfied with how the game performed after its launch? Is that the reason why your new bingo release also draws inspiration from Latin culture?
Yes, very much so. We are very satisfied with Bingote's performance. As mentioned before, not only did it reach the top #5 games in Spain only 75 days after release, but it continues to grow in the ranking on a weekly basis. Furthermore, in other territories its performance has doubled that of any other of our previous games.
What about the rest of 2022? Can you give us a hint of what to expect from Neko Games this year?
After the release of 1524 Golden Quest, one of the big moves from Neko Games is to launch branded video bingo titles throughout the year. This includes unique features and mechanics, all done via highly sophisticated mathematical models that can only be replicated and enhanced in a video bingo type of game, and via the extra balls stages. We predict this game will perform incredibly well in 2022 as it provides a gaming experience to players which has not been seen before.
Thank you for taking the time to talk to us. We hope we'll get a chance to chat again soon! Do you have any parting words you'd like to share with our readership?
Thank you for the interview again. We are very happy with our current portfolio, but we can assure you that this year, Neko Games will provide operators and players with not only many more games, but also with gaming experiences that cannot be achieved with slots mechanics. Our innovative math will provide great entertainment not offered to the market just yet. Follow us on social media to keep up to date with these exciting developments!