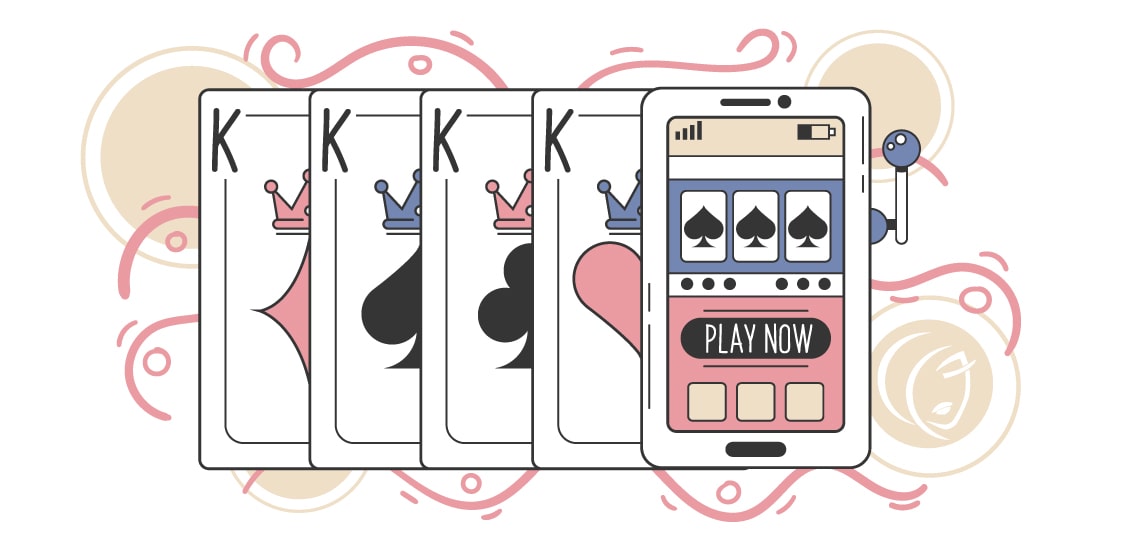 Throughout its evolution, mobile gambling has come a long way. The global, almost viral, use of mobile phones after the first iPhone launch took gaming in general by storm. In 2007, Apple released its first-generation mobile device. As of that year, more and more casino players shifted to wireless, portable gaming.
Smartphone gaming is a novel, more convenient form of playing casinos and other games on handheld devices.
Factually, smartphone gaming is rising in popularity every year. But why is that? What makes mobile gambling better than other forms of betting? Also, what dangers come along with the numerous benefits of mobile gambling?
In this study, we talk about the origin of mobile gambling, where it stands, and our predictions.
What Do You Mean by Mobile Gaming?
Microgaming launched the first-ever online casino way back in 1994. Operators and software developers alike slowly started looking into this new shape of gambling. Evidently profitable, the new niche of online gambling went through exponential growth in popularity before long.
And exactly in the way that online casinos took over traditional brick-and-mortar betting, mobile gambling overrode its predecessors.
By mobile gaming, we refer to any form of playing games of chance or skill on a mobile device. It can be a smartphone, tablet, or even laptop – mobile gambling covers a whole range of platforms and gadgets. Additionally, mobile gamin may refer to video games, casino games, and various other apps. Lastly, both mobile applications and browser-based games are under the umbrella term of mobile gaming.
So, what is mobile gambling specifically?
As soon as you fish your cell phone out and access a casino site from your preferred browser, you become a mobile gambler.
Nevertheless, speaking of mobile gaming in general, this industry has also made its presence known in recent years. In October 2021 alone, the mobile gaming market generated $7.5 billion in the App Store and Google Play.
In the following graph, we exhibit various genres of high-grossing mobile games in the USA from 2020 to 2021.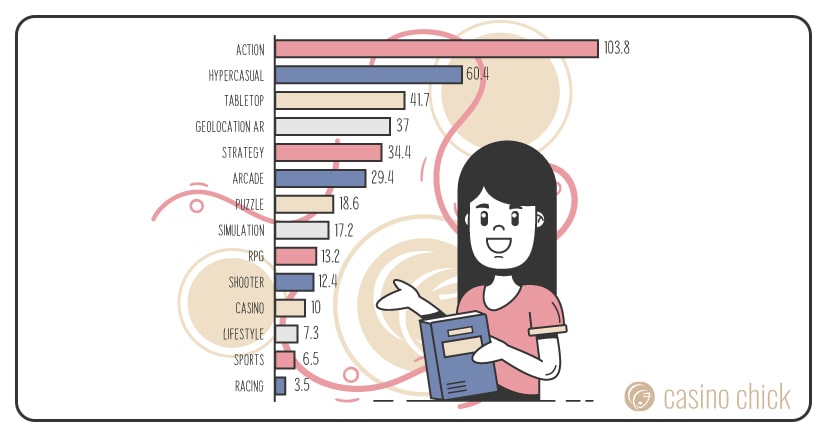 Clearly, casinos and sports betting still find themselves in the lower part of the graph. However, just a couple of years ago, in the late 2010s, the position of online gambling was nowhere near where it is today. With that in mind, industry experts forecast a rampant increase in the use of mobile gambling in the next five years. Why that may or may not be good, you may learn in the following paragraphs.
Desktop vs. Mobile Gambling
Technology evolves with bewildering rapidity, manifesting itself in all aspects of human life. Mobile phones are now integral parts of almost all people, and we use them for a variety of purposes. What's more, fewer and fewer households possess a desktop computer nowadays.
And it's no surprise, at all, if we're being frank. Mobile devices are now more refined than ever and so widely applicable, too.
Mobile gaming sites are elegant and sophisticated, easy to use, and accessible. All players need is Wi-Fi, mobile data, or any type of internet connection. From that point on, a realm of mobile gaming websites opens up its door to you.
The difference between mobile and online casinos commences with accessibility. Namely, mobile gaming websites are convenient because they can be accessed from any point on earth. You are not bound or restricted by cables or robust devices such as PCs. Instead, all you need is your cell phone, which you likely already have on you anyway.
Looking from a global perspective, gamblers in Europe and American used to lead the way for mobile gaming. However, with the approach of the 2020s, Asia hopped on the bandwagon and invested in mobile gambling. Therefore, the mobile gaming market is increasingly generating larger revenue than any other form of gambling.
Another question that poses itself is, 'Should I play my online casino via app or browser on mobile?'
While it may come down to personal preference, some facts speak in favour of mobile casino apps. Since casino apps are no longer developed using Flash but rather on HTML5, they perform perfectly on iOS and Android devices. Gambling operators invest huge sums of money in developing respective casino apps, and it usually pays off.
How Does Mobile Gambling Work
To explain how exactly mobile gambling works, we must go back to its roots. The matter of fact is that there would be no mobile gaming if online casinos hadn't been invented.
Not to waste your time, we'll begin the gambling timeline with the hallmark year of 2007. Flash was the dominant technology for developing mobile casino games. Programmers wrote code for most titles using Flash, resulting in operating system incompatibility. Namely, Apple and Android operating systems were not the best of friends with Flash. In turn, mobile gaming users could not play their favourite casino games on their smartphones.
Luckily for us all, HTML5 came to be. The 2008-established markup language facilitated code-writing and enabled games to be played across all platforms. Nowadays, almost all casino games are optimised through HTML5 to be played on Samsung, Xiaomi, iPhones, and other similar devices.
Consequently, players need no more worry about compatibility issues. Flash crashes and glitches do not pose an issue to mobile gamblers anymore. This obsolete technology is soon to be far behind us.
Likewise, players are interested in the battle between online and mobile casinos. The Casino Chick team believes that both technologies will continue to have their own target audiences. As a rule of thumb, younger demographics shall switch to mobile casinos while traditional gamblers will likely stick to trusted browser-based gambling.
That said, we must note certain trends regarding the status of mobile gambling as opposed to online casinos. When talking about this, we like to look at the wider picture. From a sociological standpoint, the number of freelancers and digital nomads has surged. More and more people prioritise mobility and comfort. Mobile gambling offers convenience, flexibility, and adaptability – modern-day needs.
Statistics: Mobile Gaming Users by Country
The number of mobile gaming users is now larger than ever. This growth is explained by the facts listed above, but also by the openness of global gambling markets. According to statistics, mobile gaming in the UK reached around 20 million daily users in the past period. Conversely, UK players spend around £5 billion annually on various forms of mobile gaming. What's more, an average gamer spends 2.5 hours on mobile gaming every day. As time goes by, more and more punters declare that they would soon shift from desktop to mobile gaming completely.
Statista also states that most mobile players are over the age of 45, whereas the age range from 25 to 34 takes up 25% of all mobile gaming users in the UK. Stats also confirm that 84% of all online gamblers have at least once played casino games on mobile devices. Considering the science, we can no longer put our "mobile gambler profile" in a mold. As time goes by and technology progresses, no archetype fits the norm. Rather, mobile gambling is spreading across all demographics, genders, and age groups. It is beyond evident that mobile gambling is not only our future but also the present of online casinos.
Interestingly, 54% of all mobile gamblers are female. Hence, we can say that the future of mobile gambling is female, too. Now, take a look at the infographic concerning mobile gaming user growth specifically in the United Kingdom.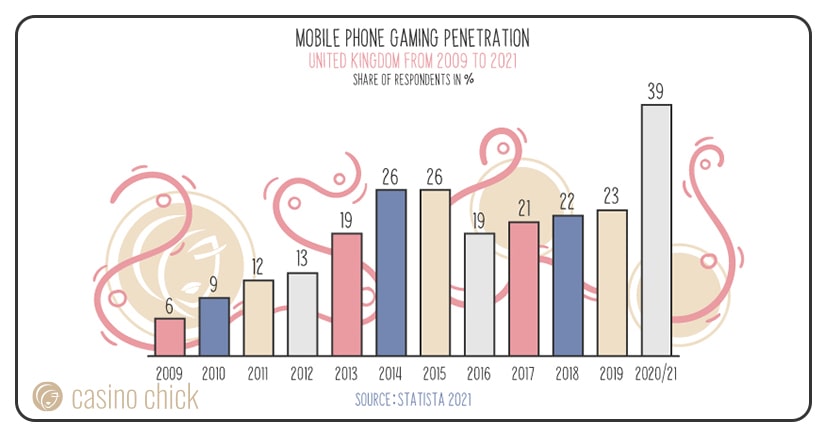 Is Mobile Gambling Legal?
In most cases, gambling on your phone is legal, but this is not true for all countries. For specific locale laws and regulations, keep reading.
Whether gambling on your mobile is legal does not come with a one-word answer. In some countries, mobile gambling is legal, while in others, it isn't – yet. Based on various statistics, the likelihood of legalising global mobile gambling is high. However, at the time of writing, mobile gaming is commonplace throughout Europe and most of Asia. Similarly, Australia, Canada, and South Africa favour playing on mobile devices.
We all know that gambling was basically invented in the United States. Las Vegas has always been the capital of gambling. So, it was only natural that Nevada was the first to allow mobile gambling, too. Other states have legalised mobile betting apps and mobile casinos, notably, Louisiana and Pennsylvania.
In other countries worldwide, laws might differ. For example, in Australia, it is not illegal to gamble on mobile, but it is prohibited to operate a casino. So, as a resident, you may legally enjoy mobile gambling albeit without the protection of the state. A similar case is seen in Canada, where online gambling is increasingly accepted but some older regulations don't align yet.
So, to wrap up, we may say that the legalisation of mobile gambling is a lengthy process that is luckily already underway on a global level.
States Where Mobile Gambling Is Legal
But what about mobile gambling in the United States?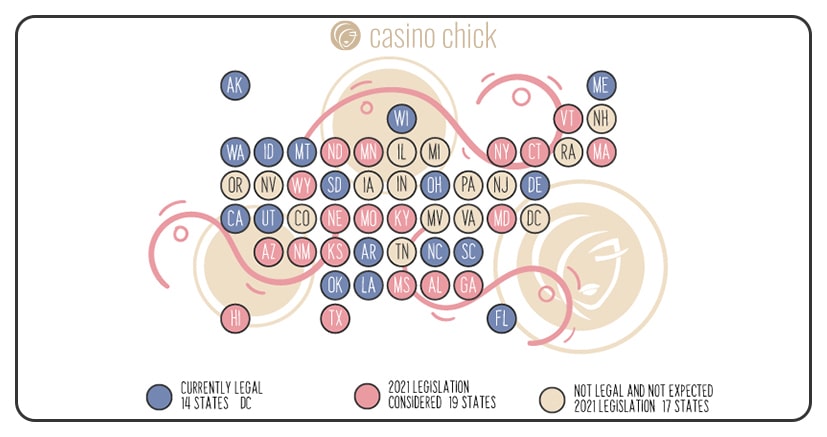 Evolution set the mobile gaming avalanche in motion by penetrating onto the live dealer market in the United States in 2021. With this move, the global live casino leader set the foundation for not only live games, but mobile games in general, too. What's more, Evolution now offers employment possibilities to US residents such as pit bosses and croupiers in their studios in Philadelphia, Atlantic City, Southfield, and elsewhere.
More good news comes from New York with the answer to, 'When will mobile gambling be legal in NY?' The New York Gaming Commission starts offering its operating licence as of November 2022.
At the time of writing, 32 states have legalised sports betting in the US, but only 18 accept legal mobile gambling. As for which states allow mobile gambling, they include Arizona, Colorado, and Iowa, among others. In these states and a dozen of others, players can legally wager on their mobile devices.
Interestingly, mobile gambling in Ohio has been legalised, as well as mobile gambling in Michigan as of 2019.
The Problem with Mobile Gambling
Mobile gambling has undoubtedly enabled quicker and easier access to online casino games. This being its main advantage, it is ironically its biggest flaw, too. Looking at the evolution of mobile gambling in the past decade, specialists state that the increase in the use of mobile devices for gambling will drive up revenue by a mile. However, this monetary increase will not come without soi-disant collateral damage. Stats claim that the surge in revenue will trigger more problem gambling issues. Governor of New York, Andrew Cuomo, has shared his concerns about the expected rise in problem gamblers in the upcoming years. So, what can we do to prevent problem mobile gambling, or treat it if need be?
First and foremost, mobile players should familiarise themselves with responsible gambling practices. As with online gambling, persons under the age of 18 cannot gamble legally in mobile casinos. Next up, bankroll money management is the number one skill for all serious gamblers. Savings should not be used on mobile betting.
Next up, players should objectively observe their gameplay and gamble only as long as they are having fun. The popular campaign "When the fun stops, stop" has received quite a backlash. However, the adage still applies in real life. Players must conscientiously place bets and control their urge to overspend.
Additionally, one solution is self-exclusion. The market offers a superfluity of anti-gambling software which blocks casino sites on your mobile and desktop alike. Therefore, being wary is always good advice, especially in games of luck.
Best Smartphones for Mobile Online Gambling
Luckily, the technology matches the steps mobile gaming is taking.
Many low-budget, affordable tech gadgets can be used for mobile gaming. Similarly, high-street brands create gaming-only devices, where upon they perfect their products to a T.
After our detailed research of the market, here are the best phones for mobile gaming:
Samsung Galaxy S21 Ultra
iPhone 13 Pro Max
Oppo Find X3 Pro
Asus ROG Phone 5
Black Shark 3
The first three phones were not designed with gaming in mind specifically. However, they are the most mobile-friendly non-gaming phones on the market. Conversely, they are almost inexpensive, considering the fact that you can use these phones for a variety of purposes.
On the other hand, if you choose Asus or Black Shark's contributions to mobile gaming, you'll be going all-in. Perhaps on the pricier side, both Asus ROG 5 and Black Shark 3 are rather chunky in appearance. Nevertheless, their resolutions are sublime and the overall gaming expense is cutting-edge and state-of-the-art.
Generally, regarding what the best devices for mobile gaming are, this list might change. At the time of writing, our picks are hands-down the best-performing gadgets for mobile gaming.
Top Mobile Casinos
So, how about trying your luck with mobile online casinos? If you're interested in playing casino games on your mobile, check out these gambling operators:
| | | | | |
| --- | --- | --- | --- | --- |
| # | Mobile Gambling Operators | Welcome Bonus | Mobile-Friendly | Where to Play |
| 1 | QueenPlay | €1,000 + 200 Free Spins | ✔️ | Click Here! |
| 2 | LeoVegas | £100 Cash + 20 Wager-Free Spins | ✔️ | Click Here! |
| 3 | Tsars Casino | €2000 + 200 Free Spins | ✔️ | Click Here! |
| 4 | Mr. Play | €200 + 100 Free Spins | ✔️ | Click Here! |
| 5 | Casoo Casino | €2,000 +200 Free Spins | ✔️ | Click Here! |
While the majority of these mobile casinos are browser-based, LeoVegas also has a native app for Android and iOS users. Please visit App Store or Google Play to download the respective LeoVegas mobile casino app.
Verdict
So, that's how mobile casinos are slowly and surely taking over the online casino industry. In short, it is likely that mobile gambling will completely surpass all other existing forms of betting. Online casinos overrode land-based gambling venues. Now, mobile gambling is taking over the online casino industry.
Wireless gaming comes with hazards that may be prevented and cured if treated cautiously. As the biggest online gambling trend ever, handheld slots and tables are the future of gaming. And as far as its potential goes, mobile gambling is bound to continue to grow and develop in the next decade.