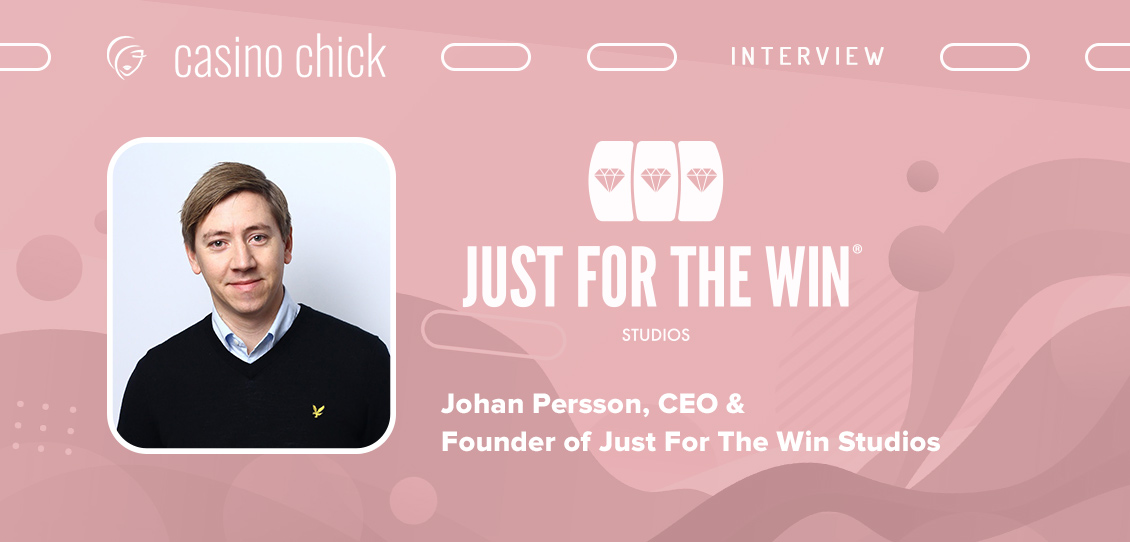 Just For The Win is not new to our dear readers. It's one of the 3 most prominent studios working with Games Global, and we've already had the exquisite pleasure of chatting with Barbara Batári, but it's been a long time since we caught up with this amazing studio, and they've just launched an amazing new video slot right after New Year's. We bring you exclusive news about the Trojan Kingdom slot right below.
---
Hello and welcome to Casino Chick, it's an honour to have you here. Shall we start with a short introduction? 
Hi there, the pleasure is all mine. Thanks for having me. I'm Johan, a 42-year-old Swedish dad to twin girls with the rewarding side gig of heading up Just For The Win. I've been with the company since its inception in 2016, coming directly from an incredible journey at Leo Vegas.
It's been a long time since we had a chance to catch up, almost a year and a half. We bet the past year has been quite eventful for you, with lots of exciting news and releases! What do you consider the biggest success for Just For The Win in the past 12 months?
We have had an eventful year to say the least. The pandemic threw a few curve balls our way. We also have a studio in central Kyiv which adds to the mix of challenges for our dear colleagues in Ukraine. I want to say that our biggest success is that we are still here, making better games.
Games Global officially launched in May 2022. Has the transition to the Games Global platform affected your work in any way?
We're very happy to work with Games Global and their expertise in the industry, and we're looking forward to many years of great collaboration and success with them as the main distribution partner.
The last time we spoke, we discussed your very popular release Scarab Kingdom which hadn't been out yet. Fast forward some months and you now have a fourth 'Kingdom' slot release, having released the Kodiak Kingdom and Amazon Kingdom in the meantime. How do you view the success of these releases?
The Kingdom series has really hit the spot with the players. The entertainment value is high and the production quality is excellent. Adding to that success, Scarab Kingdom won Game of the Year at the prestigious International Gaming Awards in April this year, which really put it on the map. We have high hopes for the next in the series, Trojan Kingdom.

Do you have a favourite one, and if yes, which one is it?
I would have to say Amazon Kingdom. This is mostly because of my interest in the history of the Amazon and the now history-changing discoveries that are being revealed in that area.
Are we seeing a start of a new hip slot franchise? And where could the Kingdom series lead us as we've seen ancient Egypt, Amazon, and now have ancient Greece?
We are more than happy with how the Kingdom series has turned out so far and Scarab Kingdom's Game of The Year win at the International Gaming Awards was a truly great moment for us as a company – we are very proud. Who knows; maybe we'll be back with another smash hit in due time.
Let's talk more about the Trojan Kingdom slot. The game was due for release at the start of 2023, so we are beyond excited to hear more about the new slot game. We are guessing you cannot share a lot to not spoil it for the players, but what can you tell us? 
Trojan Kingdom is a new and amped-up title in the Kingdom series where the player meets two young rulers who dared to challenge the gods – the beautiful Blue Queen and her powerful Red Warrior. The game boasts a higher max prize than the previous titles and higher multipliers in the popular Super Free Spins.
What is your favourite thing about the Trojan Kingdom? How do you think the fans will receive the third Kingdom slot?
My favourite thing about Trojan Kingdom is the attention to detail. The storyline is impeccable and the beautiful art supports the game mechanic nicely. With that said, there is always a balance when making a series of games, and you have to know when to stop.

What unique perks will the new game have compared to its Amazon Kingdom and Scarab Kingdom predecessors?
As I mentioned above, this title has a higher max prize, and the Super Free Spins have higher multipliers than earlier titles in the Kingdom series.
Do you have any advice slot recommendations of your choice for players looking at your newer releases?
I also suggest you go for a Christmas miracle at our latest game, Piles of Presents. Open the boxes and heat this winter night with unique feature upgrades for insane wins: Free Spins that can be retriggered, festive Multipliers and magical Symbol Upgrades, and more. It's everything you ever wished for – under one colourful wrapper!
Thank you for chatting with us – we look forward to hearing from you again. Is there anything you'd like to add or share with our readers? 
Thank you for having me, and thank you for trying our games!  See you at ICE 2023!