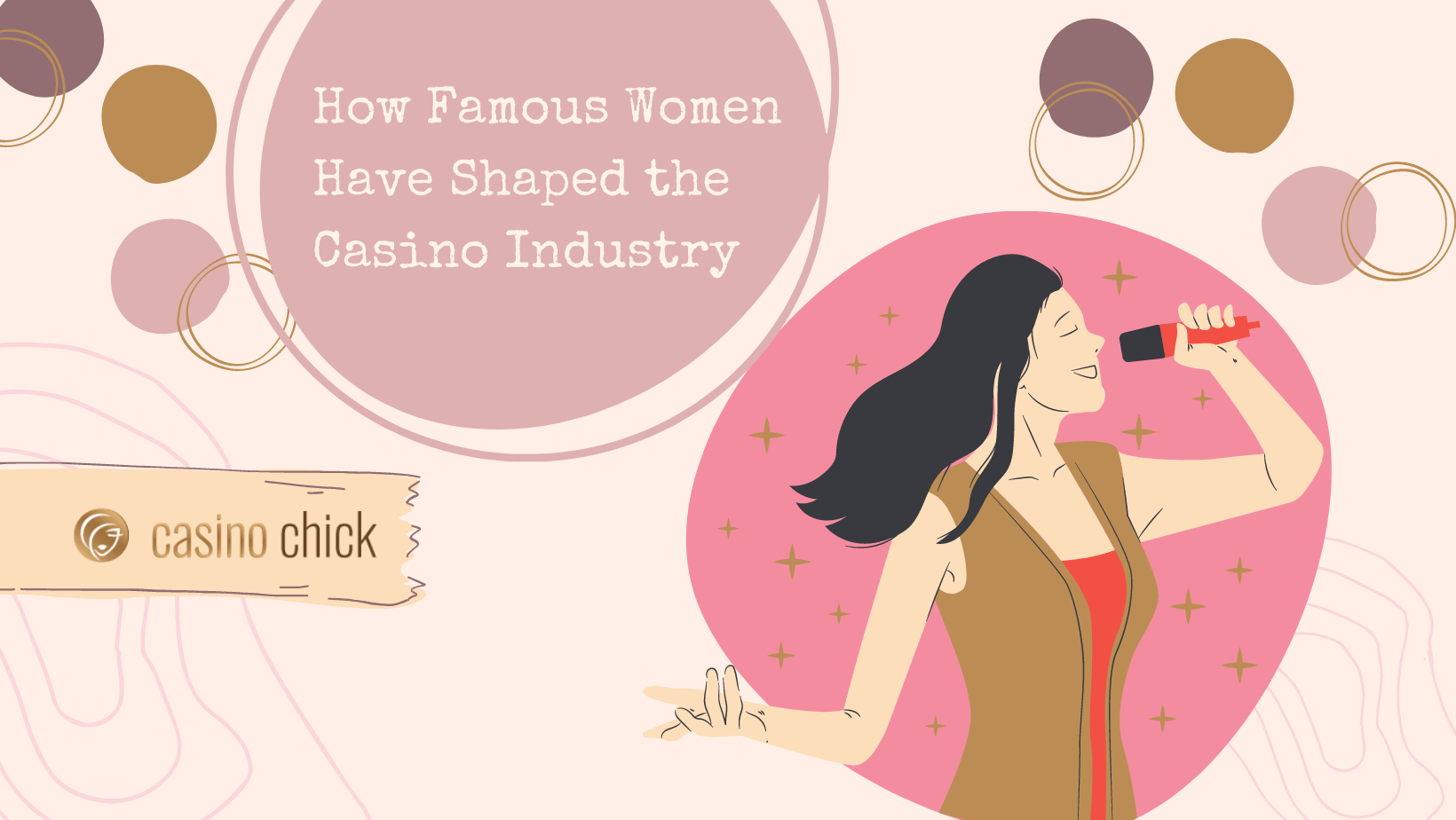 Ladies and gentlemen, gather 'round the craps table and let Casino Chick take you on a journey through time.
We're talking about the influence of female celebrities on the casino industry, and oh boy, there are some real gems in store for you.
From Marilyn Monroe's sultry portrayal of a craps shooter in "The Misfits" to Britney Spears' electrifying Vegas residency, female celebs have left their mark on the world of gambling.
But why is this important to explore?
For starters, the casino industry is no longer just a man's world.
As widely advocated here on this website, women are an increasingly important demographic in the market, and their influence on the industry cannot be ignored.
Plus, let's face it.
Who doesn't love a little bit of glitz and glamor, especially when it's accompanied by some good old-fashioned gambling fun?
Therefore, without further ado, let's roll the dice and see how some of the biggest female celebrities of all time have helped shape the casino industry as we know it.
Get ready for some star-studded stories and juicy details.
Marilyn Monroe: The Sex Symbol Who Made Craps Cool
Let's take a step back to the 1950s.
It was the famous time of the glamorous Marilyn Monroe, who was lighting up the silver screen.
In 1961, she starred in the movie "The Misfits" alongside Clark Gable and Montgomery Clift.
Monroe was playing a free-spirited woman who falls for Gable's character, a cowboy who teaches her how to play craps.
It may seem like a small detail, but Marilyn's portrayal helped popularize the craps game among women.
Before then, craps was seen as a primarily male-dominated game, but Marilyn's charm and sex appeal made it seem more approachable and even desirable for women to join in the fun.
Plus, let's not forget the iconic scene of Marilyn in that pink dress, blowing on the dice before rolling them.
It's become a pop culture staple and a symbol of the glitz and glamour of old Hollywood.
Thanks to Marilyn's influence, even casinos began to cater to female demographic by providing more welcoming environments and offering classes to help women learn the game. It just goes to show that a little bit of star power can go a long way in shaping an industry.
The Bond Girl in a Bikini Who Helped Shape the Casino Industry
When we think of James Bond, we often think of casinos.
And that's no coincidence.
Ursula Andress, who played the iconic Bond girl Honey Ryder in the first Bond film "Dr. No," may have had a hand in creating this association.
In one of the film's most memorable scenes, Ursula emerges from the ocean in a white bikini, with a diving knife strapped to her hip.
It's an image that has become etched in pop culture history.
It also helped set the tone for the James Bond franchise, which is known for its mix of action, adventure, and of course, gambling.
In this movie, Bond is seen playing baccarat, one of the most popular games in casinos at the time.
This scene, along with Ursula's presence in the film, helped cement the connection between Bond and casinos.
As the franchise grew in popularity, so did the idea of James Bond as a sophisticated gambler, and casinos began to capitalize on this by offering Bond-themed games and experiences which are highly popular to this very day.
Cher: From Showbiz Icon to Atlantic City Darling
Now, let's fast-forward to the late 1970s.
The time when Cher was at the peak of her career as a singer and performer.
In 1979, she began a residency at the Resorts Casino Hotel in Atlantic City, becoming the first major performer to do so in the newly-established gambling destination.
Cher's residency was a game-changer for Atlantic City.
She helped establish the city's reputation as a must-visit destination for gambling and entertainment.
Her shows were a hit with tourists and locals alike, and her presence attracted even more big-name performers to the city.
Thanks to Cher's influence, Atlantic City saw a surge in tourism and became a major player in the gambling industry. Cher had a hand in elevating the city's reputation, showing that it could compete with other major gambling destinations like Las Vegas.
Pamela Anderson: From Baywatch Babe to Online Poker Pro
When it comes to celebrities who have left their mark on the gambling industry, Pamela Anderson might not be the first name that comes to mind.
However, back in the early 2000s, she played a significant role in popularizing online poker, and that's exactly what we discussed in one of our previous articles: 10 Female Celebrities You Didn't Know Love to Gamble.
In 2006, Anderson became the spokesperson for an online poker site called Hollywood Poker.
Her endorsement of the site helped increase its visibility and attract more players to the game. Anderson was featured in advertisements and even played in a tournament hosted by the site.
At the time, online poker was still a relatively new concept, and many people were hesitant to try it out.
Anderson's endorsement helped to change that, showing that even a celebrity could enjoy playing poker from the comfort of their own home.
Thanks to Anderson's influence, online poker gained more mainstream attention and became a popular way for people to play the game. Her endorsement helped to break down barriers and showed that anyone could enjoy playing poker, no matter where they were.
Britney Spears: The Queen of Pop's Reign Over Sin City
Britney Spears is a pop icon who has had a lasting impact on the music industry.
But, did you know she also played a significant role in the casino industry?
From 2013 to 2017, Spears had a residency at Planet Hollywood in Las Vegas, and her shows helped revitalize the city's entertainment scene.
At the time, Las Vegas was struggling to attract a younger demographic.
Many visitors felt that the city's offerings were outdated, while the upcoming appeal of online gaming started to steal a good chunk of players.
Spears' residency changed that, drawing a new generation of fans to the city and helping to inject new life into the entertainment industry.
Spears' shows were incredibly popular, with fans traveling from all over the world to see her perform.
The residency was so successful that it inspired other pop stars to follow suit, with performers like Lady Gaga, Bruno Mars, and Celine Dion also taking up residencies in Las Vegas.
Thanks to Spears' influence, Las Vegas once again became a must-visit destination, with a younger and more diverse crowd filling its casinos and hotels.
Notable Mentions
While Marilyn Monroe, Ursula Andress, Cher, and Britney Spears have all played a significant role in shaping the casino industry, they are not the only female celebrities to have made an impact.
Elizabeth Taylor was a legendary actress and a fan of gambling, often playing high-stakes poker games with her Hollywood friends. Her love of the game helped to popularize poker and attract more celebrities to the tables.
Similarly, the aforementioned Celine Dion had a residency at Caesars Palace in Las Vegas for over a decade, drawing fans from all over the world to see her perform. Her shows helped to cement Las Vegas' reputation as a premier entertainment destination, and her influence continues to be felt to this day.
Other notable female celebrities who have made an impact on the casino industry include Bette Midler, who had a residency at The Colosseum at Caesars Palace, and Jennifer Lopez, who has had successful shows at Planet Hollywood and The Axis at Planet Hollywood Resort & Casino.
These women have all contributed to the ongoing evolution of the casino industry, showing that it is not just a man's world. Their influence has helped to make gambling more accessible and appealing to a wider audience, and has contributed to the continued success of the industry.
While many of these celebrity influences are historical, it's important to note that female celebrities continue to shape the casino industry today.
From J.Lo's residency at Planet Hollywood to Katy Perry's appearance in a Resorts World commercial, celebrities are still using their influence to attract new customers to casinos and other gambling destinations.
Conclusion
As we move into the future, it's likely that we will continue to see female celebrities play a key role in the casino industry.
With the rise of online gambling and the increasing globalization of the industry, there are more opportunities than ever before for celebrities to reach new audiences and make their mark.
Overall, the influence of female celebrities on the casino industry is a testament to the strength of star power and the enduring appeal of gambling.
Whether you're a die-hard fan or a casual player, it's clear that the world of casinos and gambling wouldn't be the same without the contributions of these amazing women.
READ MORE 
We thought you'd be interested in reading our other articles dealing with famous ladies and their influence on the gambling world.
Make sure to go through these: