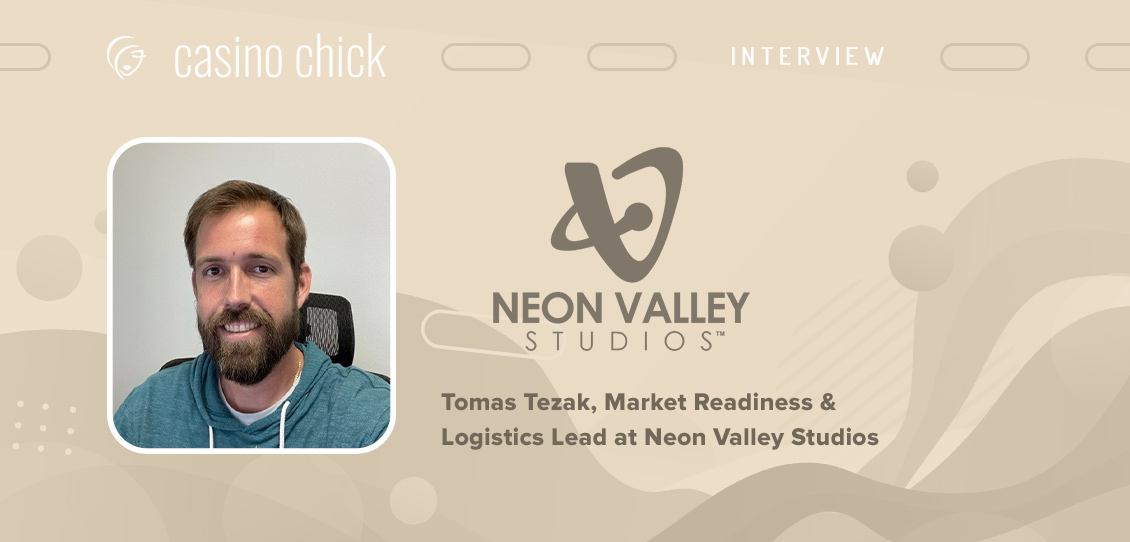 As the creator behind Aurora Wilds, Arctic Enchantress™, and the widely popular Mega Moolah: Atlantean Treasures, the Vegas-based Neon Valley Studios have become a household name at casinos operating Games Global exclusive content.
This is the first time we've had the pleasure of having Neon Valley here at Casino Chick, so we hope you enjoy our chat with Neon Valley's Tomas Tezak as much as we did.
---
Hello and welcome to Casino Chick, the internet hub for women in iGaming. Can you start by telling us more about yourself? How long have you been at Neon Valley Studios?
Hi. First of all, thanks for the invitation; it's really a pleasure to be here discussing all things iGaming with you. My name is Tomas Tezak. I am a Market Readiness and Logistics Lead at Neon Valley Studios. I've been part of the company for just under four years – since we began. I do wear a couple of different hats, but mainly I work closely with the game designers and the product teams to ensure we have a proper vision, that we execute on it, and that the games we are building align with what the market is looking for. I also broker relationships with our publishers and external stakeholders in multiple capacities.
We are quite familiar with your work, but we are sure our readers would love to hear more about your company. Who is Neon Valley Studios?
Neon Valley Studios is a place where amazing games happen! We have just under 20 employees, with everybody working out of the same office in Las Vegas, Nevada, in the United States. We are a 'fullstack' studio – we do everything in-house: art, development, QA, localisation, sound, math… Everything is done in-house by a group of people that are incredibly passionate about games, have been exposed to gaming since a very early age, and live and breathe casino gaming.
Neon Valley Studios have been a part of the Games Global (formerly Microgaming) network since 2019, which is when you've launched your debut slot, Aurora Wilds. How has this deal affected your company so far? What has changed for Neon Valley Studios since joining the independent studio network?

Having the support of a company like Games Global makes a world of difference. First of all, we're here to build great games, but we also want our games to reach the largest audience possible. With Games Global and their power and their backing, we know that we'll be able to do just that. Secondly, we now have all these other tools at our disposal to help us do our jobs better. We have more people that we can talk to, we're exposed to more information, and we have a collective knowhow that comes from the organisation that really benefits us on a day-to-day basis.
Now that Games Global entered the iGaming scene by acquiring the network, what does that mean for Neon Valley Studios? Does that change things for you, and if yes, in what way?
Our goal continues to be to make great games. Now that we have the backing of Games Global – with all the support, direction and guidance that comes with that – we're super-excited with our ability to enter new markets and approach new opportunities with the tools provided by the organisation.
Your studio is based in Las Vegas, Nevada. What does that mean for you in terms of content creation? How is Vegas reflected in your work?
This is actually a great question because we ourselves feel like the city of Las Vegas is the main reason we exist. We're mostly Vegas locals, and if you've ever been to Vegas, you'll have noticed that the city lives and breathes casino gaming. We're exposed to it from the moment we wake up to the moment that we go to bed.
We all grew up in this environment, and so are able to bring that feel, that exposure and that understanding of what players look for – and what the market looks like – into the work that we do every day. So it's absolutely tied to our culture, and that's what we feel is a big plus for us as a studio; it's how we can bring those ideas, feel and lifestyle into every game that we build.
You are also behind one of the most popular Mega Moolah slots, the Atlantean Treasures release. Looking back on the release, how would you describe the challenge of creating a Mega Moolah slot, given the popularity of the original release?
For us Atlantean Treasures was a special project. It was our second game and we decided to take on the challenge of building a Mega Moolah game – especially given the fact that there hadn't been any original Mega Moolah games in maybe ten years. There was big pressure to put something out there that was faithful to the original and captured the excitement and thrill of what players were looking for, but also renewed that a little bit, giving it fresh graphics and a fresh, more modern feel.
So it was definitely a lot of work for us, both technically and creatively, but we couldn't have been happier with the result, especially given the overwhelming support and reception that the game had upon release (and it still is one of our stronger releases). It opened up the door to a lot of other progressives – or other versions of Mega Moolah progressives – to come in within the whole larger network and organisation. So this game is definitely a proud moment for us.

Atlantean Treasures are not your only jackpot slot. There's also the highly successful Queen of Alexandria WowPot™ Do you have plans to release another progressive jackpot slot in the future? 
Yes, of course. For us progressives have been a big success point, so we'll keep coming back to them. After Queen of Alexandria on the WowPot™ network, we are coming back to the Mega Moolah progressive network with Starlite Fruits™ – you're probably familiar with the static game that's already out there. In October we'll be pushing out Starlite Fruits™ Mega Moolah™, so please look forward to that one because it's going to be amazing!
Are you a player yourself? Do you have a favourite release? Please tell us more about it!
Yes, I am a player myself; I do like to play games whenever time permits, even when we're playing here the whole day as we build new games. Asking me my favourite release is akin to asking a parent who their favourite child is! If I had to single one out, the more recent Starlite Fruits™ definitely comes to mind; I think that game is a perfect embodiment of why we exist as a studio in Vegas.
You have this classic theme of fruit, but then we managed to revamp the theme and give it a very modern feel without losing that sense of it still being a fruit game. Look at the classic elements of it and then see the layers of classiness that we've added: the sounds, the visuals, the animations… it's definitely a modern game. So, I'm enjoying that one quite a bit and still play it frequently myself. And now that we're pushing the progressive even more, we're looking forward to how the game is going to perform over the coming months.
You mentioned Starlite Fruits™, are you able to tell us the story behind the game?
This refers to what I was talking about in the previous question: this is a fruit slot and, again, if you've been to Vegas, you've seen the fruit games – it's a large percentage of the games on the floor, either as fully fruit themes or as elements within the slot. We felt we wanted to bring that back in a more modern way. We wanted to do service to the fruit slot and turn it into a fresher, more streamlined experience that the players will still enjoy.
What you'll see is that you still have a familiar feel in terms of the mechanics – with the expanding wilds and the respins – but also a very dynamic, very fruity-themed slot that is going to bring you back to the classic themes, but also give you the feel that you're playing something very new and different. I'm really excited about that one, and hope you enjoy it!

Starlite Fruits™ reminds us of the classic Vegas slot scene. How would you describe the current market demand for fruit machines? What is it about them that makes them timeless and always fashionable?
I think a big part of it is nostalgia, but also it's an element of familiarity. A lot of people grew up with games that mainly featured fruits – like sevens or dollar signs. There are timeless elements in the slot gaming scene that will always be there. You can go far back on games of chance – decades and decades – and still find fruits as elements of the game, so it's something that doesn't end, and we'll have to keep coming back and revisiting. What we're trying to do with Starlite Fruits™ is give it a bit more of a modern feel.
What else is in store for Neon Valley Studios in 2022? Are there any new releases that you plan to launch this year besides Starlite Fruits™?
We always have a lot of stuff in the works, and we have some really exciting projects that we're at different stages of production with right now. I feel like I have to keep my cards close to my chest at this point, but definitely be looking towards the end of the year and beginning of next year for some exciting content from Neon Valley. In the meantime, please enjoy Starlite Fruits™ Mega Moolah™. We believe it's going to do great justice to the genre and be a lot of fun for all players!
Thanks to you and your readers for listening. To keep up to date with the latest coming out of Neon Valley Studios, you can follow our socials.