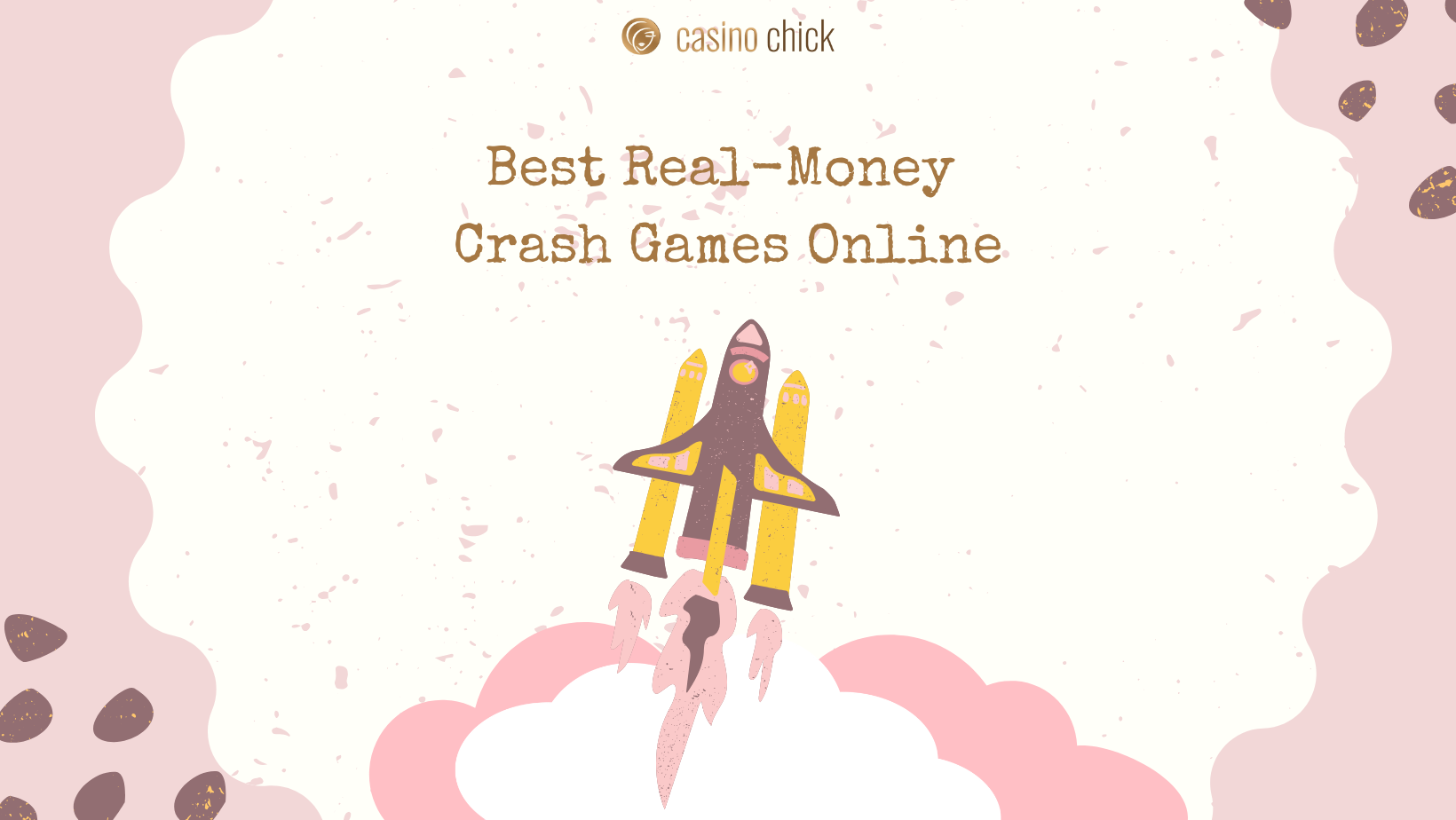 Crash games are everywhere right now – but what crash gambling games are the best you can play for real money at the moment? Don't sweat it, chica, Casino Chick is here to help and answer all those questions.
We've prepared a list of the top 10 crash casino games available for real money online. Some are strictly crypto, while others can be played at regular casinos. Either way, they all offer you a blast (sometimes even in the quite literal sense).
Dive deep into our top 10 crash games online at online casinos.
Top 10 Crash Gambling Games
Here's a brief list of crash games we are going to cover in this article.
1000x Busta, 4ThePlayer
Aviator, Aviator
Spaceman, Pragmatic Play
Big Bass Crash, Pragmatic Play
Triple Cash or Crash, Betsoft
Beer Halla, Mancala Gaming
Bust and Win, Mancala Gaming
Hyper Xplorer, Mancala Gaming
Crash Royale, iMoon
Dragon Flare, iMoon
Let's blast off!
1000x Busta, 4ThePlayer

1000x Busta is not the debut release for 4ThePlayer, and the company soon departed from the idea of crypto and refocused on slot games, but 1000x Busta remains a firm fan-favourite in the world of crypto gambling.
The essence of the game is the same as with other crash games – you follow a line and try to cash out before it crashes! But the theme is stocks and crypto. It's one of the lesser-known classics, but a game worth trying for sure. And in case you are not familiar with 4ThePlayer, watch their space – it's a prominent studio working with Yggdrasil, and they are behind some of their more popular releases.
Aviator, Aviator

Aviator is a worldwide famous crash game with an aeroplane theme. In the world of crash gambling, this is perhaps one of the most known – if not the most known crash game ever. Whenever you see us talking about crash games and crash casinos, be sure they offer Aviator crash games.
From a player's viewpoint, things are simple – you have a nice aeroplane ascending the skies and your goal is to hit it before it crashes. If you are a fan of instant bets and unpredictable game rounds, this is a perfect game for you. As said, you can probably find it in every crypto casino with crash games, it's quite widespread.
Spaceman, Pragmatic Play

A handful of game producers work in the crash gambling genre, as it's still pretty niche compared to slots and table games. However, big iGaming companies are slowly realizing the money-making opportunity they're missing out on – and so many of them are now making a foray into crash gambling with these games. Pragmatic Play is one of them.
Spaceman is the debut crash game for Pragmatic Play. It's a space-themed game – as many of them are – with a very cute design to boot. The game lets you wager anything between €1 and €100, and if you are lucky, you can reach a win of up to 5,000x the stake. Spaceman's RTP is 95.50%.
Big Bass Crash, Pragmatic Play

The crash game exploration for Pragmatic Play did not end with space exploration in Spaceman. No, no – the game producer created another crash game to continue the adventure a year after Spaceman first hit the casinos (or should we say, crashed the casinos? You get the point).
Now the interesting thing with Big Bass Crash is that it builds on the theme of popular Pragmatic Play games such as Big Bass Bonanza and Big Bass Splash. It's a famous series of fishing-themed video slots, so it was fitting to bear the crash mantle as well. The game came out in 2023 – and has the same payout and RTP as Spaceman (5000x, 95.50%).
Triple Cash or Crash, Betsoft

Betsoft, a company many players know as one of the biggest slot game producers, is more than just a slot game. With years of experience in the industry, Betsoft has built itself a reputation as an envelope-pusher, both in Europe and North America. It was big in the USA when no one was working in the USA and introduced niche table games to RNG circles. And now, it's proudly stepping into crash gambling with Triple Cash or Crash.
The theme is again space, only this time you have three astronauts on whom you can wager. Bets go from €0.01 to €5. On the flip side, you can win a max multiplier worth 100,000x.
Beer Halla, Mancala Gaming

Mancala Gaming is an expert in crash games. There's a hefty collection of that you just have to try. And we love it so much that 3 out of 10 games on this list come from Mancala. So, you get the point. The first game from Mancala we'd like to introduce you to is Beer Halla.
It's a Viking adventure, but very unusual. It's not a random line going up with a multiplier that you watch crash – it's a game with 9 rows (or levels) with 4 barrels on each level. You tap one random barrel to reveal what's inside – if it's a coin, you go on, if it's a skull, it's over. The object is to cash out before stumbling upon a skull.
Bust and Win, Mancala Gaming

We thought Beer Halla would be our favourite Mancala crash game, but when we saw Bust and Win, we knew we had our winner. This Mexican-themed pinata crash game presents a board like that one in Beer Halla. However, this time, you don't have to go level by level upward. You can tap on any tile on the 5×5 grid.
Candy is beneath, and with each unveiled candy (blue, green, and yellow exist) you get a bigger payout. In the end, the ultimate goal is to cash out before you hit a bomb and crash. Like always, the betting range is 0.10-100 DEM, with 4950000x as the max payout. The RTP is 95%.
Hyper Xplorer, Mancala Gaming

Our third Mancala Gaming crash title on this list is the Hyper Xplorer. Once again, we are going to space, but it's unlike other space crash games because it was built by Mancala Gaming. And when Mancala invests into a game it goes all in – and so Hyper Xplorer gives you a double shot at winning up to 999999x the bet.
Out of all three games we've selected for this list, it's the only one that's actually a crash game as we know it. You wager on a space rocket and watch as it ascends. You can cash out anytime, and you can place two wagers, not just one. A cute thing is that you can set your own nickname and track your previous results.
Crash Royale, iMoon

iMoon is among the more prominent game producers of crash games. So far, they've created a long lineup of crash casino games fit for many competitive markets and players from all walks of life. Among its classic crash games, the best is probably Crash Royale, as it's the culmination of crash endeavours.
The line graph in the game goes up to 999.99x which is lower than in most of the other games on this list. However, it's a classic and elegant release you don't want to miss. The RTP is 99%, which is the highest rate we've seen so far. This is actually excellent for beginners as it's quite straightforward and without unnecessary data on the screen.
Dragon Flare, iMoon

Besides Dragon Flare, iMoon also has Crash Royale and a couple of festive releases tied to a holiday like Ghostly Crash or Witch Crash. If you are into vampires, there's Blood Burst, but if you are a fan of dragons, then you should definitely check out Dragon Flare.
Much like Crash Royale, Dragon Flare brings forth a payout worth up to 999.99x the stake. This might sound like not much, but we are once again reminded that the point of crash games is not so much in payouts as in entertainment – and iMoon knows entertainment well. That's why this dragon-themed Dragon Flare crash game is perfect for us to wrap up this list of top 10 crash gambling games online.
Where to Play Crash Games
And now, the million-dollar question – where can we find crash gambling games? Well, as it turns out, they are almost everywhere.
However, we have to clarify that not all sites offer a full crash game experience like having an entire section dedicated to these games or having a large number of them.
Our top casino recommendations for sites where you can play crash gambling games include 7Bit Casino and Revolution Casino. Check them out.
---
---
Another great venue to check out is the Revolution Casino. It's a crypto casino, so naturally, there are lots of crypto games and payments. It's a fantastic venue for sure.
---
---
For more recommendations and casino picks, check out our full crash game guide and review page.
Conclusion
There's not much we are left to say except, we hope you had fun! We certainly did. Crash gambling might not be as widespread as we'd like it to be, but it's getting there. It is certainly the next hot topic if all these games and crypto casinos are any indications. Watch this space and stay tuned for more info on crash gambling games in the future!