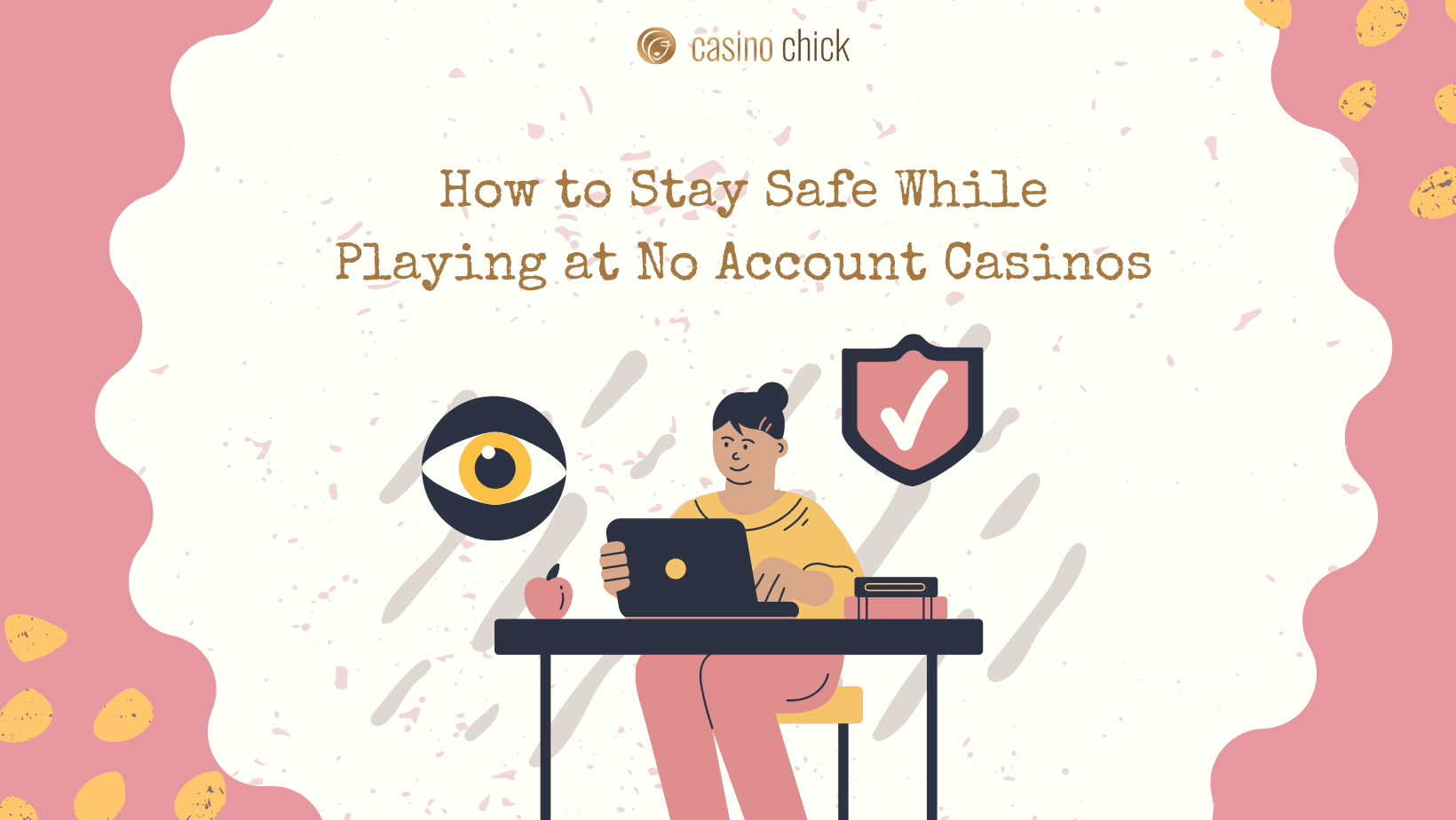 If you are reading this guide, there's a big chance you are already familiar with the concept of no-account betting, or casino sites with no verification.
Online casinos that require not verification/registration are present worldwide, and their popularity is growing. However, not every gambling market views no-registration wagering the same way. Significant changes in the industry have led to different reactions from industry's gambling authorities. Some have increased their KYC/AML regulation strictness, while others have outright banned bonuses and payments harming the players.
No account online casinos without registration are another way to stay safe whilst playing casino games online. See below how you can stay safe while playing games at no verification casinos in the UK, the USA, and other parts of the world.
What Are No Verification Casinos?
iGaming's never-ending stream of updates and upgrades has brought us various innovative concepts which cater to all players' preferences. One such novel concept is the "no verification betting", or "no account casino".
Gaming sites with this type of service offer a seamless and straightforward gaming experience by allowing players to skip the traditional registration process. You don't need it, it's long and boring, and you can just focus on having fun!
Essentially, players have three reasons why they chase after such sites. The first and main reason is safety. With no registration sites, you are not required to provide any kind of personal info to the casino. In other words, you can enjoy the games and stay anonymous!
On the other hand, most players are there for the fun, and couldn't care less for the long registration process. That is why it's great if you can avoid it – if you have no plans to bet real money, why would you have to provide personal and banking info?
Finally, players who do not create and verify their accounts can easily access games and waste no time on long authentication protocols. Instead, they can focus on the fun and that's it.
While the convenience for punters is undeniable, it's vital to prioritise safety and security of all players – even those who haven't submitted any personal detail online. Let's see below our Chick's best tips for staying safe while playing casino games at no verification casinos online.
Check No Account Casino Limitations in Your Country
Before you start the search for a no verification casino, please first check what are the rules for no account betting in your country. For instance, Sweden has a flourishing market thanks to Pay N Play casinos, or sites working with Trustly. Casinos that work with BankID are also fantastic if you don't want to leave your personal info online.
But UK and US casinos aren't like that. In fact, they do not let you wager real money unless you've opened an account, which means you can only play free games without registration.
Therefore, before you even start looking for games to play at no account sites, check what no account casinos mean in your country/state/region.
Choose Only Reputable No Verification Casinos
This really goes without saying, but the only sites that you should consider when gambling online are reputable ones! A reputable casino means you can play both for free and for real money and be treated the same way. More importantly, you are thus privy to the same level of security, regardless of the method and amount of money you invest in the casino.
Our general recommendation is to pick operators with trustworthy licencing, such as the UKGC and MGA licences. These sites mostly operate on EU and UK soil, while the situation is a bit difficult for American casinos. Regardless, if you aren't sure which casinos to pick, you can always stop by our long list of casinos with no account registration in Sweden, Germany, the UK, and the USA, and find the best site for you.
Avoid Sites with No Transparent Encryption and Security Measures
You don't need to be an expert on casino gambling to know that, whenever someone chooses to hide something, they don't mean solid business. The same thing can be said about online casinos that hesitate to state their encryption and security measures transparently, and instead just plainly claim their players are 'protected 100%'.
Advanced encryption technology is there to secure the sensitive data. And yes, you might not reveal your personal info ever, but isn't it nice to have a reliable casino operator if you ever decide to register? Look for SSL (Secure Socket Layer) certificates, as these indicate that the site encrypts your data during transfer. Hence, your personal and financial information remains confidential and inaccessible to unauthorised parties.
Explore the Science of Casino Banking
Hands down the best two payment services to use if you want to play at a casino with real money without registering are Trustly and BankID. All other payment services will eventually lead to KYC verification, which is something you'd probably like to avoid. The only problem with these two is that they are geo-restricted – you cannot use it outside the select few Pay N Play-friendly countries!
Our key tip here is to familarise yourself with Trustly thoroughly before you start betting. Trustly is not only a top-rated payment service, it's also one of the most reliable ones in the industry, and works with dozens of premium casino websites.
Check Your Bankroll Management Game
One of the fundamental principles of safe gambling is effective bankroll management. Hence, be sure to set a budget for your gambling activities, but more importantly, stick to it! Our Chicks cannot stress enough how proper bankroll management can affect your overall experience. In some cases, it can be the breaking point of your entire adventure.
Some of the main tips that we say is "Never wager more than you can afford to lose." And we really mean that. Responsible gambling not only protects your finances but also ensures that your gaming experience remains enjoyable without turning into a financial burden. And when you are playing at no account casinos, the last thing you want is a financial burden, amirite?
Save Your Files In a Failsafe Folder
You might not be opening an account and the casino might not request the whole KYC verification shebang. In that sense, there is no sensitive data to store properly, as you are not sharing anything of value with the casino. However, your password, your username – all this is quite important as it links your BankID/Trustly account, bank, and the casino.
Depending on the method you are using, please make sure you are taking extra care to save those files/data from scams. You can store them on your notes app on your phone, or on your desktop computer, it doesn't matter. But please, generate a strong password that no one can breach, because any password that protects financial stuff is something you really, really want to protect.
Avoid Public Wi-Fi for Transactions
Anyone who's ever been on the internet will tell you that sensitive and personal data does not go well with public networks. Public Wi-Fi is a dangerous way to surf the web! Public Wi-Fi networks can be vulnerable to hacking and data breaches. And do you want to be vulnerable while transferring money? Methinks not.
That is why it should be one of your main concerns to secure a stable and private internet connection. If you want to play casino games, especially at no registration casinos where you are going to play anonymously, internet safety is paramount. A safe connection reduces the risk of your personal information being intercepted by malicious actors. And you want that to be reduced to a minimum.
Conclusion
Anonymous casino gaming via no verification casinos is a popular trend nowadays. We expect it to grow even further, as more and more players are reluctant to share their personal info with other casinos or third-party sites. Besides, registration and subsequent KYC can also be long and boring, and so players who are the for fun only don't want to go through that hassle.
If you want to learn more about no account casinos, especially no registration casinos in your country, be sure to check out our casino guides right here. And reach out if you want to share something with us, or ask us a question. Cheers!