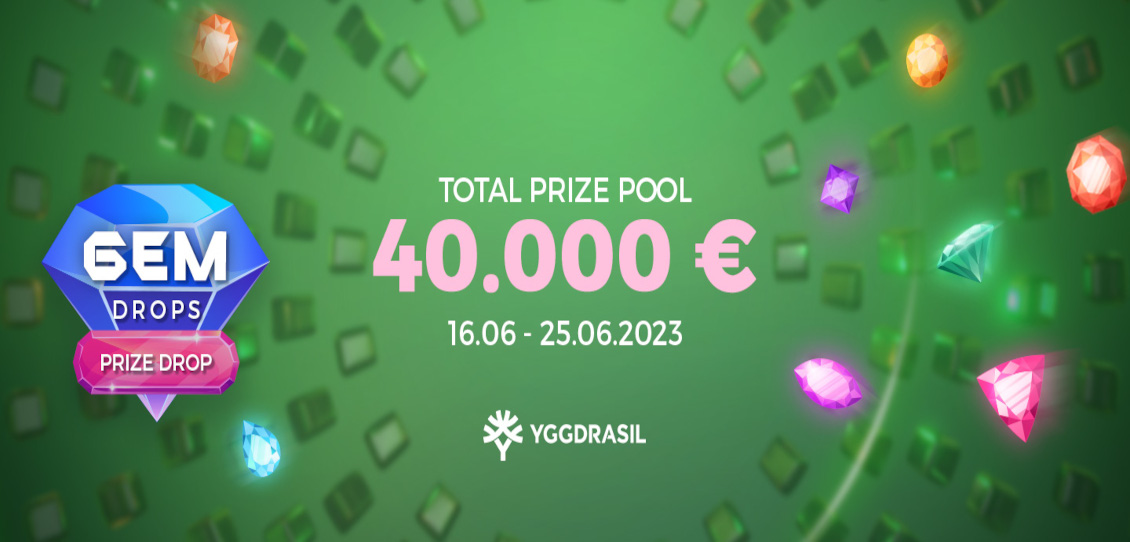 The marvelous Pribet Casino is hosting an Yggdrasil Gem Drops promotion to start the summer season. You can enter by playing certain Yggdrasil slots and share in the €40.000 prize pool. Furthermore, individual prizes go up to €5000.
The promotion will last until 25/06/2023 at 23:59 (CEST).
How do Pribet Casino's Yggdrasil Gem Drops Work?
To participate in this exciting summer promotion you will need to click "join now" in the pop up window. You can find the necessary details on the Pribet promotion page. You then place real money wagers and play some of the most popular Yggdrasil slots like RagnaWolves WildEnergy™ or Nice Catch DoubleMax™.
There are no limits on your bets and there is no additional cost to participating.
Playing the eligible slots which you can find on the promotion's page will automatically qualify you for a chance to trigger prizes.
There are dozens of prizes to be won with the top ones being:
€1000 – One available
€2000 – Two available
€5000 – Two available
€500 – Five available
There are even more lesser prizes to win besides these top ones. You will receive each prize as cash and general Pribet Casino terms and conditions apply.
Head on over to the Pribet Casino, play some Yggdrasil slots, and share in the €40.000 prize pool.