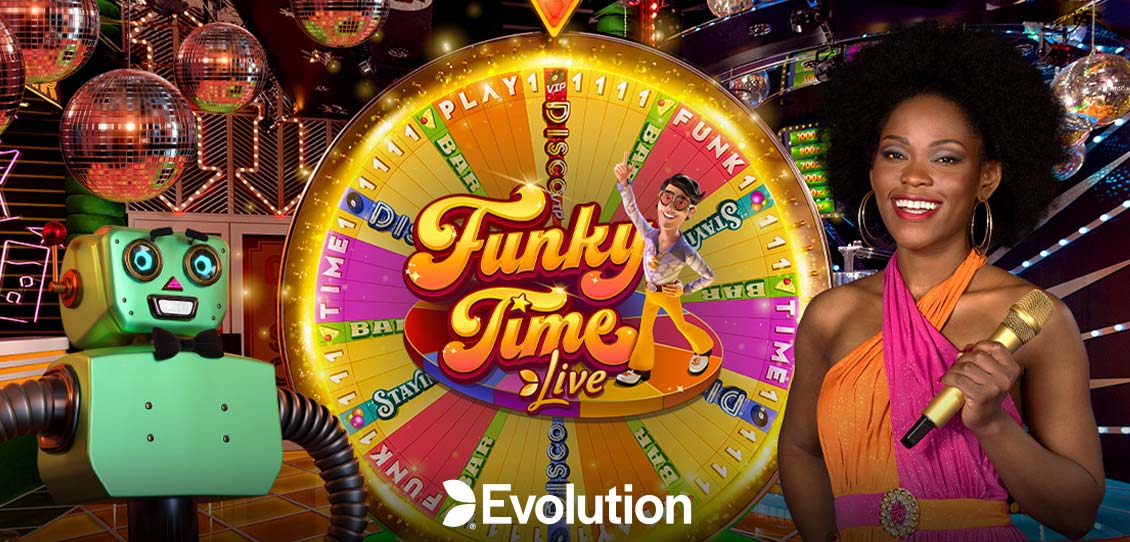 Is it a murder on the dancefloor or did just Evolution launch a brand-new live casino game? Don't worry, it's just a new Evolution live game called Funky Time which finally hit your favourite online casinos. From now on, you can play Funky Time live for real money at every Evolution-powered online casino with a registered account.
Groove Is in the Heart
According to Evolution, Funky Time is the biggest live game development since Crazy Time. If you remember Crazy Time, you know how grand the production of that game was. Funky Time is as big as its predecessor, but with a completely different vibe.
The base of the game is the DigiWheel money wheel which spins with 64 segments. The goal is to collect words with letters that are on the segments. PLAY, FUNK, TIME, and many other surprises await on the wheel that can lead to amazing wins.
Funky Time also features a number of bonus games – Bar, Stayin' Alive, Disco (and VIP Disco). A magnificent thing about the gam is that it allows you to progress in so many ways, allowing players to shape their adventure however they like. Spin on the dancefloor and don't be afraid to win!
Todd Haushalter, the Chief Product Officer at Evolution, is delighted about the release. He said that he expects the game to achieve a similar success to Crazy Time.
"While different players look for different things, Funky Time is sure to have broad appeal.  We believe it's every bit as entertaining as Crazy Time, but it's got a completely different feel and it adds a few extra goodies too. I hope players enjoy it as much as we enjoyed making it."
Stay tuned for more games and news!