About Google Pay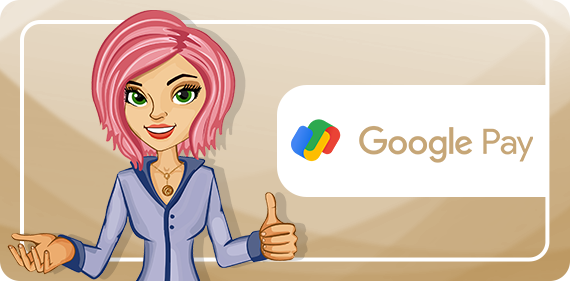 Google Pay hasn't always been the powerhouse it currently is. Before Google Pay entered the picture, the service bore the name of Android Pay, a fitting name as it was a wallet reserved for Android users. The two services share many similarities to a certain extent, only Google Pay is the newer, shinier example of how Google lets you handle your finances.
The service is restricted to Android devices only, which may dampen the experience if you own an iPhone or iPad. However, Google has great news for US and Indian players – if you live in one of these two countries, you can also download and use Google Pay on your iPhone device. The reason why these two exact countries are listed as exceptions is that the USA is the native company market, and India is the biggest one, thanks to its enormous population of over 1.3 bn people.
The core of the service is the online payment system which gives customers the chance to transfer money without contact (or cash) in less than a couple of minutes. It's actually a wallet that connects your cards with various merchants and generates fast and safe payments. Before registering at a GPay online casino, make sure you've linked your favourite cards to your Google Pay account.
Google Pay's Google sponsorship is a major advantage of this payment service, but it's not without a downside. The main disadvantage of Google Pay casinos online is that they do not accept withdrawals at the moment. If you're the type of player who's not bothered by this, we think it might be time to introduce you to Google Pay for real.
How to Make Deposits and Withdrawals with Google Pay
HOW TO MAKE DEPOSITS WITH GPAY
Are you new to Google Pay? There's no reason to worry, as Casino Chick knows here GPay casinos well. The first step is to learn how to link cards to the account, but this is easy. Once you've mastered this phase, it's time to switch to the actual fun: Google Pay casino deposits. Do you know how it's done? Then take a seat and let us enjoy the show!
Visit your casino's banking page.
Start a new deposit and pick a new payment method.
Click on the Google Pay icon to select it.
Type in the amount of cash you'd like to transfer.
Pick the card you previously connected to your Google Pay account.
Follow through the security steps to confirm the transaction.
The money should be delivered to your casino account within minutes. The transaction is free of charge, so the casino will not charge you anything for transferring money via Google Pay. Important info for our ladies: if you want to claim a Google Pay welcome casino bonus, please make sure you've entered the promo code (if necessary) during the deposit. These things are delicate, and if you fail to submit the code where needed, you might never get a chance to get that bonus.
HOW TO WITHDRAW WITH GOOGLE PAY
Unfortunately, Google Pay does not accept casino withdrawals. If you want to see your cash in your bank account, you'll have to switch to another banking option.
We have to note that this is not unusual for such payment options, as neither Apple Pay lets you withdraw funds.
If you want to find another option to use for casino withdrawals, we suggest taking a stroll around our other banking options.
Fees & Timeframes
This section is going to be brief because Google Pay casinos accept only deposits. Hence, the timeframes are practically non-existent, as deposits are nearly instant. Moreover, they are free for the customers, as casinos rarely charge fees for GPay online casino deposits.
As there are no withdrawals, there is no point in discussing the limits and processing times. You are left with only one option: pick another banking method to cash out your funds from the casino.
Why Use Google Pay
Is Google Pay a good casino banking option? And what are the advantages of playing at GPay casinos online?
For starters, Google Pay is a Google-backed payment option, which means it was built to suit Google users. The company first built the Android Pay wallet, which evolved into Google Pay in 2018. Since then, it has been catering to millions of users worldwide and even included Apple users in the USA and India.
The process of transferring money lasts only a couple of minutes, making it one of the fastest payment methods in the world. There are no fees, i.e., it's free, so you can enjoy it for free.
The main downside to playing at top Google Pay casinos online is the absence of withdrawals. You cannot cash out funds from your casino account using GPay. Instead, you are forced to pick a second payment service for payouts. If you don't find this irritating, then Google Pay will be a good casino banking fit for you.
Pros and Cons
100% safe thanks to Google support

Perfect for Android users

Free and instant deposits

US and Indian iPhone owners can use it as well
Does not accept withdrawals

Only Android users can use it (except in India and the USA)