About Giropay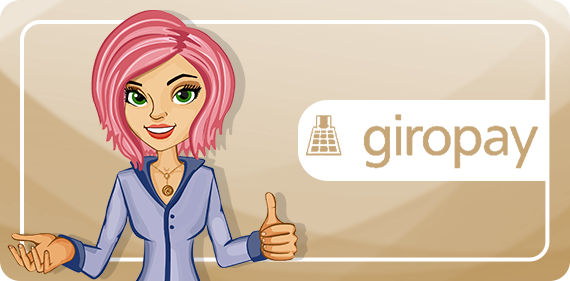 Giropay is a German payment system for online, cashless payments. The Frankfurt-based company launched in 2006 as an experiment. Less than a year later, the company recorded transfers of over 100 million euros, with over 3.2 million transfers happening per year. The numbers kept growing, which is how we've reached a stable flux of customers which initiate over a million of transfers each month.
While we're at the topic of numbers, it's good to note that Giropay is available in over 1,500 banks in Germany and Austria, making it a top choice for a payment method at German casino sites. However, its services are not restricted only to Germany and Austria. In fact, you can use Giropay at casino sites operating across Europe, which gives you a lot of wiggle room in terms of casino site choice.
A key thing about this online casino banking option is that it is quite safe. Giropay is a mediator between the merchant and the bank, which means you don't supply personal info to the casino, but rather to the Giropay service. Giropay connects the two and transfers money in less than 5 minutes. Each transaction includes a PIN and a TAN code to authorise the payment.
How to Make Deposits and Withdrawals with Giropay
To deposit using Giropay at online casinos for female players, you just need to choose a casino and then head to the banking section for a new transfer. Giropay uses two-factor authentication to confirm every transfer, so you don't have to worry about security.
Here is how to deposit with Giropay.
Visit your casino's Cashier page.
Start a new deposit.
Pick Giropay as your banking service.
Enter the amount of money you'd like to transfer.
You will be redirected to a page where you need to confirm the transfer.
Confirm the payment and follow additional instructions.
You will get a notification from Giropay as soon as you click confirm which will inform you whether the transfer was accepted or denied. After you deposit your funds, head to the promo section and claim a Giropay welcome casino bonus and enjoy casino games waiting for you in the lobby.
HOW TO WITHDRAW WITH GIROPAY
Withdrawals are not always supported by online casinos, and most casino payment options do not support cash outs. The same thing applies to Giropay – you cannot withdraw funds with Giropay. Instead, you are encouraged to search for a new payment service which would support your cash outs.
Our top recommendation is the classic bank transaction but bear in mind that it's often the longer and costlier option. E-wallets are also a good choice – and they are faster and cheaper than bank transfers.
Fees & Timeframes
Casinos won't charge a fee for using Giropay. However, the same cannot be said for banks that connect to the service.
The fee that goes hand in hand with Giropay money transfers – including online casino deposits – is expressed in percentages. You can find more information about fees on the official website of the banking company.
On the other hand, Giropay deposits at online casinos are instant. There is little to no waiting for the money to arrive where it's supposed to be once you confirm the transaction.
Why Use Giropay
Why is Giropay a good casino payment option for you? For starters, it's free of charge, it's superfast, and it's easy to use. All three valid reasons to choose it as your preferred online casino banking service for casino deposits.
It's a popular service in Germany as well, which means German online casinos are bound to offer it to their clients. If you are playing at a German-friendly online casino or a site in Austria, you might want to check out this service.
There are drawbacks, of course. The biggest one is the fact that you cannot withdraw money using Giropay at online casinos, a fact that'll sadden many ladies at online casinos. But despair not, dear players – you can always pick another reliable casino payment service that could transfer the money where you want it to be in a reasonable timeframe.
Pros and Cons
Safe and instant deposits

Popular at German online casinos

Long-standing reputation and millions of happy customers
Withdrawals are not possible