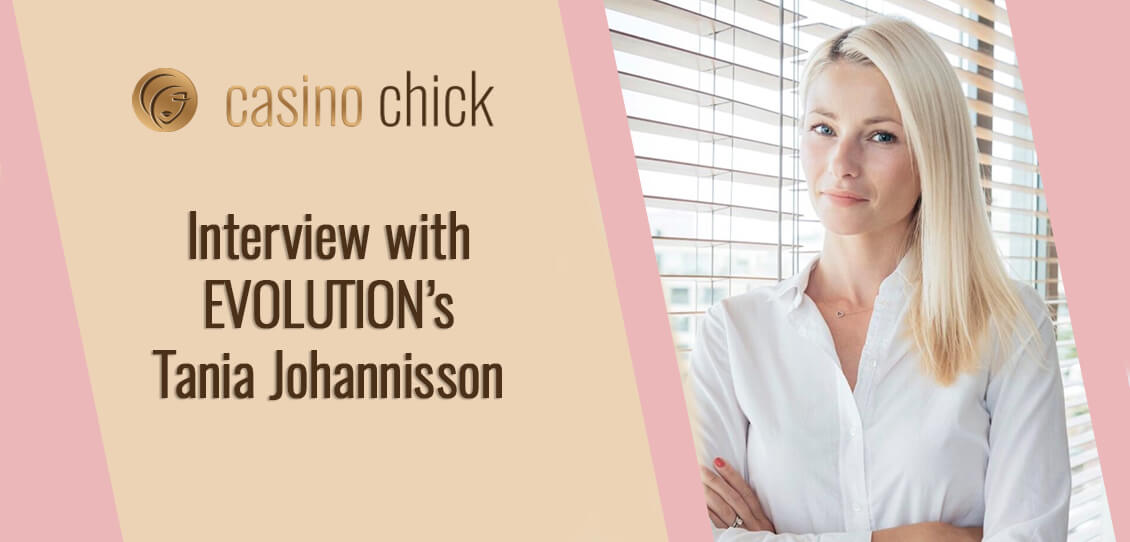 Tania Johannisson is the Director of Game Integrity and Risk at the leading live casino supplier Evolution.
Johannisson has been in the online gambling industry for a decade and has worked her way into her current role. In the many years of dedication to the industry, she has gone a long way and scooped a handful of accolades such as Head of Risk/Fraud Award and Gaming Intelligence's Backstage Heroes.
This is Casino Chick's interview with Evolution's own Tania Johannisson.
Hello and welcome to Casino Chick, the world's first women-centric online gambling hub. We specialise in delivering online casino and game reviews and relevant content that interests female gamblers. With that in mind, we are honoured to have you as our first guest interviewee. Could you tell us a bit about your role in Evolution and your career path within the company?
Thank you for inviting me. My journey in iGaming started 13 years ago when I joined Evolution, which was the first European focused online live dealer casino provider in the market, a totally new concept at that time. It was initially meant to be a short-term summer job (in my mind at least) but turned into more than a decade-long career.

I worked in various roles within the company (even now, on top of my main duties, I am also running the Operations in North America), but have dedicated myself to online game protection for the last 10 years – developing the most advanced data analytics department within the vertical, leading hundreds of risk-related employees and working on designing red-flag systems and tools, some of which were granted international patents.

Today, aspects of game integrity come as an integral part of the Evolution product and are one of our USPs.
Your contribution to the Fraud & Risk department has been acknowledged by industry leaders many times. Congratulations on the multiple awards you have won! Which is the one you are most proud of and why?
I do not think I could choose one in particular; it is such an honour to get recognised for your contribution within the industry. Myself and my team consider serving the industry in this way as being more than a job, it is something we have a real passion for, and such acknowledgements are therefore, extra special.
What is your favourite part of your job?
No two days are the same, and you learn new things all of the time. Considerations within the role such as mathematics, patterns and technology were always something that had appealed to me and that I excelled at in school. To have those elements in my daily job is really fun.
In your opinion, what is the biggest issue your sector faces?
Innovative game titles launched by EVO have disrupted the game protection vertical as new products bring new challenges. There is no available solution to justify the success of the new game and there are no books to read on how to protect the game as we are the ones building it. The same innovative approach we use when we are designing a game must also be applied to the monitoring systems and tools protecting it.

In Evolution, we set the bar very high for everything we produce, launch, or operate on our gaming floors. Given the continuous demand for customisation, as well as the high quality and durability standards in our equipment, our requirements may not always be met with a readily available solution on the market.

Therefore, we developed solid in-house production, thus eliminating external market dependencies and reaching our security targets in a more cost-efficient way.
What do you think about advantage gambling and strategies some players use to bring down the house?
In my opinion the sole focus on advantage play, is wrong.

Where the analytical eye should keep a 24/7 focus on, is the game itself, its integrity and fairness, making sure your staff follow the correct procedures, having the right analytical tools assessing games in real-time, advancing in your technological solutions, monitoring, and maintaining your equipment, updating the detection reports portfolio and developing new internal alert tools, challenging the status quo.

Advantage play is something that is impossible to eradicate unless you make sure that the game offers no advantage in the first place. With that being said, prevention is always better than the cure.

Only after that, can you make sure you have the most advanced real time analytics and the best team to analyse thousands of players betting patterns on a daily basis.
Would you say that women get enough recognition in the iGaming industry?
I think that in such a progressive industry as iGaming, ideas and the strive towards excellence is what matters the most. Fresh perspectives are noticed; accomplishments and performance of individuals are recognised, regardless of gender.

Skills and contribution in the workplace are the most essential activities in this rapidly evolving industry, not whether you are a man or a woman.
In 2020, Evolution launched quite a few impressive releases such as Crazy Time and Instant Roulette. Could you comment on those games?
In 2020, we continued to expand our range of hugely entertaining and immersive game show games, including Crazy Time, which was our headline game of the year. This unique money wheel game has 4 bonus games, more than any game we have created before and has become our most successful game launch to date, appealing to a wider audience of players, some who have never before played Live Casino.

Additionally, we launched Live Casino's first ever authentic Craps game, which not only appeals to Craps lovers, but, in true EVO-fashion caters to new players, with features such as the easy-mode user interface and tutorial, to explain all the different bets in the game.
Moreover, we have just been hit by the wonderful news that Gonzo's Treasure Hunt™ Live will be hitting the stage in a couple of months. Could you share some inside info about this game with our readers?
As part of our acquisition of NetEnt, we are utilising their most iconic titles, blending NetEnt player favourites into the world of Live Casino, to create a new wave of games that provide players with yet more truly unique entertainment experiences.

Gonzo's Treasure Hunt™ is our first game to do this, it is a unique slots-inspired live game show, based on the NetEnt smash hit Gonzo's Quest™. Players can look forward to a game that has all the thrills of a Slot presented in real-time by a charismatic host, using innovative technology for a unique adventure like no other!
What title from the lobby would you recommend to women who are just getting started with online gaming?
I would recommend Crazy Time. It is a hugely entertaining, intuitive game show, full of action. In my opinion, everyone needs to see the excitement hiding behind the red door 😊
We thank you for your time. It has been a pleasure chatting with you. We hope to hear from you again with the latest updates from your glittering career.