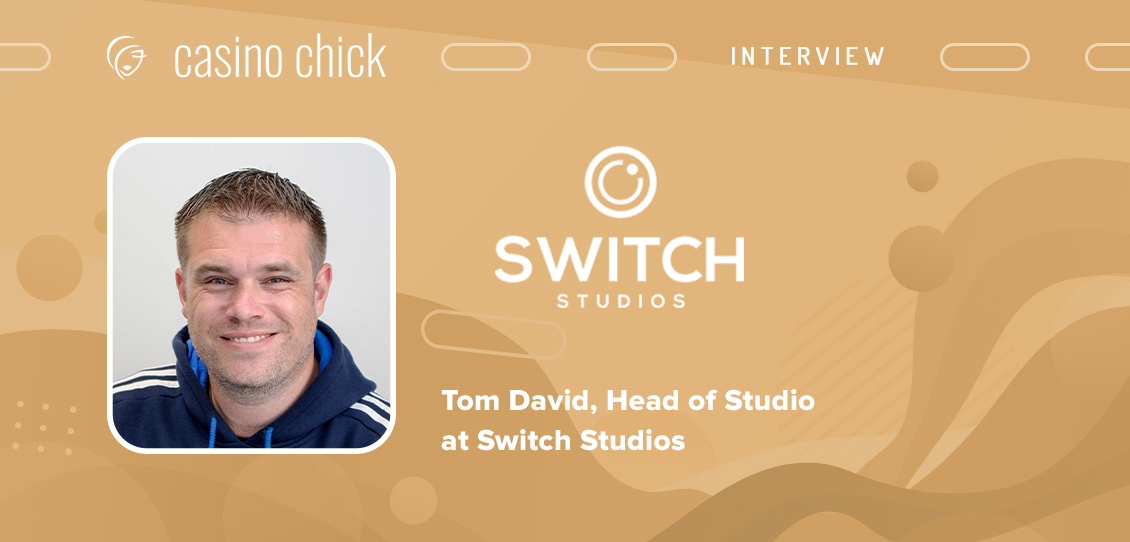 Our Casino Chick interviews try to get a glimpse behind every facet of the online gambling industry – from payment methods to the developers of our beloved games. So far, though, most of our interviews were with slot game creators. This time, we have someone a bit different.
Switch Studios are a software development studio focused on RNG-based real-money casino table games. To the uninitiated, RNG is short for Random Number Generation. Essentially, if your favorite online roulette is resolved by a computer instead of an actual wheel, you're playing an RNG game. And if you're doing so on a Microgaming-powered online casino, Switch Studios are likely the people that made it. Our guest for this interview is Tom David, Head of Studio for this England-based studio.
Hi, and welcome to the Casino Chick blog! First of all, we would like to thank you for setting some time aside to answer our questions. Why don't we start with a little introduction? Tell us a bit about yourself, your role in Switch Studios, and your experience in the gaming industry.
My name is Tom David. I am Head of Studio for Switch Studios, which is a table games development studio based in Ipswich in the UK. In terms of my experience, I've worked in the gaming industry now for 21 years. I've worked on a raft of different technologies and types of games, ranging from sportsbook software through to doing Flash games. I did a lot of stuff on poker and Keno – which included slots and table games at the time. I've also worked on the technology side of things, getting games onto mobile devices back in the days when smartphones had just become a thing.
While we're at it, can you give our readers a little rundown on what Switch Studios is all about? Table games are your specialty, that much is clear, but what are the most important ideas behind how Switch Studios creates games?
In terms of how we create games, one of the core mantras that we've always followed since we started the studio was creating a solid foundation for the creation of table games… solid foundations being the creation of the classic versions of table games that everyone knows and loves. We use that as the basis for everything we build; it helps us ensure the quality of our games is the best it can be, and it also saves us time because we work with an established game mechanic whatever we decide to build.
In fact, how much room would you say there is for a "personal touch" when it comes to casino table games? A roulette wheel is a roulette wheel, after all, and any variations are relatively small in scale.
Whilst that statement's absolute correct – a roulette wheel is a roulette wheel – I would say that while we may tweak the maths behind the scenes in order to innovate in that particular type of game, it's the client side – the frontend – where we can really go to town; we can make a roulette game look completely different to a standard game.
To our minds, Switch Studios' Multifire Roulette is one of the company's most successful releases. On the other hand, table players are known to be big fans of the classics. Would you say there's a big demand for innovation in the field of RNG casino table games?
We obviously do a lot of research in the market to see what's out there, and we look to identify and gaps in that market where there's player demand. In order for the team to be invested in what we're doing, we have to really like what we're doing so we can come up with the best quality games.
Prior to Switch Studios I worked for a free-to-play games development studio for five and a half years. A lot of what we did there, from both "look and feel" and a technology standpoint, we've been trying to bring into Switch Studios, and that is something that will play a part in our future roadmap.
What would you say are the specifics of creating RNG-based table games? Do you think there are any major similarities or differences compared to other corners of the iGaming industry? If so, what are they?
In terms of RNG games specifically, the math modelling behind them is horrendously complicated. Not so much from the roulette side, but definitely on the blackjack side, due to the potential amount of result permutations. I think it's a lot more complicated when trying to model the maths behind these games. In terms of similarities, the end user experience is something we're gravitating a lot more towards. We do look to the slot industry for inspiration. We know that slots are much more graphically intensive and it's something that we are currently bringing into the table game space as well. We're hoping it will appeal more to the slot players as well.
The last few years have seen a huge rise in live dealer casino gaming, which arguably fills the same market demand as its RNG-based counterpart. Do you think these two types of game are doomed to be competitors? Or do both occupy their own space in the online casino lobby?
That's a very interesting question. I think they both have their own merits, and both their own downfalls. What is really important is that, unlike live dealer, which has set up costs and enormous running costs, RNG is great because you can innovate and you can innovate quickly. You don't have to worry about getting studios set up, hiring dealers, all that sort of stuff. It's literally "I've got this idea – let's build it" and it's quicker and cheaper to get games to market. And that's probably the biggest positive for RNG games.
I don't think we're ever-doomed to be competitors; I actually think we can supplement one another with some cool innovations we can make in each of the spaces.
With RNG, as a player you can play a roulette or blackjack game very quickly – you can do it within 10 seconds. With live dealer, it's very much contingent on how quickly the dealer is actually dealing. A live dealer game might take 30 seconds to resolve, whereas an RNG can take a third of the time.

Both of these corners of the industry have seen quite a bit of innovation in recent years – live gaming seems to be leaning towards TV-like entertainment shows. Do such trends influence what you do over at Switch Studios? Will we also see RNG Wheel of Fortune-type titles popping up everywhere?
Excellent question! "Do such trends influence us?" Absolutely is my answer to that. We all know that players love the sort of glitz and glamour of game shows – it's something that we're patently aware of. As to "will we see RNG Wheel of Fortune games popping up?" Possibly. We're actually about to release a game this month called Wheel of Winners, which has taken some inspiration from, believe it or not, Stars in their Eyes! We really enjoyed making that game and it's our most colourful game to date I'd say.
So far, Switch Studios seems to have found a niche in the industry while keeping up very high standards of quality. Would you say anything will change as far as that niche goes in the future? Where do you see the industry going in the next, say, 5 years?
It's all dependant on the way technology goes. I see there being a space for RNG games in the Metaverse in the future. At the moment we've got live dealer and everything else, but eventually we're going to be building games in a virtual universe using avatars. I actually think RNG would lend itself really, really well to something like the Metaverse. In terms of just general RNG, I don't think things will massively change under the hood. It's what's presented to the end user that's the most important part.
And finally, what will Switch Studios be doing in the near or not-so-near future? What can our readers look forward to?
We're very much innovating across all our product lines now. We've got probably our most exciting roulette titles being released this year, but I can't really go into much detail on that at this time. We're also looking at making our games look a lot more 'slotty'. So, lots of exciting things coming up in the near future!
Again, thanks for taking the time to talk to us – we gained an interesting perspective, and we're sure our readers found it fascinating. Before we sign off, is there anything else you'd like to add? Perhaps a message to fans of Switch's work?
Thank you to everybody who's played our games and supported us so far, we hope you've enjoyed playing. I'm looking forward to the studio sharing some exciting and innovative new content in the very near future and hope you guys continue to enjoy those games as much as we enjoy building them. Follow our socials to keep up with the latest releases!