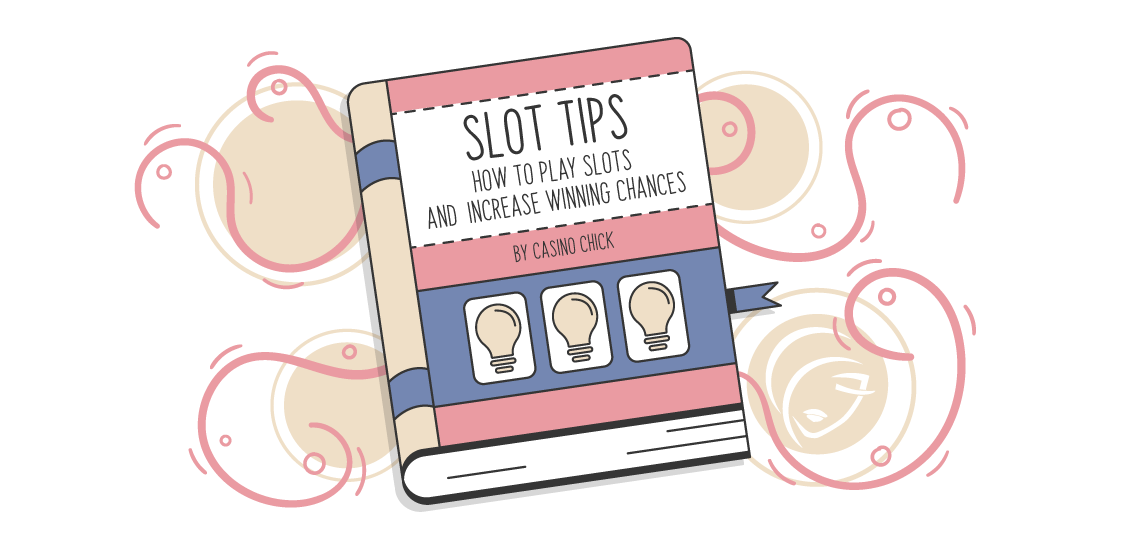 Playing online slots at girl casinos may sound like a fun endeavour, but there are always ways to make the adventure more interesting. Casino Chick is all about maximising winning chances, which is why our Chicks devised this handy guide full of online slot tips for increasing chances of winning big.
Do you want to become a seasoned slot player and boost winnings? Then read on! There's an entire discussion about key slot components, big winnings, small risks, and winning chances right below.
How to Play Slots (The Smart Way)
Slots are casual games, so you don't need special preparation before entering a casino. Instead, what you need is a clear-cut vision of the type of games you like to play the most. Ladies looking to just pass the time won't go hunting for big wins; ambitious women strive for temperamental slots with big payouts. The big secret of playing slots and winning is to define the type of player you want to be and then follow that to a T.
There are other things you can do as well, of course. You need to master the game, and you'll do that by learning about all slot components and understanding how each affects the game outcome. Slot components are easy to understand, but too much information all at once may result in confusion. Hence, let Casino Chick guide you through the main online slot components and show you how each piece fits the puzzle.
Key Slot Components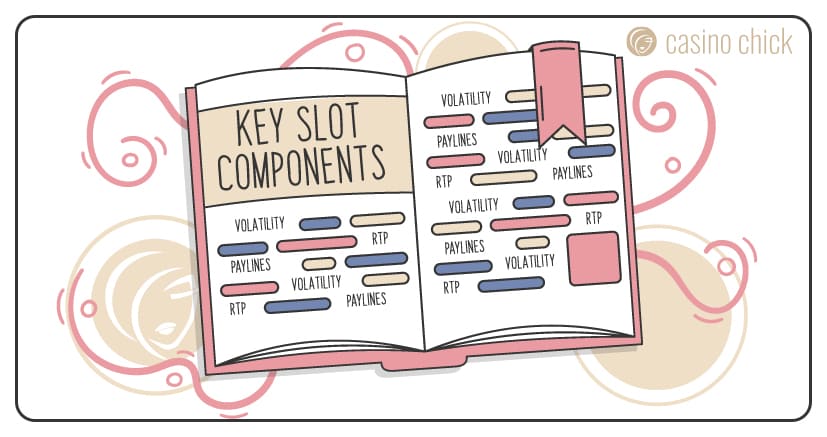 Slots are made of a collection of items, most of which sit in the background and are never even seen by the players. Few companies reveal the secret of their trade to the public, and so players never really know what goes into the makings of one video slot.
But there are components we know and can use to our advantage. It's hard to pick the most important one, so we listed them all below for your better navigation.
Reel Grid
The main thing you'll see when you open a video slot is the reel grid. The reel grid is the game setup, the matrix on which the slot symbols appear. It's important to know that reel grids have rows and columns that we call reels.
Slots are distinguished by the number of reels and rows they have. Rows and reels do not change much for the players, as other factors dictate the gameplay tempo. Hence, having three or four rows does not make such a significant difference.
The original slot games started with one row and three reels and slowly evolved into 3×3 grids. The 3×3 setup is still reserved for classic Vegas-style slots with minimal risk and smaller payouts.
On the other hand, newer slots aimed at the modern gamblers usually sport a couple of reels (and rows) more. In general, you'll hardly find a regular slot with more than four rows, and it will usually have either five or six reels. The standard slot setups often include 3×3, 5×3, 5×4, and 6×4. Game companies rarely expand this configuration, except maybe when they feature a unique game mechanic or use cluster pays to generate winning combos for which you do not need paylines.
RTP
Another vital part of online slots is the game's RTP rate or Return to Player. The percentage rate shows how much you stand to gain from the game based on the amount you've invested by wagering. In most cases, the RTP rate in online slots is around 96.20% – this is also the industry standard. However, older slots came with lower rates, and most of them registered an RTP of around 93-94%. Today, the situation is slightly better, with slots reaching 98%.
But what does this Return to Player mean? Is it the sum of money that will be returned to the player through winnings during one game session? Yes, and no. Statistically speaking, the RTP shows how much players have a chance to win back, but it cannot guarantee they will get that money. Moreover, the rate is calculated by considering all stakes wagered in the game and comparing it to all game payouts (winnings) paid out to the players. What you get is a rate that shows how much an average player can get from the game, but that is in no way you – it is for all players. So, while one player may hit the game's jackpot, another one can wager a lot of money and never see even a fraction of it back. That's the harsh reality of online slots.
Hit Frequency
The hit frequency determines how often the slot can generate a winning combination. Not all slots publicly reveal this piece of info, and they do not have to. However, we always feel better when we know what the mathematical calculations behind slots' winning potential are, as it gives us insight into the game's profitability.
The lower the hit frequency, the lower your chance of winning, it's that simple. Slots with low hit frequency are slow to produce a win, which means you can easily run into a dry spell and waste a lot of money. That's why we always recommend going for slots with higher hit frequency, even if they have a lower payout and volatility.
On average, most online slots feature a hit rate of around 25%, and if Free Spins are included as one of the slot features, the hit rate will jump up to 30-35% during free rounds. Girls who play casino slots are advised to avoid online slots with hit frequency rates below 25%.
Volatility
Volatility is another slot part showing the game's profitability. In essence, volatility or variance shows how often you can expect to win in the game. Colloquially, we also consider it the temperament of the game, as low volatility is a mild-mannered game, while high volatility is a very temperamental one. High volatility games are unpredictable because they can feature bigger wins, but they are extremely rare.
Moreover, volatility also shows the correlation between the frequency and size of the win. For instance, the smaller the win, the more likely you are to win it. Low volatility slots produce wins often, but the amounts that punters claim aren't something to write home about. On the other hand, highly volatile slots rarely trigger winning combos, but when they do, the amount is considerable.
Volatility is often displayed right next to RTP, as volatility shows how often you can win and RTP how much you can expect to cash out. There are three types of volatility, which means slots can be classified into three groups – low, medium, and high variance. Medium volatility games are the best of the bunch as they both offer big wins that come relatively frequently.
Paylines
Another important segment is the number of paylines (or winning ways). Paylines are winning patterns for the slot grid. When matching symbols land on a payline, the player gets a win. The number of paylines varies greatly. Classic slots with one row had only one payline, but as the number of reels and rows grew, so did the number of paying lines.
Today, the number of paylines often reaches thousands, thanks to genius inventions from popular software companies. Big Time Gaming, one of the biggest companies in the business, has created the Megaways, a slot mechanic that yields up to 117,649 ways to win. Megaways is by far the most popular mechanic in the game, used by dozens of companies who are licencing it from BTG.
We'd also like to note that slots do not necessarily need to have paylines or winning lines. Instead, they can use cluster pays, or symbol clusters to produce a win. This game type is a cluster pay slot, and usually sports a bigger reel grid with 6×6, 7×7, or even 8×8 configurations. Winning on such grids is achieved by landing matching symbols on adjacent positions on the grid so that they could form a cluster of either 4, 5, or 6 symbols. The pattern of their landing positions matters not – the only thing that matters is that they are next to each other.
Payout Potential
Payout potential or win potential is the largest amount you can win in the game. It's often used interchangeably with the jackpot, but it's not necessarily the same thing. For instance, slot jackpots may be used as special game features that players trigger via jackpot wheels or something similar. These jackpots are in no way the largest payout of the game as you may combine them with multipliers or other boosters to achieve a greater win.
In cases where the game is connected to a progressive slot network, its win potential is said to be progressive. That's because the game's main attraction is the progressive jackpot that grows with each wager in the game across all casinos. So, the progressive jackpot is in this case the game's win potential, and we label it as 'progressive' because the sum constantly changes.
Of course, female players should know what kind of payout they should expect from a slot before they enter the casino. In general, classic and low-volatility slots offer smaller win payouts, while highly volatile games with high RTP produce bigger maximum payouts.
Bonus Features
The final thing on our list is also the first thing most punters pay attention to while choosing a game. Bonus features or special slot game features are boosters used in the game to increase winnings and winning chances. Some of the most common features include wilds, scatters, free spins, and multipliers.
Of course, as there are countless slots right now, so have the companies building these games experimented with the genre and devised countless variants of each feature. For instance, you can encounter five or six different Wilds, such as Walking Wilds, Expanding Wilds, Floating Wilds, and Cloning Wilds.
The same thing happens with Multipliers, as they can be attached to Wilds, Scatters, or random symbols. Some slots have win multipliers, or multipliers that apply to overall round wins.
When it comes to Free Spins, players get to experience a wide variety of boosters inside these features. They are almost always packed with more than one booster, as they represent the peak of game potential – Wilds, Multipliers, and Respins combine into potent concoctions delivering impressive winnings.
We could write an entire novel on bonus features, but for the sake of this article, we limited ourselves to name only the most common slot bonus features and their variants. Explore Casino Chick a bit more to discover other exciting boosters found in popular online slots.
Increasing Winning Chances – Slot Tips for Female Casino Players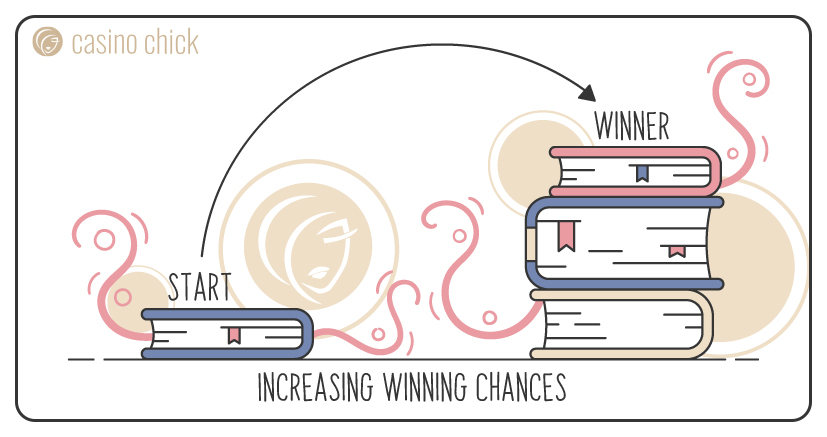 The second part of this guide is dedicated to mastering the gameplay. You've learned all the elements and features you can use as tools to generate big wins, so the only one question now remains:
How to increase winning chances in slots and maximise big payouts?
The trick is to follow these steps to a T and be patient. No casino can guarantee a win, nor can players win every single time – but the fun lies in tinkering with slot strategies to achieve the best possible results (or the least harmful, if you will).
Here is what you should focus on if you want to increase winning chances in online slots.
Chapter 1 – Learn the Rules of the Game
Slot tip number one: learn the game rules. This goes without saying, of course, but we must emphasise this part as players often forget how slot components are important for overall results. Mastering the rules does not simply mean learning how to play slots, it also means learning what makes a slot. And as we have seen above, there is more to slots than meets the eye of the players.
Mastering the game should be on every player's list of priorities, regardless of the genre of game you are playing. Slots are easy, but classic table games are a slightly tougher nut to crack. Blackjack, for instance, has a collection of charts for actions that players consult during rounds. In roulette, there are betting strategies that help players curb losses, as there are so many betting options to think about.
Therefore, learn the rules and familiarise yourself with the game before you head out and wager on slots. This is the first step in ensuring winning in online slots.
Chapter 2 – Browse Types & Themes
You may know how things work and what to do when you enter a game, but how do you know what game to open? Especially as there are now thousands of slots, and the number keeps growing!
Picking a game may sound like a fun process for girls, but it shouldn't be taken lightly. During this process, you essentially choose what type of slot you want to play, and that means deciding on variance, RTP, and payout possibilities. This is where your preferences come into play. By picking the type of girly online slots, you essentially choose what kind of action you are after – either casual gaming or ambitious gambling.
Thematically speaking, slots offer a variety of concepts you can explore through spinning. There are pirates, girly slots, animal games, fantasy, fairy tales, zombies, and fast cars. If you prefer something a bit more old-school, we recommend trying classic Vegas slots. These offer low payouts, but solid winning chances, and they are not as risky as high-variance games.
Chapter 3 – Find a Game Supplier
This can be done simultaneously with tip number two. While picking a game type, you can do it by browsing themes or browsing providers. Game suppliers typically have a recognizable style, so it would be good to explore games from one company before moving on to others. If you are a novice, this might be more helpful than going in and exploring title by title.
iGaming suppliers are a big bunch, so you might need help choosing one to start with. Hence, Chick recommends the traditional approach – try our game software page and start with the highest rated providers. From there, you can check other companies, bigger names or smaller studios, single market-oriented companies, or global powerhouses.
Chapter 4 – Select the Slot
The penultimate step, and the deciding one is choosing the game. Games abound, but if you've listened to Chick's counsel, you have already done half of the work needed. You have seen what kind of games exist, explored providers, and chosen one that suits you the most. So, which game could be the one to bring you the best results?
Here is where you revisit the slot components and try to use them to your advantage. For instance, is the win potential important to you? Are you into high or low volatility slots?
Once you make sure a title has ticked all these boxes, look at the RTP. Let the RTP be the deciding factor as it literally translates into the possible payback rate for you. If you've found several slots that fit the description, then choose based on the theme and features included.
Chapter 5 – Apply Advanced Slot Tricks & Win Big Money
The moment has come to start playing and start winning big. Chick knows how great this feels – you must be giddy with excitement. However, what happens when the wins don't start pouring in from the get-go?
Don't let that dampen your experience! Be a smart player and apply advanced slot tricks to win big money in online slots. Here is what you can do:
Create a good money strategy and stick to it.
Decide what kind of bets you will be using while playing before you place the first wager.
If the game is not paying as you want it to pay, leave it and choose another one. It's not worth your stress.
Finally, should you lose more than you wanted, never chase your losses. This is lethal, as it can lead to a massive loss of funds – one that you are not prepared to part with.
Keep calm, have fun, and always play responsibly. And no matter how interesting the game is, don't let it convince you that it's all that there is. Casinos offer thousands of options, so use that to your advantage!
Bonus Chapter: Winning Is All About the Mindset
Chick is slowly bringing this online slot tips guide to an end. So far, we've talked extensively about winnings, maximising winning chances, and increasing the payouts by picking games with a higher payout percentage. But we haven't emphasised the vital element that makes all this possible – the mindset.
A winner's mindset in online slot gaming does not include playing against all odds and sticking close to the game even if you are experiencing a losing streak. Although we appreciate perseverance, it's not a trait you'd want to bring with you to the casino.
Instead, the most rewarding skill is patience, and although most diehard casino fans will say they consider perseverance and patience synonymous, they aren't. While perseverance may often lead to an unwillingness to leave the game despite great losses, patience teaches you to leave and come back when the playing conditions are better. In other words, knowing when to play and when to quit, as well as being able to stay patient and not risk everything in your purse is vital for your casino career. And that is what makes you a winner – knowing when to quit.
As always, Casino Chick recommends only safe gambling. We hope you liked our online slot tips! Have fun, enjoy your games, and always play responsibly.