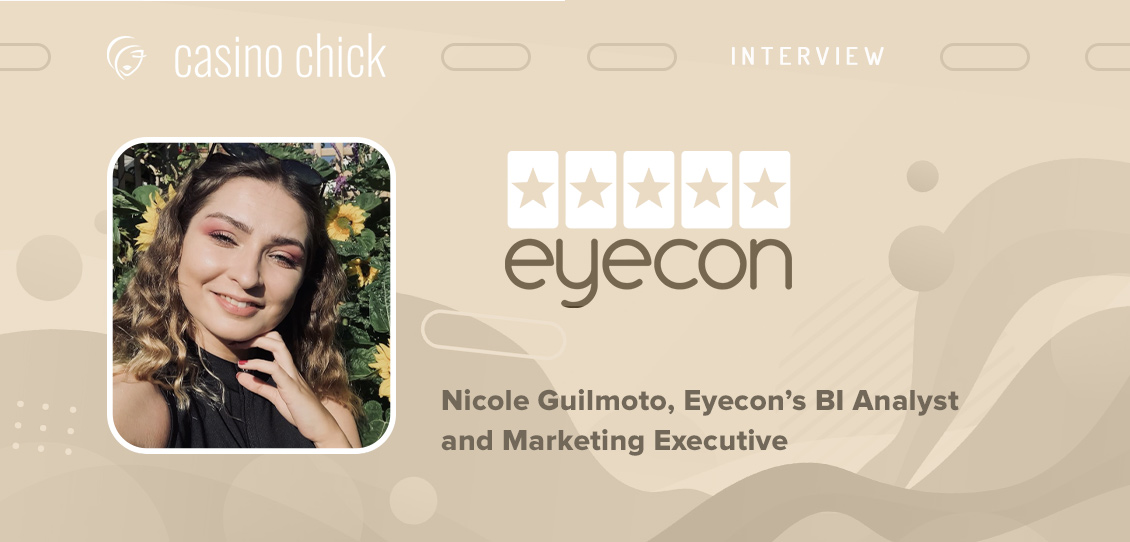 Each month, Casino Chick adds a new partner to her list of casino software providers. Our latest addition to the lobby is Eyecon, a premium slot game developer famous for Fluffy Favourites and Shaman's Dream slots.
Looking to bring you closer to the people behind the brand, Chick has interviewed Eyecon's BI Analyst and Marketing Executive Nicole Guilmoto.
Hi, and welcome to CasinoChick.com, the world's first women-centric hub of iGaming information. It is our pleasure to chat with another woman and get a fresh perspective. Would you mind introducing yourself to our readers?
Hello! I'm Nicole Guilmoto, a BI Analyst, Marketing Executive and Account Manager at Eyecon, a Game Studio with bases in Guernsey, Brisbane, the UK and Israel. I have worked in the iGaming industry for almost 6 years now, I started as a CRM Executive in 2016 and joined the fantastic team at Eyecon in late 2020.
What skills are critical to doing your job at Eyecon as successfully as you do?
My job varies day to day, I would say the most important skill is the ability to multi-task across my various roles and organising my tasks into their most suitable priorities. You must also have great communication both within the company across departments and with your customers so that you are able to pick up things quickly and get it resolved as soon as possible.
What does your typical day at work look like?
Well, that's the beauty of working in an industry like this one and taking on as many roles as I do in a company – you will never really have a typical day; every day is different, and every day throws new challenges your way.
My day-to-day responsibilities can range from staying behind a desk doing social media management and performance analysis, to face to face meetings with customers and attending events!
Could you describe the dynamic within teams at Eyecon?
Eyecon has offices based around the globe across multiple time zones. We have one office based in Brisbane which has a fabulous team that focuses on our Game Development and Technical Support and teams based in Guernsey, Israel and the UK which focus on Account Management and Marketing. I am a part of the Guernsey office which is an incredibly close-knit team!
Due to the differing time zones and locations, we have always utilised technology to maintain a close relationship between all our offices so that we can offer a cohesive and streamlined service to our customers.
Eyecon is based in Guernsey. How do you think the geographical location impacts the nature of the company's titles?
Being based in Guernsey is certainly a benefit when it comes to our game development because we are living amongst our target audience. Our motto is 'we make games that players love' and because a vast majority of our customers are based in the UK it really means that we can have a deeper understanding of what they want from our games!

Are you a player? What kinds of casino games are to your liking?
If I had to choose my favourite online game it might be a bit of an obvious one, but everybody knows Eyecon for the iconic Fluffy Favourites suite of games, especially the original which is still going as strong today as when it was first released 15 years ago remaining one of the highest ever performing games in the UK!
Could you comment on the position of ladies in the online casino industry? Do you think females are well-represented in iGaming or is there room for improvement?
I believe there will always be room for improvement, and I have seen the development of this over the past 6 years I have spent in iGaming. When I first joined the industry, in a lot of areas there was a far more noticeable imbalance but now this curve seems to be flattening and it is definitely on the right path ahead.
The reason I enjoy working in iGaming is because there are so many new opportunities in this growing industry. Women are being encouraged into these areas and are being empowered to make their career path their own – I mean just look at all the fantastic women working in iGaming today and how events such as the Women In Gaming awards can be such a great way of drawing attention to the issues that could be and getting these women the recognition they deserve.
I think the natural next steps that are going to occur are going to be more women rising through the ranks. Hopefully women who have joined the industry will start to progress into more senior roles in companies, so we will start to see the frequency, not only for managers but director positions increasing across the board.
Could our girls have a sneak peek at Eyecon's plans for 2022? Are there any interesting games to look forward to?
We have a very strong roadmap coming up in 2022. Two games which are definitely ones to look out for this year are Forge of Fire and Fluffy Favourites Remastered.
Forge of Fire is a brand-new slot that will be released towards the middle of the year where the players will get a chance to experience the thrill and danger of swordsmithing first-hand. This 5X3 slot will dazzle players with the different gems and watch as molten steel pours down the reels in the Hammer Bonus making the reels expand and triggering re-spins.
"Women are being encouraged into these areas and are being empowered to make their career path their own…"

–Nicole Guilmoto, Eyecon
Fluffy Favourites Remastered is going to be an old favourite with all new, updated graphics. To celebrate the 15 years since the original Fluffy Favourites was first released, we are relaunching a new version of the original iconic game, but with artwork fit for 2022. Don't worry we will be keeping everything about the game true to the original – the only thing that's going to change will be the characters will now be in HD!
Lastly, do you have a message for our readers? Thank you for setting the time aside to chat with us.
Thank you for this opportunity! I love working in the gaming industry and having the chance to share our games with our players.