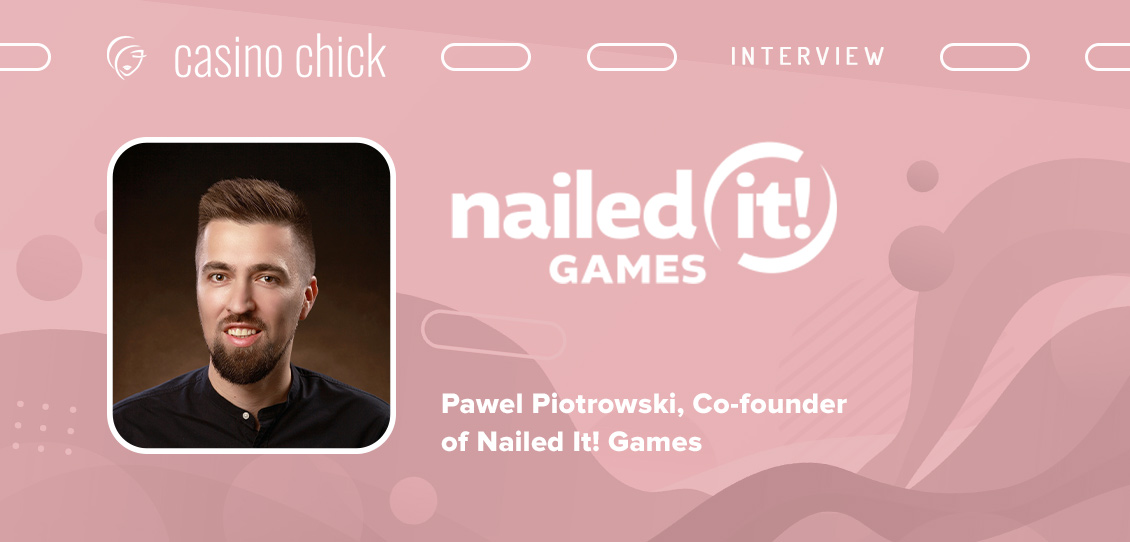 You might not know about Nailed It! Games yet, but you are sure to hear about them a lot in the future. This amazing young studio has been crafting unique casino slots for two years out of Krakow, Poland. For now, we have the opportunity to play only a handful of their slots – all up on the Games Global studio network – but half a dozen of new games are coming our way in 2023.
The Co-Founder of Nailed It! Games was kind enough to sit with CasinoChick and introduce their latest slot addition, the Gold Mine Stacks 2. The video slot is an upgraded version of their debut release, with bigger and better potency you'll definitely like to see. Check out what we learned below.
---
Hello, and welcome to CasinoChick! Before we begin, how about a little introduction? Tell us a bit about yourself and your role at Nailed It! Games.
Thank you for inviting me to CasinoChick. My name is Pawel Piotrowski and I am the co-founder of Nailed It! Games. In my role, I am responsible for the product side of the company. Prior to this, I spent almost seven years working at Yggdrasil Gaming, gaining valuable experience in the industry.
Nailed It! is one of the youngest slot-making developers around, having started its journey in 2021. Can you tell us a bit about the team? What prompted you to dive into making online slots, and what are the founding principles of Nailed It! Games?
We are based in Krakow, Poland, but have team members working across different countries. Our team is made up of 16 talented individuals, some of whom have many years of experience in the industry. I personally have been a slot player for years and have been working on creating slots for a long time. Together with Grzegorz Przybylowicz, we decided to start our own studio and pursue our passion for creating exciting and engaging online slots. We have many slot players in the studio, so we understand what players want and create slots that we also enjoy playing. Our founding principles are to create slots that are engaging, entertaining, and above all, fun for our players.
What are some of the challenges of being an up-and-coming company in the highly competitive online casino industry? How difficult is it to try and stand out from the crowd?
Being an up-and-coming development studio in the online casino industry presents several challenges as the market is becoming more and more competitive each year. One of the biggest challenges is building relationships with operators and gaining trust and recognition from players. As a new studio, it takes time and effort to establish a reputation and build a loyal player base. Additionally, the competition in the market makes it challenging to get operators to feature our games in their casinos.
However, we are confident in the high quality and innovative products on our roadmap, which we're sure will make a big impression on the industry. We believe that our commitment to delivering the best gaming experience to our players will help us to overcome these challenges and succeed in the industry.
Now, on to the games themselves. The Nailed It! portfolio is still small, but it seems we're heading for a year packed with new releases. Are you happy with the performance of these first few games? Did these first steps teach you any important lessons?
We have released two games so far: Gold Mine Stacks and Book of Fate; both exclusive to the Games Global network. We also recently released Gold Mine Stacks 2 exclusively in a few casinos, and so far, it has been very promising. We learn a lot with each new release and we're constantly researching industry trends and player satisfaction, so it's great to see the progress in performance with each following game.
Our initial games have been very volatile, but we are planning to expand our offerings to also release games with lower volatility. The key is to have a diverse roadmap so that players with different tastes will find something for themselves.

Now, our topic for the day is Gold Mine Stacks 2, which is set to release in February 2023. Can you give us a quick rundown of what the game's all about? How would you pitch it to our readers?
Gold Mine Stacks 2 is set to release globally on 16 February via the Games Global platform. It's an upgraded version of the popular Gold Mine Stacks, featuring multiple new features and a slightly lower volatility. One of the new features is called Super Lives, which allows players to continue the bonus game when it would normally be over. There's also a Super Bonus feature where all the prizes are multiplied by up to x20.
Another new feature is the Bonus Gamble which allows players to gamble their bonus to improve the win potential. Despite the lower volatility, players still have the potential to win the huge amount of 50,000x bet. In addition, there are 16 levels to unlock in the bonus game. The exclusive release so far has shown very good performance. Overall, Gold Mine Stacks 2 is a thrilling and engaging game that offers players even more chances to win big.
Obviously, Gold Mine Stacks 2 is a sequel to Gold Mine Stacks – Nailed It! Games' first-ever release. What prompted you to make a sequel so quickly? Is the goal to 'refine' the original idea, or are you doing things differently this time around?
As soon as we were done with the development of Gold Mine Stacks, we had a long list of ideas for how to improve the concept.
The goal of Gold Mine Stacks 2 is to refine the original idea and take it to the next level with new features and improvements. We have taken into account the feedback and suggestions from players of the first game and incorporated them into the sequel. The result is a more polished and engaging game that offers even more chances to win big. Overall, we are excited to see the response to Gold Mine Stacks 2.

Are there any other upcoming releases you would like to share with our readers? What's in store for Nailed It! Games in 2023?
In May, we'll be releasing the first in a series of games that offer a fresh and exciting way to play slots. We're keeping the details under wraps for now as we're in the process of patenting the mechanic. However, we're confident that it will generate a lot of buzz when it's unveiled at the ICE conference in London in February.
Alongside this, we also have a few pet themed games in development. These games have stunning graphics and engaging features that will keep players entertained.
Following the successful release of Book of Fate, we're planning to launch six or seven more games in 2023. We're looking forward to hearing feedback from players on all of our upcoming releases and value the insight as it helps to feed in to new products. The future looks bright for Nailed It! Games and we're excited to continue bringing innovative new games to the market.
Those are all the questions we had for now. Thank you for your time and for answering the Casino Chick's questions. If there's anything else you would like to say before we wrap up, now's the time!
Thanks for having me, it was a pleasure. I invite everyone to follow our journey and stay updated on our upcoming releases. We value our players' feedback and are always looking for ways to improve our games. If anyone has any questions or suggestions, please don't hesitate to reach out to us at [email protected].
We wish all the readers amazing experiences and big wins on our games!