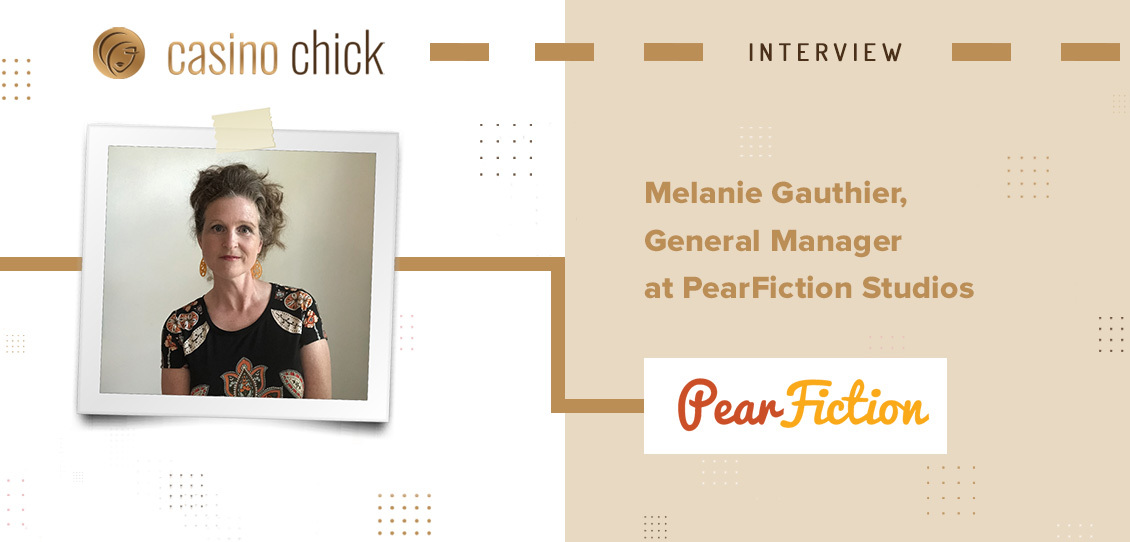 Once again, the Casino Chick is back with a peek behind the scenes of the iGaming industry. This time, we'll be talking to Montreal-based casino developer PearFiction's General Manager, Melanie Gauthier. Specifically, we'll be putting their upcoming Squealin' Riches slot under the microscope.
Pear Fiction is a highly creative rising star of online slot design. Their most recent two releases, Chicago Gold and Blazing Mammoth were released under Microgaming's wing. The same is true for Squealin' Riches, which is set to release later in 2021 across the Microgaming platform.
Without further ado, let's dive right in.
Hello, and welcome to Casino Chick, Melanie! Could you start by introducing yourself to our readers?
With great pleasure! I am Melanie Gauthier, general manager at PearFiction Studios. I only recently started my iGaming career when I joined the team at PearFiction Studios about a year ago. In my past lives, I have successfully lead and managed several production teams and produced complex, multi-million-dollar projects for leading companies in eLearning, multimedia, training, and consulting for various industries in North America.
It's the love of casino games, particularly my passion for slots games that drove me to PearFiction Studios. I'm an avid slot player, but still, I know my limits! By far, my favourite slot is The Goonies. The land-based version that is. I love the diversity of features that this game contains. With the bonus wheel that allows you to spin and gamble any of the available features. As for PearFiction games, not to preach to the choir, but Squealin' Riches is my personal favourite. It's packed with fun and hours of entertainment!
Let's begin with an elevator pitch as an introduction to our readers. What is Squealin' Riches all about, and what can our players expect from your upcoming title?
As its name suggests, Squealin' Riches features a cute golden piggy bank as the game host. Throughout the game, piggy will jump on the reels to introduce random game modifiers, such as adding an additional free spins symbol to trigger the feature, adding piggy gold coins to trigger the LockNWin™ game, upgrading the jackpot values, and other special modifiers that you will have to play to find out.
There are so many great features to love in this game! The LockNWin™, free spins, progress bar, bonus wheel, multiple fixed jackpots with a 10,000x your bet Epic Jackpot, random modifiers, and bonus buy are some of the features offered in Squealin' Riches.
You are not likely to get bored playing with piggy!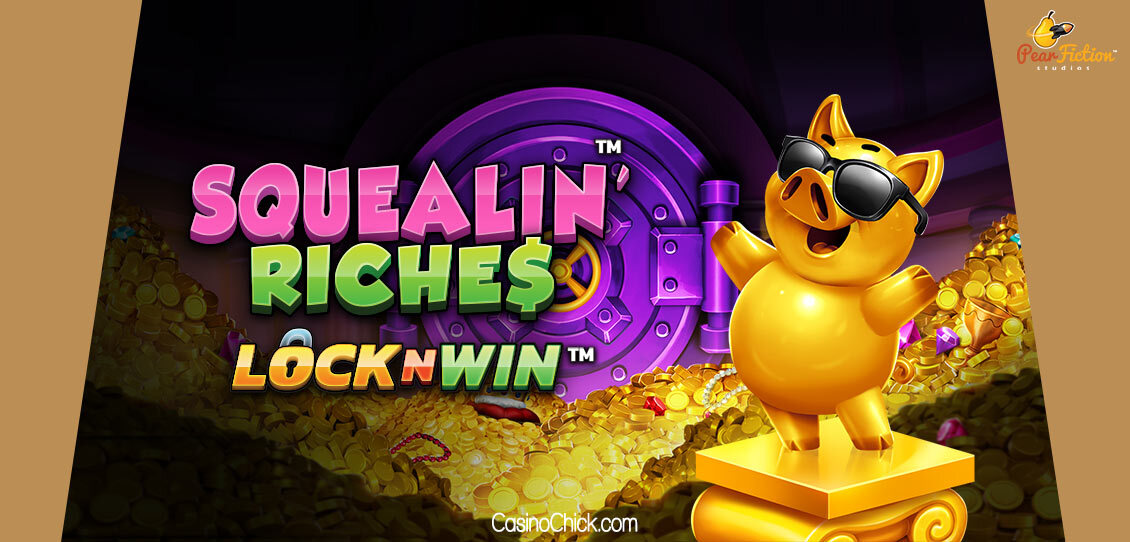 We feel that Pear Fiction has an easily distinguishable style, even in today's incredibly diverse online slot landscape. How does Squealin' Riches fit into the broader portfolio of your slot games? Do you believe the game is largely on-brand, or have you decided to go in a different direction?
At PearFiction, we try to give each game a personality, a story that it can tell, a mark that bears the PearFiction seal. Squealin' Riches embodies those mantras and combines a mix of humor, amazing artwork, depth of features, and high potential bonuses, but most importantly, a satisfying gameplay experience.
Did your earlier releases make an impact on how Squealin' Riches was conceived and developed? Did you learn any lessons, so to speak?
Each game we develop prepares us for the next. Squealin' Riches took a bit longer to complete than we initially anticipated, but it allowed us to integrate what we learned from Chicago Gold and Blazing Mammoth.
The first lesson: the journey to the bonus is just as important as the bonus itself. Our goal is to make that journey for players as varied and thrilling as possible. The bonus is just one part of the game; players should be entertained and engaged while spinning and waiting for that big potential bonus to hit.
The second lesson: make that bonus count. The bonus is the chase and it's imperative to entertain players with a big potential game.
I can go on for hours and write a book of lessons learned! Frankly, we learn every day. There is always something new, something we can improve with our games and our designs. That's what makes this industry so fascinating.
As far as the game's looks are concerned, we've noticed PearFiction's titles tend to feature vibrant, memorable characters placed front-and-center. How did the lovable piggy bank come about as an idea?
At the early stage of the game design, we had thought of sprinkling the base game with some nice random modifiers. We wanted to build a game with a central character that would be the game host/star. So the piggy bank idea came along.
Piggy is quite the charmer! It was important for us to create a game that would appeal to different types of players, from casual players to tenured ones, and that would please players of all demographics.
Let's get into the real meat of the game – the features. The most eye-catching of these is LockNWin™, which takes a prominent position on all the promotional material. Can you tell us a little about LockNWin™ and how it works?
The LockNWin™ game is the main feature of Squealin' Riches. That feature mechanic has been designed with a few twists that go well beyond a simple Hold & Respin game.
We have added coin multipliers and jackpot upgrades that can land on the reels to make the game more exciting. Multiplier symbols, as the names implies, multiply the value of any piggy gold coins symbol present on the reels by up to 10 times their value.
The jackpot upgrade symbol is even more exciting. When they land they increase the value of all five jackpot levels, upgrading each of them to the value of the tier above and potentially making the Epic Jackpot worth double its initial value!
For example, the default value of the Epic Jackpot is 5,000x your stake. A single upgrade symbol will increase the Epic Jackpot value to 6,000x your stake. Upgrades can land frequently; landing five jackpot upgrades during a LockNWin™ game would surge that Epic Jackpot all the way up to 10,000x your bet.
It's obvious free spins also take center stage as a Squealin' Riches mechanic – especially as part of the free spins wheel. Free spins are a hugely popular slot mechanic, and it's clear the players enjoy them. How do you think free spins and similar features affect the overall player experience?
Indeed, free spins also plays a central role in Squealin' Riches. This is our first game in which players can gamble to win more free spins. Once they enter the game, players are given the opportunity to spin a wheel to determine the number of free spins they will receive.
Gambling those spins gives them the chance to win even more spins. If a player lands 10 free spins, they can gamble for the chance to win 15 free spins. They can gamble until they reach 30 free spins – the maximum amount possible. There is always a chance that they will lose their free spins by gambling, but even if they do, they will still get a chance to win a mystery prize worth 22x their bet.
There are more piggy gold coins, more chances to land the LockNWin™ game and more chances to land a jackpot prize during the free spins game. The fun can also keep going since landing three scatter symbols will retrigger the free spins feature.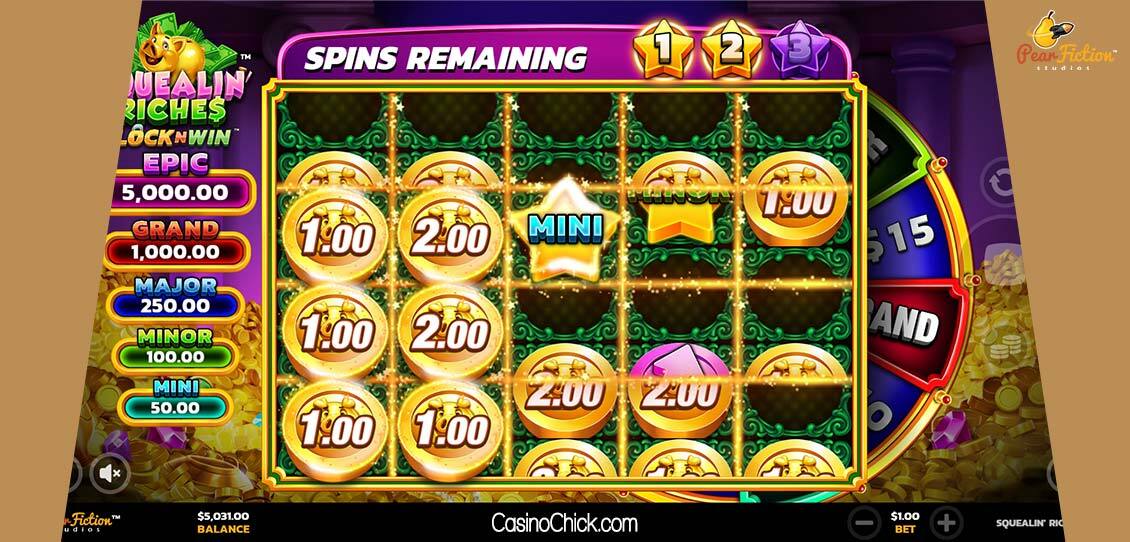 You've been working with Microgaming for some time now – first as a collaboration for 2019's Smashing Biscuit, then on a more permanent basis for Chicago Gold and Blazing Mammoth. Do you feel joining the Microgaming network has impacted how you developed Squealin' Riches, and your games in general?? If so, how?
We are privileged to have been noticed by Microgaming, one of the industry's biggest names. We couldn't have asked for a better outcome. It's the best of both worlds. With Microgaming, we are able to focus on creating amazing games while receiving support from a tenured publishing team. We also have access to the vast Microgaming distribution network.
Lastly, what can we expect from PearFiction in the future? Will we be seeing the return of LockNWin™, perhaps? Or maybe more slot games with Jackpots?
This has been a very exciting year for us, and we have an amazing roadmap ahead. We intend to release about eight titles between now and the end of 2022.  It might be less, but in the end, quality is more important than quantity.
In the short term, you will see PearFiction pushing the edge of instant jackpots/prizes and SwiftHits™ mechanics with 15 Tridents™ coming out by the end of the year. We will also dive deeper and boost our LockNWin™ mechanics in Q1 2022.
That's all we had to ask about Squealin' Riches for now. Thank you for the chance to talk about your upcoming title, we can't wait to get our hands on it! If there's anything else you would like to say to us or our readers, now's the chance!
Thank you so much for this opportunity and interview Casino Chick! We appreciate the opportunity to present our studio and games to your readers!
Watch out for PearFiction! We have a lot of exciting games coming out in the coming months. We are looking forward to seeing Casino Chick players enjoying our games throughout 2021 and beyond!
You can learn more about what's happening at PearFiction Studios by visiting our website https://www.pearfiction.com/ or following us on Facebook and LinkedIn.