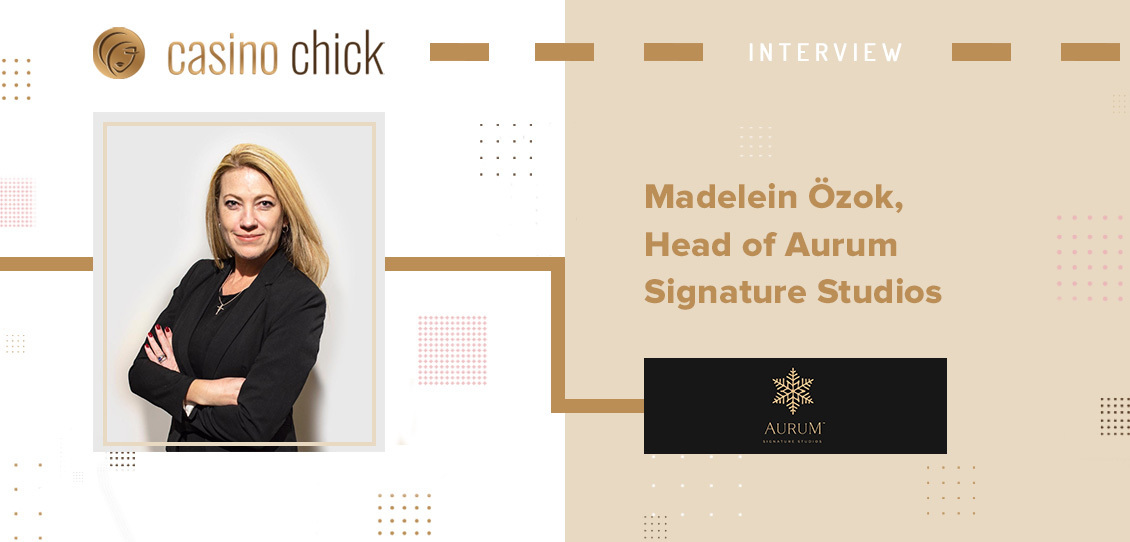 Casino Chick is devoted to delivering first-hand info from the online gaming industry. One of the best slot developers of our time, Aurum Signature Studios, is our guest today.
Aurum's own Madelein Özok, who is Head of the gaming studio, honoured us with her presence and chatted with CasinoChick.com about their impressive slots.
Read our interview Head of Aurum Signature Studios, Madelein Özok.
Hi, Madelein, it's great to have you here at Casino Chick! We have to say, it's an honour to have a chance to chat with you finally. Let's start by introducing your company to our female audience. Who is Aurum Signature Studios, and what is your mission?
Thank you, it is my honour to talk about an industry and my current role that I am extremely passionate about.  Aurum Signature Studios specialises in creating bespoke online slot games exclusively for Microgaming customers.  We believe every business and every person is unique, like your signature.  Thus, we want every casino operator to have their own unique slot game – something that nobody else has, ultimately giving them a competitive advantage.
The first association that comes to mind when someone mentions your company is developing exclusive, bespoke slots. Could you tell us more about that? What are bespoke slots and how do they fit into the puzzle of modern gambling?
Building a bespoke slot requires the customer to work closely with my team, influencing the theme, the art style, the math, the feature choices, and so on.  That close collaboration culminates in a game that is then exclusive to that customer.  We ensure that the options we offer the customer adhere to the latest technology and popular mechanics and themes in the industry, ensuring the game can compete with any modern releases available today.
Tailoring the games to fit the particular needs of established operators must be a challenging job. Where do you turn to for ideas and inspiration for your next releases?
As with most things in life, relationships and trust are key.  Customers are involved from day one and we hash out ideas on what works well for their market, what seems to be popular in the industry right now, or where there might be gaps/opportunities for a new theme.  We also do extensive research on successful slot games in the market to understand demand.  Aurum collaborates with the customer on all ideas to decide the best-fitting game for that customer, with constant feedback loops and approvals from design, to art, animation, audio and the final built product.
On average, how long does it take for your team to devise, develop, and launch a game?
It can take anything from three to six months to develop a bespoke game, with many factors influencing the timeline, such as choice of math engine and features, turnaround time on responses, feedback and approvals, and market choices of the customer to name but a few.
Last year, Microgaming presented your company as the newest addition to the growing network of independent studios. Could you tell us how has that affected your company?
To be associated with a strong brand such as Microgaming has opened numerous doors for Aurum Signature Studios, building on the strong foundation they have already built with their vast customer base.  Our growth has been tremendous, establishing the studio in early 2019 when we delivered eight games. Our studio is now poised to deliver 20 games in 2021.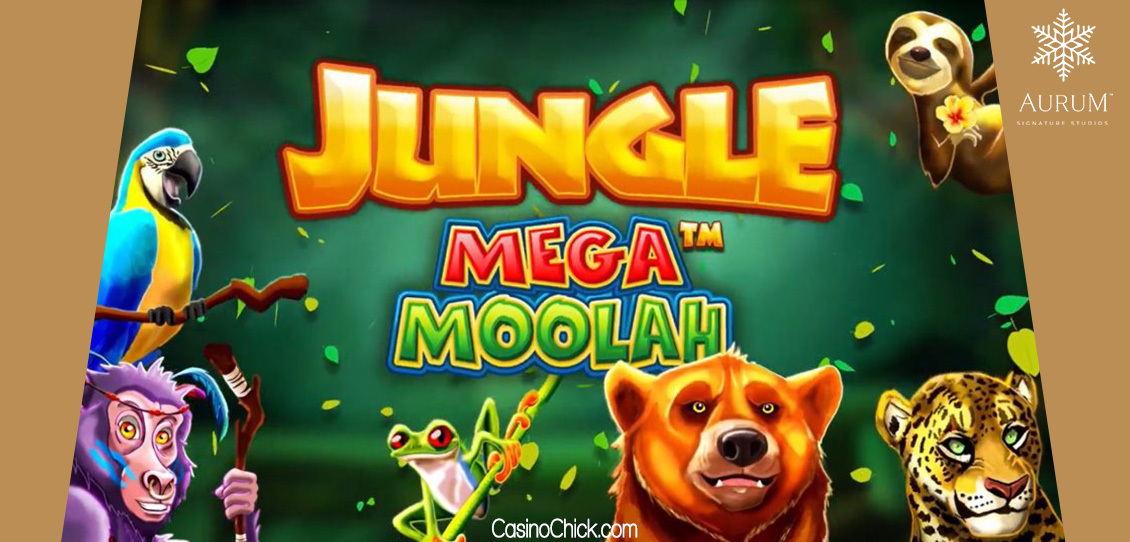 Jungle Mega Moolah and Joker Mega Moolah are your two contributions to the legendary Mega Moolah progressive jackpot network. Can you tell us more about them?
I have over 20 years' experience in the casino industry, many of these spent in the land-based casino world.  Progressives have always been a firm favourite with players and naturally we see the same in the online casino world.  Offering our customers a progressive solution linked to the legendary Mega Moolah, thanks to the association we have with Microgaming, has given our studio and our customers a competitive advantage, bringing their own flavour to the game, as one can see with Jungle Mega Moolah and Joker Mega Moolah.
Before wowing the crowds with your Mega Moolah instalments, you impressed the entire industry with your exclusive branded game deadmau5. What do you think about branded content? Would you say such games are more demanding to create than slots unrelated to any brand?
I believe that in the same way you'll have players that are attracted to Egyptian or Fruit themed games, you'll also have a market of players who associate with a brand, in this case deadmau5.  I believe there is a market for branded content. It is slightly more demanding as you need to capture the essence of the brand in a slot game and satisfy the brand licence holder's vision for the game.  That said, we are delivering another branded game soon.
Out of the 20+ games you've devised so far, do you have a favourite, and which is it?
What I love the most about my job is the variety and diversity of themes and ideas that I get to work with every day.  To see a game come to fruition – from brainstorming ideas to it going live – is a thrill and gives me a great sense of pride.  To experience the customer's excitement as the game develops and then seeing them play the final product is priceless.  A good mother would not have any favourites – I am proud of every one of Aurum's creations; they are all beautifully unique!
This July, we'll have the pleasure of meeting your newest release Burlesque by Dita, another branded game. We know you probably cannot reveal too much, but can you give us a sneak peek at least? Our readers would appreciate even the tiniest hint about the upcoming slot!
We are extremely excited to take the game live globally on 22 July 2021.  A truly exciting brand portraying the effervescing Dita von Teese, a world-renowned burlesque artist.  The art and audio are a colourful display of Dita at her best, offering a variety of features such as Rolling Reels, Free Spins, Wild Reels, Multipliers and in-game videos.  It is a sensational game I believe all players will enjoy!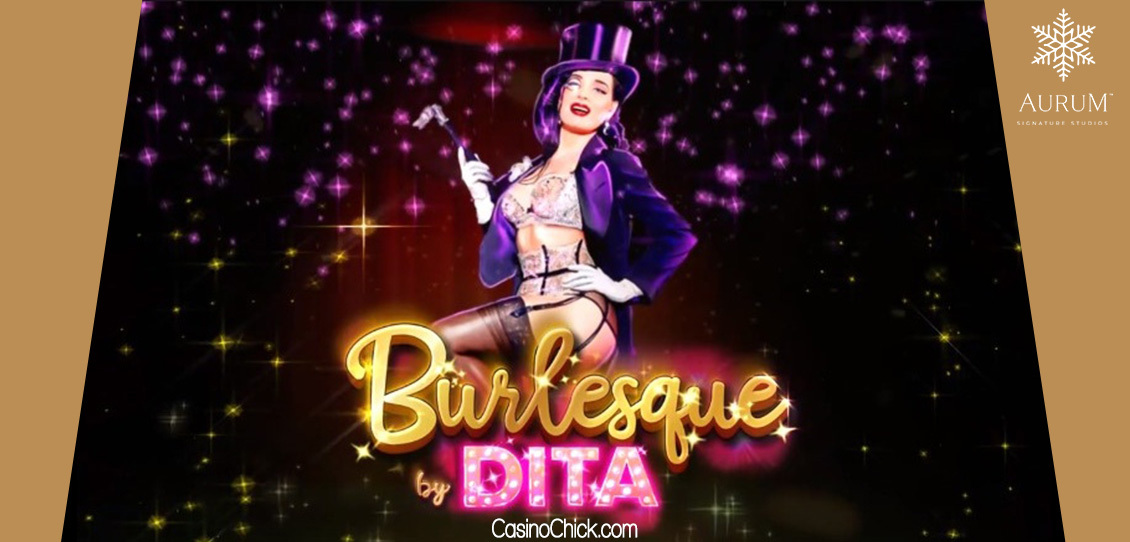 Casino Chick is a woman-centric website, and we value the female perspective on the modern gambling industry. Could you tell us your thoughts about the current situation? Do women get enough praise and recognition for their work, or is it a work in progress?
As mentioned, I have built my whole career in the casino industry, and I am extremely passionate about it.  In fact, I did my MBA dissertation on the casino industry.  I am equally passionate about equality not just in the workplace but in everyday life.  The industry has come a long way and I am privileged to know many women who have and still are making great strides in the industry.  It is not as daunting for women to join the industry as it was 20 years ago; however, I believe we can do more as a collective to encourage young women to consider the industry for their career paths: to encourage women to become software developers, business owners and product specialists in the casino industry.  I also believe huge strides have been made recognising women in the industry and I see more and more media, conferences, and development opportunities for women in our industry. Let's keep it going and support each other.
Thank you for taking the time to chat with us! We hope we'll have a chance to talk with you again soon. Before we conclude, do you have maybe a message for our female readers?
Thank you for inviting me to talk about my passion for Aurum Signature Studios, our industry and women.
To every person who reads this, celebrate your uniqueness, lean into your fellow women, teach, encourage and support each other – not just at work, but in everyday life.
And most importantly, do whatever sets your soul on fire! Thank you.