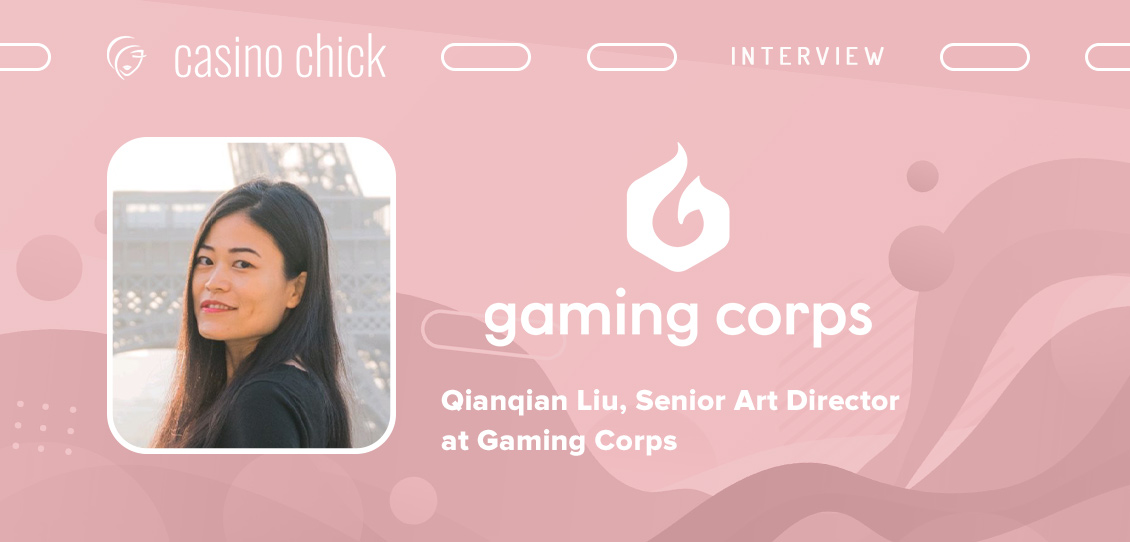 If you, like us, enjoy innovative gambling games and are always looking for something bigger and even more outside-of-the-box, we'd like to introduce you to Gaming Corps.
Arcade games, slots, it does not matter – all Gaming Corps releases boast incredible craftsmanship and quality. And who better to explain and introduce us to their games than their Senior Art Director?
Meet the talented Qianqian Liu, the Senior Art Director at Gaming Corps that's set to take the world by storm. She was kind enough to sit down and answer all of our questions, and you can read everything she's said right below. Enjoy!
---
Hello and welcome to our very first women-focused gaming hub! Thank you for joining us here at Casino Chick – and tell us more about yourself!
Hello, and thanks for the invitation! I'm Qianqian Liu, and my journey into art and animation was sparked by a childhood filled with the enchanting worlds of manga and Studio Ghibli films. Those early influences started a passion that eventually led me to become an animator.
During my time at an animation studio in Shanghai, I discovered a love for creating both intricate backgrounds and lively characters.
I began working in the UK's art scene with Frontier Developments, where I had the incredible opportunity to breathe life into Disney's iconic characters for the game 'Kinect: Disneyland Adventures.' This experience catapulted my animation skills to new heights, as I delved into the intricacies of various 3D programs.
In 2017 I embarked on a new chapter at Play'n Go, becoming the inaugural art director for the London team within just eight months of joining. Building an art team from scratch was no small feat, yet the journey was immensely rewarding. Together, we crafted a series of highly successful games, and in the process, I honed invaluable leadership skills.
Now, equipped with a wealth of knowledge and refined skills, I am able to bring my expertise to Gaming Corps.
If you had to describe Gaming Corps in three words, what would they be?
Energetic, passionate, streamlined.
What are some of your typical duties as a Senior Art Director?
My role requires me to collaborate closely with the product owner in selecting the most fitting theme and art style for each game. I compose an art bible that outlines precise quality standards and provides clear art direction, references, and techniques tailored to each upcoming project.
I also have to pioneer the creation of initial game mock-ups to establish the overall visual ambience and user experience. I need to oversee and authorize the work produced by our talented art team, ensuring it consistently aligns with our exacting quality and aesthetic standards.
Finally, I also dedicate myself to nurturing the growth of our artists, assisting them in honing their skills and realizing their full potential.
What does a day in the life of a Senior Art Director at Gaming Corps look like?
I'll start the day by delving into Jira to review and provide feedback on any pending art or animation tasks. Then I'll engage with the art team's daily stand-up, where we have open communication to discuss progress and address any potential hurdles.
I'll also assess the progress of each project through Jira, engage with game documents and collaborate closely with the product owner to refine and align the art direction. During my day I'll also conduct thorough playtests of ongoing projects, documenting any discovered bugs to ensure the highest quality.
However busy my day is, I'll always find time to craft our art bible for our upcoming project, setting the visual and creative compass for the team.
You have been in the industry for quite some time. How has your previous experience, e.g., at Play'n GO and Instant Win Gaming, affected your expertise and work at Gaming Corps?
My time at Instant Win Gaming was a pivotal period in my career. We were tasked with taking a game from concept to completion, involving tasks such as crafting initial mock-ups, ideation, generating static art assets, designing UI elements, creating logos, and animating all in-game elements.
This experience allowed me to see every angle of game development, a foundation that greatly informs my role as an art director today.
At Play'n GO, I transitioned into a role that provided me with valuable managerial insights. It was here that I honed my abilities in mentoring fellow artists and animators, streamlining the art creation process to enhance efficiency, and strategically optimising workflows to accelerate production timelines.
This period not only refined my artistic skills but also equipped me with the leadership and management expertise necessary to guide and inspire teams effectively.
At the moment you mainly develop various types of games, including slots and arcade games. Do you have a favourite title among the titles you have released so far?

'Wild Woof' is a standout project for me. The blend of cats, dogs, and the Wild West creates a uniquely captivating experience.
Drawing inspiration from acclaimed titles, our team at Gaming Corps infused a dynamic art style, giving the game an extra edge.
You've recently released Ramen Puzzle, a delicious ramen-themed game that came out in September. What was your experience of creating this game? Tell us something more about the title!

Creating 'Ramen Puzzle' was a thrilling experience for our team. When the clients expressed their desire for an anime-style game, I couldn't have been more excited. Being a big Manga and Anime enthusiast myself, this project held a special place in my heart.
However, it came with its own set of challenges. My fellow artists weren't accustomed to this particular style, which prompted me to embark on extensive research. I curated a collection of tutorials and provided hands-on guidance through paintovers to ensure everyone was on board. This collaborative effort paid off immensely.
In the early stages, we contemplated a spy-themed concept. Yet, as we delved deeper, I felt a shift was necessary. After a discussion with Alexandros, our fantastic product owner, we made the bold decision to pivot towards a food theme, with ramen at the centre.
This pivot, which resulted in the creation of a vibrant colour scheme and delectable ramen icons, transformed the game into an immersive and mouth-watering experience, elevating player engagement to a whole new level.
As an artist, which title has been the most challenging for you to work on and why?
'Aztec Bonus Pot' was undoubtedly the most challenging project of my career, especially since it marked my debut at Gaming Corps. Navigating uncharted territory with a new team was akin to moving through a dark tunnel. Drawing from past experiences, I guided the team, emphasising fundamental symbol design principles.
Extensive paintovers and corrections paid off, leading to remarkable progress. As we neared the final stages, the artists delivered exceptional symbols and art assets. This evolution filled me with immense pride, and reinforced the power of clear communication and mentorship, even amidst initial uncertainty.
What do you think is the biggest challenge for you as a woman working in a highly competitive, often male-dominated industry?
Throughout my career, I've encountered challenges that are inherent to any professional environment. These include managing tight deadlines, navigating creative blocks, effectively leading a diverse team, and optimizing remote work dynamics while maintaining seamless communication with colleagues.
I've observed a wealth of talented women in our industry, many of whom have been recognized for their contributions and have ascended to elevated roles.
Currently, I'm privileged to be a part of Gaming Corps, an environment where I feel genuinely valued for my contributions, irrespective of gender or race. This inclusive culture further fuels my enthusiasm for the work we do.
Do you feel that women are sufficiently recognised and represented in the iGaming industry, or is this more of a situation that still has room for improvement?
I've met many talented women in various roles within the iGaming industry, and their diverse perspectives greatly enhance product creation. I encourage more women to join this industry and hope companies will continue fostering an inclusive environment, offering equal opportunities for growth and success.
Before we end our interview, could you perhaps give us a hint about the games we can expect from you in the coming months? Is there anything in particular that we should keep an eye on?
Next up we have a game coming called 'Mighty Mammoth', an awesome-looking game with fun and unique features that we haven't seen before in the iGaming space.
The game is released on 14 December and has a snowy theme that's perfect for a winter release. We hope players enjoy our artwork and animations that the team put a lot of effort into, all while hoping to win big!
Thank you very much for the interview and we hope to have the chance to talk again soon! Would you like to leave our dear readers with a final message?
Thank you for this wonderful opportunity. My journey in the iGaming industry with Gaming Corps has been nothing short of thrilling.
To all aspiring women, I highly encourage you to explore this dynamic field. While you're at it, do check out the incredible games crafted by our talented team at Gaming Corps, available at your favourite casinos. We're dedicated to delivering top-notch entertainment!