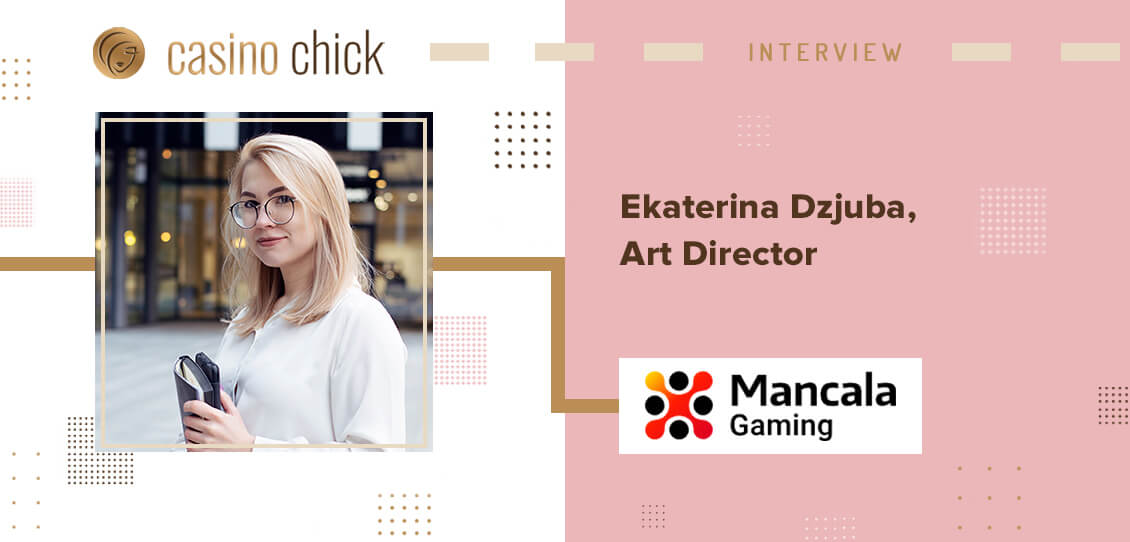 CasinoChick.com brings another exciting interview to our readers!
We sat down with Ekaterina Dzjuba from Mancala Gaming who gave us an exclusive sneak peek into the creation process of Mancala's fascinating games.
Ekaterina, affectionately called Kate, is Mancala's Art Director and we've been delighted to get her creative take on the production of casino games.
Stick around, you won't regret it!
Hello, and welcome to Casino Chick! To introduce your company to our female audience better, could you start by telling us more about your games? What sets them apart from other slots on the global market?
Hello Casino Chick, thank you very much for having me here! I'll gladly share with you some really interesting behind-the-scenes facts about our slot games and overall game production.
Since the very beginning of establishing our company, we had a very clear vision about how our games should look like, whom they should appeal to, and how they should work in terms of mechanics. Much of the credit goes to our CEO, who already knew how we should position ourselves in business and had defined our brand key component – slot games based on skills. 
Our main task was always to stay focused on developing certain type of games that will attract younger players by using skill elements in all of our releases. Thus, our games encourage more direct participation from players and involvement in the process, which of course helps to create an immersive and unique gaming experience.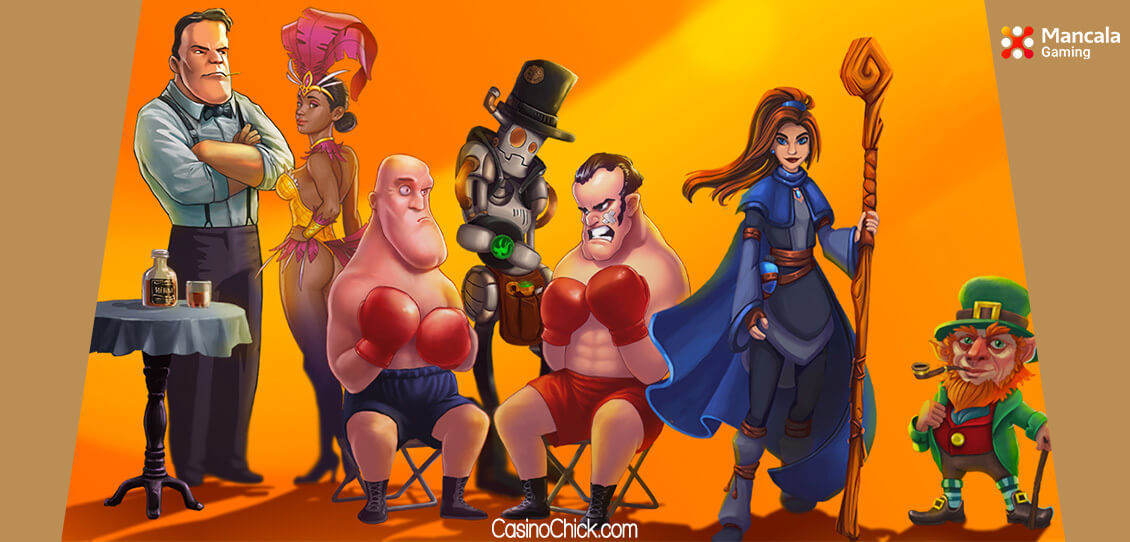 Your games cover an awe-inspiring selection of topics and themes. Could you tell us a bit about the theme choice procedure? How do you come up with such diverse themes?
When we just started working on our game portfolio, we quickly gathered there is a wide range of players' tastes and preferences that we need to satisfy – which is great when it comes to inspiring our creativity. However, it is much easier to innovate when you have a solid and stable portfolio of all-time classic-themed games. So this is how we decided to start with the initial creation of our portfolio while also including a variety of slots to keep it interesting to a range of clients.
The ideas for our games usually come 100% from our internal studio team. Moreover, any employee working at Mancala Gaming can contribute their ideas. Later, those ideas can become one of the next game releases. This is something we are really proud of because our company culture is set in a way to maintain each of our creative spirits while encouraging proactivity.
Where do you get inspiration from? Moreover, what stimulates your creativity the most during the crafting of your releases?
We have the luxury to work with a lot of creative people in our team who have plenty of different hobbies and interests, which is a key component for the craziest and most unusual game ideas. We pull a lot of inspiration from pretty much everywhere: it can be from classic slot games, video games, films, pop culture and more. The best part of any creative process is the brainstorming session which is usually very fun. Everyone starts to throw a lot of really great ideas, which can bring even more potential for game, more game mechanics, and even more themes. This brings us all a huge boost before the project starts which stimulates our creativity a lot.
Another interesting detail about your portfolio is the fact it includes both slots and dice slot games. Could you tell us more about the crossover genre? How did the idea of merging such popular game categories occur to you?
Dice slot games are an interesting product that was created solely for the Belgium market to comply with their regulations. We decided to not stop there and started the development of skill dice games, which we've been in the process of creating for some time already. We are excited to show you some of those in the future!
Speaking of genres, Mancala Gaming offers only slots and dice slots for now. Is there a chance you'll venture into other categories soon? Or perhaps merge slots with classic casino games such as card games?
At the moment we are mostly focused on creating interesting slot game mechanics, which would be more than just clicking the "Spin" button and require more actions from players. Therefore, for now we do not plan to work on other game categories, but we like to say "never say never," which means we are open for new ideas and their realisations.
Your company specialises in creating content for the so-called Millennials, or Gen Y. How do the chosen themes reflect your target audience tastes? And vice versa, how does your target audience influence the theme choices?
Mancala Gaming includes employees of completely different age groups, but most of us are precisely representatives of this generation. That is the reason why most game ideas come directly from our team and are influenced not only by the gambling industry, but also through mobile and computer gaming.
We are always open for any feedback from our players, thus regularly improving the product and creating content that will be interesting to our audience.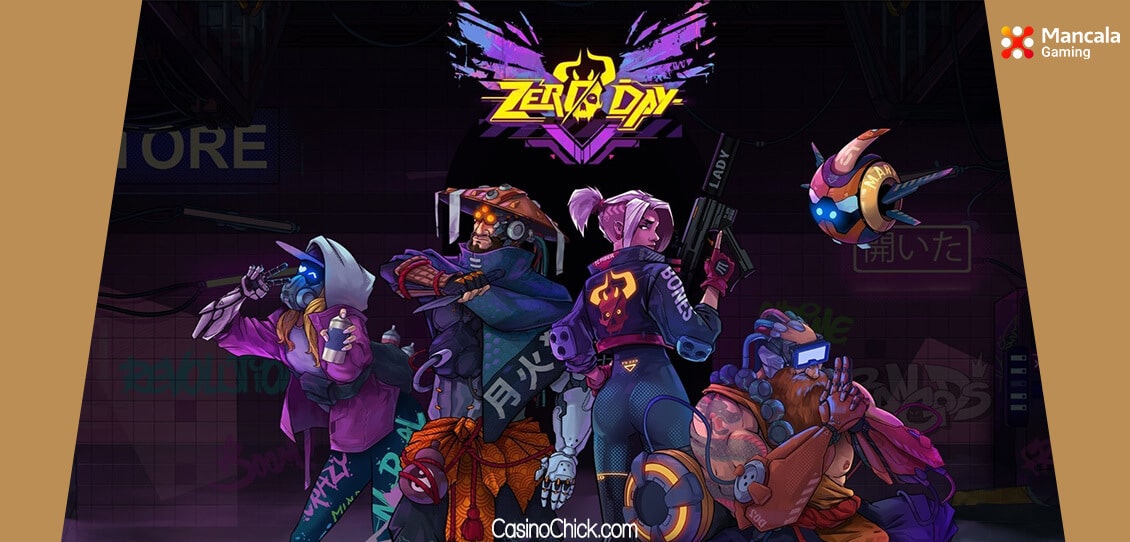 Your Zero Day slot release is a dystopian work which seems to be tailored for a younger audience – more specifically, it seems to be a Gen Z-friendly slot, rather than Gen Y. Could this imply your future shift of focus to the emerging wave of 18+ players who are getting more and more difficult to entertain?
Zero Day slot is a game very close to our hearts. As I mentioned before, a lot of people who work at Mancala Gaming are huge fans of video games and you can easily say that we got inspired by a CD Project game called Cyberpunk 2077 which made a lot of noise with its release. This particular game was an inspiration for the Zero Day theme, art and sounds.
We are always trying to track trends as well as to contribute to the slot classics. At the same time, we are always thinking about our company's future. There could be a possibility to switch to younger players soon. After all, in order to survive in this industry, you must always think about how to attract new people.
Let's talk more about the slot creation process. We are sure ladies reading this interview would love to peek behind the scenes! Can you tell us more about the technicalities and work that goes into every release? What are the typical phases for an average game development procedure?
Oh, I love this question and I would be happy to answer it!
Any game usually starts with an idea or a theme selection coming from our team's brainstorming session. This is part of the process is incredibly fun and the result of it is usually a bunch of great ideas and thoughts that we later shape into a strong and solid game concept. Once this stage is over and the project has its green light, we start to prepare the foundations for future development by planning it step by step. And then it is time to activate Mancala's magical lab and start the actual game production.
First, our talented team of artists and animators are making visual assets the way you are used to seeing them – in high quality, polished, and eye-catching. Then our sound engineers breathe life into those assets by creating outstanding sound effects. After the game asset preparation is over, it's time to hand them over to the development team, where developers build the whole picture piece by piece in order to transform it to its final look. The final development destination for the game is to be checked by our QA team, who have to make sure that the game works properly and players can get the best experience when playing it. And then the game finally stops in the marketing department, where it gets prepared for the official game release for casinos including its promotions to players.
We put a lot of energy, love and dedication into every single game we produce, which in my opinion really speaks for the final result.
Which part of designing and developing the games do you find the most appealing?
Definitely the idea initiation and brainstorming sessions are the most appealing ones. And game releases which are always moments of victory and celebration for all of us 😊
In general, how long does it take to create a Mancala Gaming online slot (or dice slot)?
Considering our current team capacity, slot development could take us around 2-4 months. But it really depends on the complexity of the game and its special features.
Mancala Gaming's growing game catalogue boasts over thirty plus releases. Since you are grossly invested in the slot creation process for every title, do you have a favourite one? If yes, could you tell us a bit more about the game?
It is really hard to pick just one! I would say that every game has its own highlight, but I can tell that I like how Portal Master ended up being. This game became a big creative challenge for all of us from both the idea and development perspective. When you create new unique game mechanics, you should understand that this is going to be something that none of us have done before and that requires a lot of thinking that may even lead to failing during the creative process. But with each of those challenges, we gain a lot of experience that we later apply and improve on in our future game releases.
Portal Master is a unique product from the mechanics perspective, and I find it very engaging thanks to the progressing system based on the Magic Spheres collection. Another favorite thing about this game is that it expects you to interact and your decisions are going to have an impact on it. I like that sense of complete immersion when I play the game and this is something I find almost hypnotising and mesmerising.
In addition to that, as a person who is dealing with designs and art on a daily basis, I should admit that the game art is definitely pleasing.
We are confident you have many surprises in store for us in 2021, but could you give us a glimpse of the upcoming releases? Is there perhaps a title you are particularly excited to see published?
We will definitely try not to disappoint you! For now, all I can reveal is that one of our upcoming games will be very cute, but with an unexpected shocking plot twist. We can't wait to show it to you!
Thank you for taking the time to talk with Casino Chick! Is there maybe something else that you'd like to share with our ladies? Perhaps a fun fact or interesting behind-the-scenes details that girls who play casino games would like to know?
It was a pleasure to speak with you, Casino Chick!
I tried to share the most exciting insights about Mancala Gaming's work, but of course there is much more to come! We are working on some amazing game titles that will be released very soon, so in case your readers don't want to miss any of them, please follow us on social media and be informed with all the latest news.
Here is a fun fact to share – almost 1/3 of all Mancala Gaming slots have female characters as one of the main game characters, including a rock diva, vampires, mermaid and a ghost!