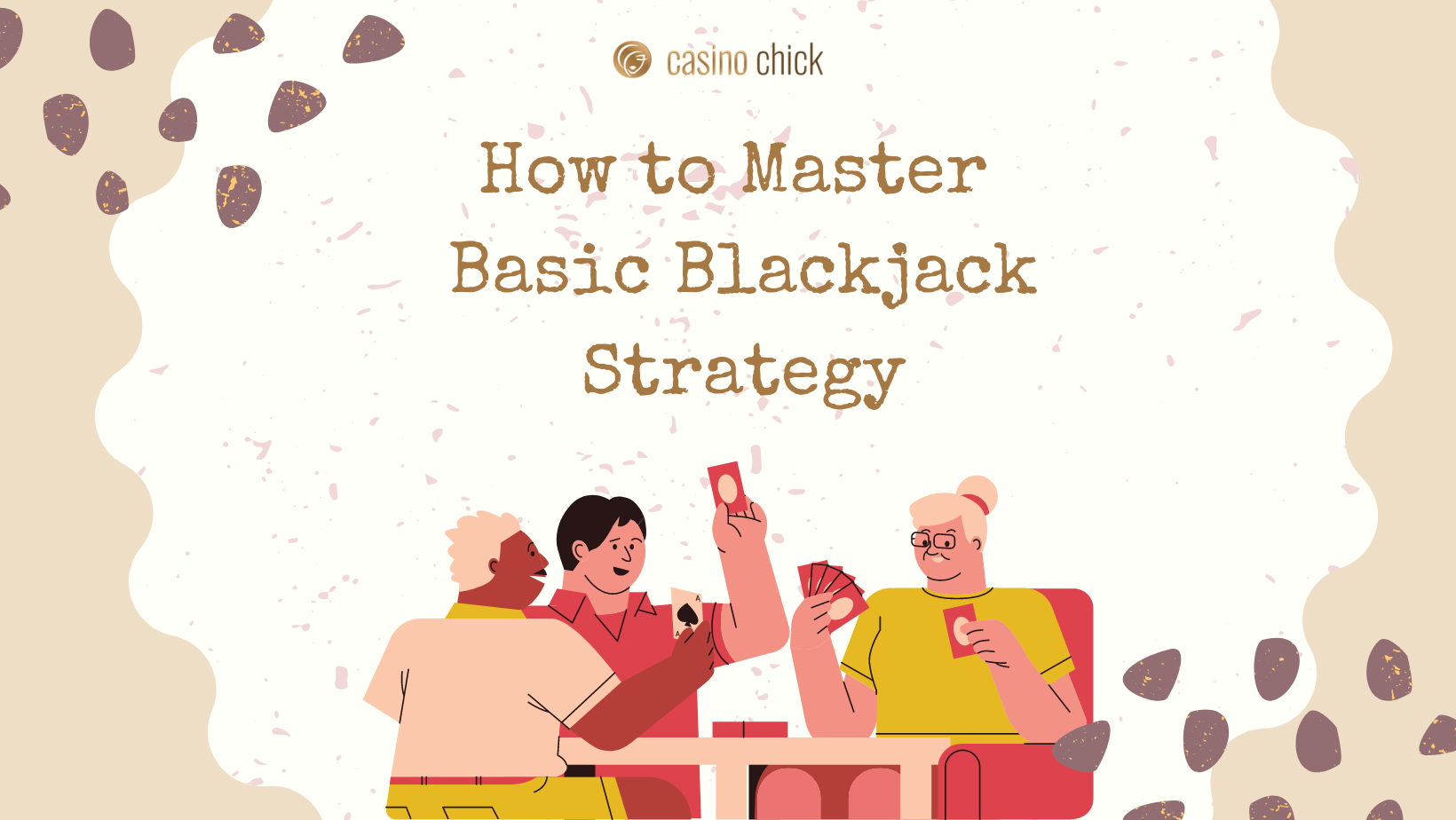 Blackjack is one of the most popular casino card games in both land-based and online casinos. While some casino games like slots or roulette are mostly based on luck, there is a great deal of skill involved in 21 called basic blackjack strategy.
This is because while the outcome of the game does depend on the dealer's hidden card, your actions can influence the outcome to minimize losses and sometimes maximize winnings.
Therefore, there is a set of optimal moves that can be made and situations where your decision matters greatly.
In this article, we'll go over the basics of blackjack strategy and analyze some general tips and optimal decisions in specific situations. While this guide is quite helpful for beginners to the game, advanced players might also find something interesting.
Blackjack Basic Strategy Explained
So what does basic blackjack strategy mean?
Essentially, it is a set of moves that offer the most optimal outcome in any given situation involving your opening cards and the dealer's up card.
Some beginner players can also rely on the basic blackjack strategy chart which outlines all of these moves in all situations. That said, what we will present you today are just some common scenarios where you can make the optimal moves.
Note that basic strategy and the strategy chart is a not a 100% guaranteed way to win.
No, these are just the best possible moves that will help you minimize losses and maximize winnings. They are based on mathematical calculations and statistics that offer the highest percentage win rate for player-dealer card combinations. With that said, the basic strategy for optimal moves does reduce the casino house edge to as low as 0.5%. You can be sure that it will help you earn some extra wins if you are a beginner.
The Blackjack Strategy Chart
This should be the main starting point for most players.
The blackjack strategy chart is widely and publicly available online and in land-based casinos.
Some land-based casinos might even let you bring one to the table. As we mentioned, it outlines the most optimal moves for any given situation. There are variations depending on if you are playing with one deck or 4-8 decks, or when the dealer stands. In any case, following this chart and memorizing it in free online blackjack games for example will be a boon to your win rate.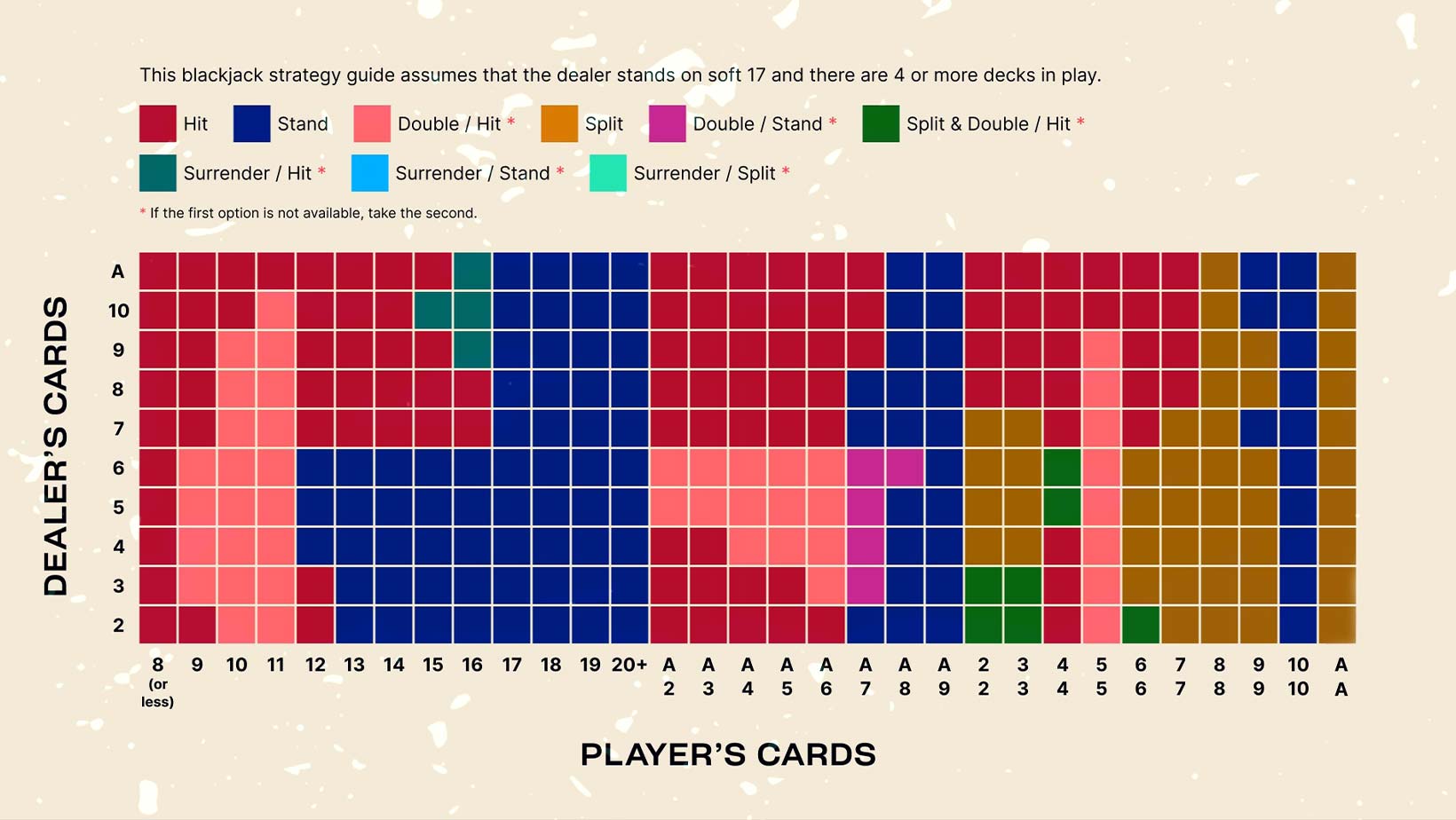 The chart outlines what moves you should take based on your hand sum and the dealer's up card.
It tells you when to hit (H) and stand (S). Furthermore, it also tells you when to capitalize for maximum winnings by splitting (SP) or doubling down (D). However, it can also tell you when the hand favors the dealer so you can surrender (SU/H). It is a useful tool that does not guarantee victory, but certainly improves your game overall.
Now we shall analyze some specific common situations where you can take an optimal move and usually come out on top.
Common Optimal Moves
Remembering when to stand, hit, split, and double is the essence of blackjack strategy. Blackjack experts and mathematicians have come up with a set of optimal moves that build on the blackjack strategy chart. Some of the most common moves you should look out for are listed here:
Standing – It is generally a good idea to stand when your hand sum is anywhere between 12 and 16 when the dealer has a low sum of 2 to 6.
Hitting – When you have a hand of 12 to 16 and the dealer has 7-Ace, it is optimal to hit.
Splitting – You should generally always split Aces and 8s to maximize your winning chances.
Doubling – Capitalize on the situation where your hand sum is 11 versus the dealer's 2-10 by doubling.
As we mentioned, you can practice these moves and the blackjack strategy chart in free online games. This way, you can see the outcomes for yourself and get used to basic strategy. Most online casinos offer playing demo blackjack games for free so you can practice.
Assume the Dealer's Down Card is a 10
The dealer's down card determines the outcome of the game, unless you score a blackjack at most tables where you automatically win the payout.
That is why the basic blackjack strategy tries to guess what that card is and organize your moves around it. Be that as it may, when practicing your game without the chart in hand, you should always assume that down card is a 10.
From here, you can make an educated decision.
There are more 10-value cards in the deck than any other cards because the face cards count as 10s. In a standard 52-card deck, there are 16 10-value cards. Essentially, there is a 31% chance that the dealer's down card is a 10. If you assume this, you can make a better move based on their up card. For example, the dealer's up card is 6 and you can assume that they will get a 16 approximately one in three times. If you in turn have a hard 16, you can assume that the dealer has a total of 16 and they will likely bust if they hit.
Furthermore, this means that you should stand instead of hitting, even though basic strategy would typically recommend hitting in this situation.
Playing with a perfect strategy sometimes relies on your instincts and not always following the chart. You should gauge the situation, especially if you playing with a single deck. Think about how many 10s have been played so far, if the answer is not much then that down card is probably a 10.
Avoid the Insurance Bet When Possible
The Insurance Bet is a move you can take when the dealer's up card is an ace which means they can score blackjack.
The player essentially places a new bet that is half their original one for a chance to win it back in case of dealer blackjack. While it may sound like a good idea, it most often is not. Unless you are an advanced player who is counting cards and is able to predict the next card with accuracy, this is not an optimal side bet to take. You will most likely lose money even if you win the round.
The house has the Insurance Bet in mind and the house advantage is 6% over the player.
Even if you score a blackjack, you will only win your original bet. And in case of a dealer blackjack, it's a push. Overall, this is not a good bet to take for beginner players. You should focus on the game and play optimal moves. Then, once you get better and can start counting cards and predicting the dealer's down card, the Insurance bet might sometimes be an option. Though ultimately, this is quite a rare occurrence.
Start Slow and Do Not Be Distracted by Other Players
One final tip we have for you is to start slow when joining a table.
Place measured small bets to get the lay of the land and see if the dealer is on a winning streak. If you then see that the game is going at a normal pace you can gradually increase your bets.
Keep in mind that you should always manage your bankroll for blackjack betting. Set a budget for yourself that you will not go past. Then split that budget into separate bets that will allow you to play a longer session of the game.
Furthermore, the other player's actions do not influence your game in any way.
This is a common misconception or blackjack myth. Whatever seat you are sitting in or whatever the other players are doing in land-based or online blackjack games has nothing to do with your turn. The other players cannot in any way influence your game so do not be distracted by them. The nature of the blackjack dealer deck is random by design so you will in turn get a random outcome wherever you sit or whatever you or the other players do. Focus on your own moves.
Conclusion
By practicing and mastering the basic blackjack strategy you can greatly improve the outcomes of your game.
No strategy, tip, trick, or advice we have given you today will guarantee a win, but it will allow you to make better decisions.
Blackjack is a game of skill and is all about making the most optimal move at any given time. This is where the blackjack strategy chart can help you start by memorizing moves to minimize losses and maximize wins.
If you follow the optimal blackjack strategy, you will reduce the house advantage to as low as 0.5%. Remember to follow the chart when you can, always assume the dealer's down card is a 10, and remember to split those 8s and Aces.
Finally, feel free to try online blackjack demo games where you can practice and get used to the game without the risk of losing money. We hope this article has been helpful in some way and we cannot wait to show you what else we have in store.