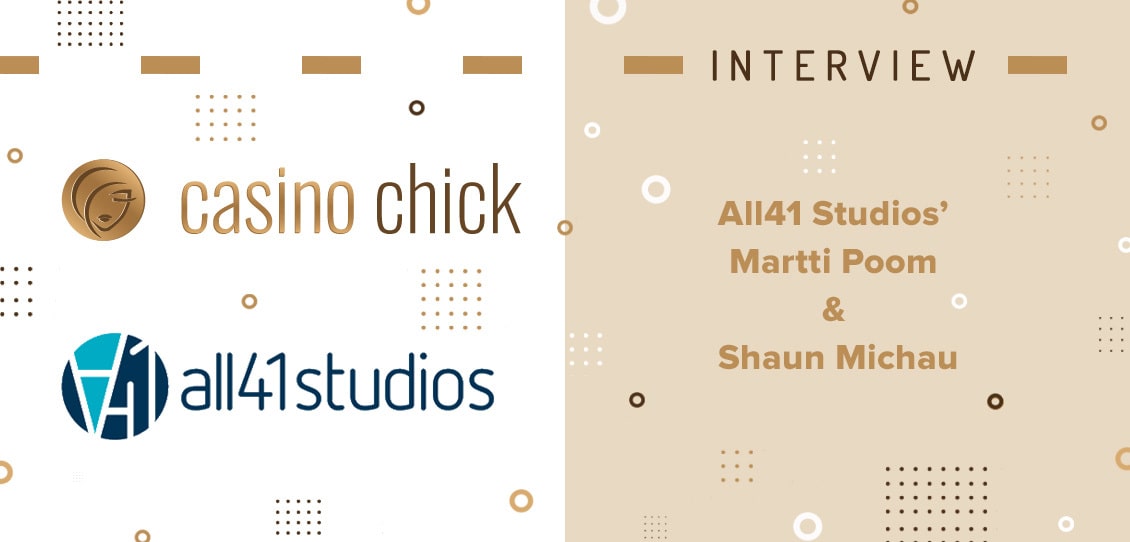 While being a woman-centric gambling-related hub, Casino Chick is no narrow-minded lady. In our articles, we make sure to provide an all-around image of the highly competitive online gaming industry.
In that light, we have spoken to All41 Studios' Martti Poom & Shaun Michau.
Martti works as Art Director, while Shaun's role is as the sound genius. As such, they make a delightful creative team and are a match-made-in-haven when it comes to creating online slots.
In today's piece, Martti and Shaun sit down to give us a sneak peek into All41 Studios' newest slot – WWE Legends: Link&Win™.
Hi, and welcome to CasinoChick.com! We cater to well-rounded news and reports from iGaming and tailor them for female players. You are the first two males to be featured on our website, so we hope you feel welcome. Could you start by introducing yourselves to our readers?
MP: Hi and thank you so much for having us! I'll dive right in with the introduction: I'm a long-time visual artist and lead, and have been working with casino slots for over a decade. I was an art director for slots and table games at Playtech for nearly 10 years before moving to game design movement at OneTouch gaming company. So, I have a lot of experience in building games for a market leading corporation and building up a totally new product from scratch. Both were very fun and full of educational wisdoms. I joined with All41 Studios about half a year ago.
SM: Hello. My name is Shaun and I have been a professional composer and sound designer for over 20 years. I have written scores for theatre productions, documentaries, ads, and children's TV programming. I started designing sound for slot games five years ago and have worked primarily in the land-based arena. I joined All41 Studios just over a year ago and am thoroughly enjoying designing for the online world.
What is your favourite All41 Studio slot?
MP: The very correct answer would be – the next one. But until this point, I think WWE Legends: Link&Win™has been the most complete slot from all sides – how we've combined the brand, game design and sounds within it. It's always fun to work with brands because they have life and storyline in them already; you just add your sugar and spice on top of it. And this time I think we stepped up our game a lot with the sounds; the atmosphere is very realistic compared to the real experience.
SM: I have to agree with Poom– you're only as good as your next project.
I would say WWE Legends: Link&Win™ just because it was such a new arena for me. Creatively, it was a wonderful experience to create a realistic-feeling world that moves and breathes as you play. The brand is so established, and it was my job to retain the integrity of the brand and make the player feel like they are right in the middle of the event.
Another favourite of mine would be Book of Captain Silver. I have always loved the sound of sea shanty music. It has its origins in Irish folk. Again, this was a style that I hadn't written in before, so it was a wonderful challenge to create an authentic sounding soundtrack that makes the player feel like they are onboard a pirate ship.
My aim is to always give the player an experience – to draw them away from reality, to entertain them and make them feel like they are part of the world they are playing in.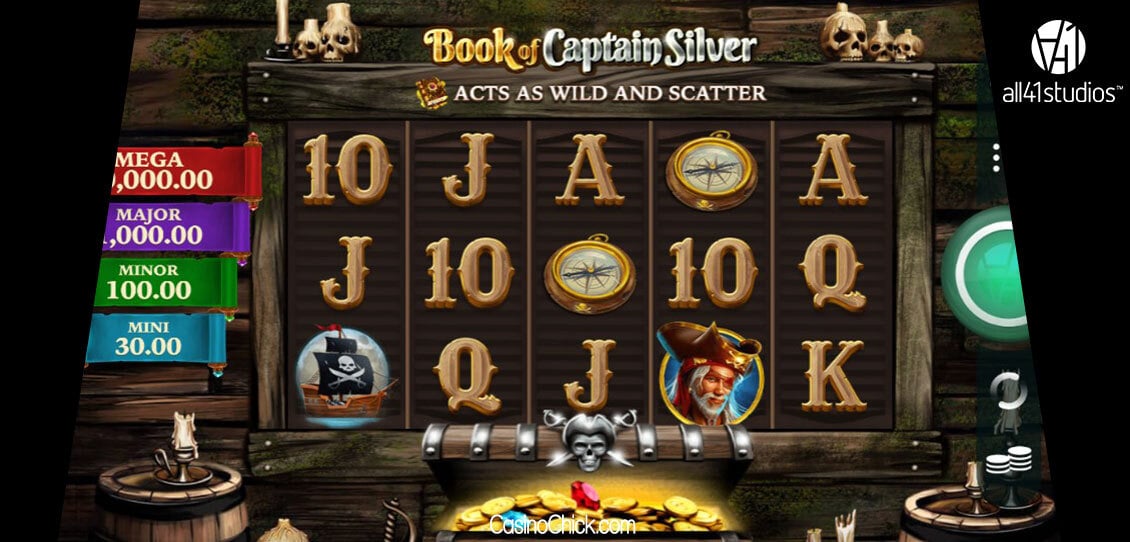 What's your favourite part about your job?
MP: For an art lead, there's always pleasure seeing how you can bend and twist different themes around the slot mechanics – how you can offer a journey through the visual environments, how small details can build up the atmosphere, etc. and, of course, to push the fun side of a very serious product and see the reaction of the players. In short, the best part for me is to witness how imagination becomes a real product within a couple of months.
SM: Getting to write music and design sound every day and call it my living. I love the challenge of always having to be writing and designing in a different style/theme. There is a lot of research and immersion involved. I tend to live in that world while working on each project. Another hugely satisfying part of my job is marrying the sound to the art and animations to make it feel like a cohesive experience. Of course, finally getting to play each game and experiencing it as a player is also greatly satisfying!
Could you describe what making an online slot looks like to our readership? Our girls are curious. 😊
MP: Pure fun to be honest. First, we pass theme ideas around the creative members of the team, then we try to add some extra 'edge' to the concepts, and finally we'll see which of the ideas has the biggest potential to be visualized in the most fun way. So, we may have in the end Terminator Easter Bunny or Giraffe Gods. We move forward with our favourites and move on to sketching, where we are going to get the first bigger picture of how it might end up. Then, when it's approved, the work starts. We start with static design and animations, then it moves along to development who will bring all the images to life. When it's finally done and delivered to operators, we can all be like Victor Frankenstein and go around the office saying, "IT IS ALIVE!". In short, every game is like a small movie where we act, design, animate, make sounds, and put it all together for the audience to enjoy.
SM: From a sound perspective, I always start with research into the theme. I will gather reference material and present the sound direction. Once a direction has been agreed upon by the team, I start sketching a piece of music and create a story. This for me is the most important phase of the project as it gives me a foundation to work from and all music and sounds that follow are based around this sketch. When all the music is written, we implement it into the game to listen to how it flows and if it creates the necessary intended emotions for the player and – most importantly – if it tells a story. The various game sounds are then designed to the music to ensure a cohesive experience. The next step is to implement all the sounds into the game and to ensure that the game feels balanced. Many refinements are made during the development phase to give the game a polished feel.
Regarding the brand-new slot WWE Legends: Link&Win™, what inspired you to focus on this specific theme?
MP: Well, WWE is a huge global entertainment brand. Even if they don't know all the Legends in the slot, they still know the WWE itself. It's full of action and excitement. The storylines around the Superstars and how they mix with each other is like an ongoing movie from year to year. To incorporate all the brand's atmosphere on top of our slot game and features around it, has been a very exciting opportunity for the studio.
SM: The world of WWE has not been realized in a video slot format before. Being the first studio to create a slot for the brand has been a huge honour. The events are hugely entertaining and that was always our mandate in the studio – to get the atmosphere of the game as close as possible to the real thing.
A question for Martti – how difficult was depicting the authentic feeling of WWE?
MP: It wasn't hard at all. One of the first games I ever played on PlayStation was a wrestling game, which my classmate was fanatic about. Thanks to that, I was already familiar with the brand and the sport. The whole vibe and cognition fell into place quite smoothly. The one thing we needed to remind ourselves through the process was that even if we thought we went over the top with the visuals, it still wasn't close enough to the real shows or the atmosphere. So, we took it over our usual level. The Superstars have a god-like status among their audience, and we needed to forward it as best as we could. Through the process we exchangedwith Shaun on our ideas for sounds and graphics a lot and in the end we almost built our own event digitally. Getting positive feedback to that from the WWE brand owners was also a very cool part of it. I can't wait to build another one because the whole project was pure fun.
And Shaun, we love the heavy metal soundtrack. How did you use your skills to simulate the sound of a real fight? What was crucial in recreating such a legendary sport into an online game?
SM: I'm secretly a metal head and got the chance to let down my non-existent hair and shred! The WWE sound is so defined, and each Superstar has their own instantly recognizable entrance theme. I studied these themes and wrote a soundtrack that tried to encapsulate the sound of these legends and era. I started with the drums to get the energy just right for the game (I'm a drummer, so it was thrilling for me to record). The job of the music is to create that blood-pumping, high-energy atmosphere. Another huge part of the energy comes from the crowd sounds. I had to ensure that the crowd felt organic to capture that energy. There are also a few iconic sounds used throughout the game, such as the bell toll sound. The commentator voiceovers really bring the game to life and bring the magic to the game. It was an honour to have worked with WWE on this part of the audio.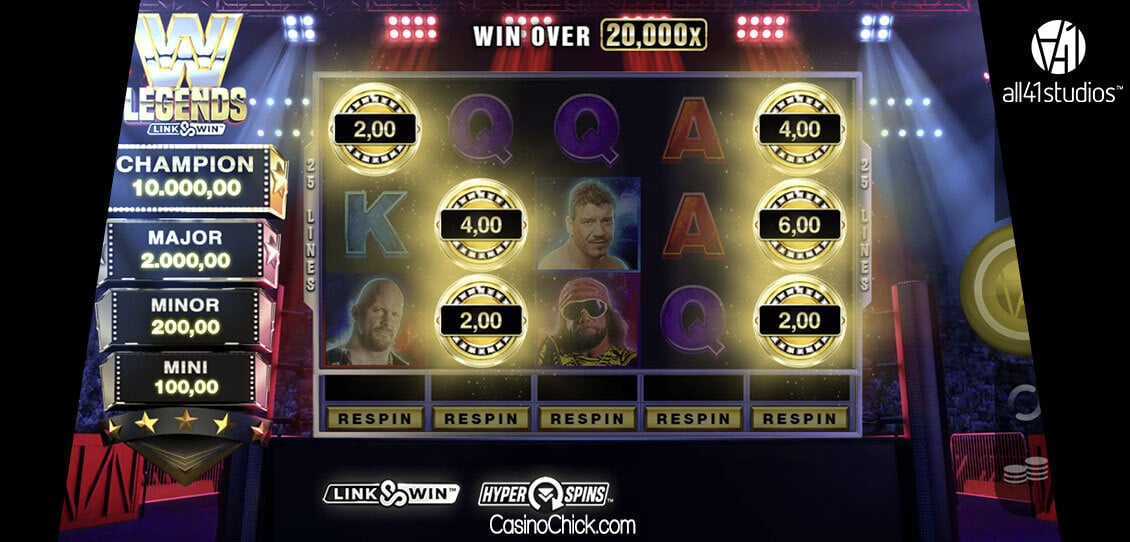 Lastly, is there anything else you'd like to tell our readers? Any upcoming titles coming later this year from All41 Studios?
MP: Just keep your eyes peeled because we have some really interesting and fun stuff coming up; 2022 will most definitely be an exciting year for our product because the developments and innovations we are adding push the games to the next level.
SM: We learn so much with every slot that we create. Our players come first, and I always hope that they can feel how much care goes into our games. This is a passionate team and I'm excited for our upcoming and future releases.
Thank you for your time. It's been a pleasure talking to you, and we hope to host you here again soon!
MP: Thank you! It is an honor to be the first males interviewed by you guys. I hope we managed to maintain the high standards.
SM: Thank you! It has been an honour to talk with you. All the best!