About Maestro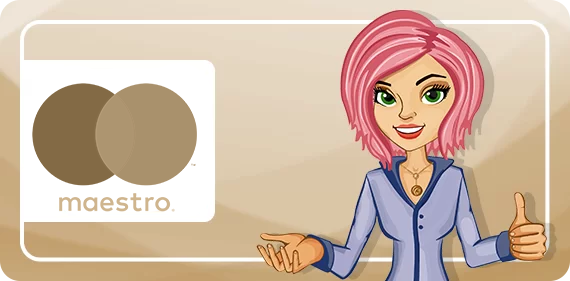 Maestro is a debit card brand issued by Mastercard. According to its parent company, Maestro is the only online PIN-based debit card brand that supports online purchases and ATM cash payouts. Think of it as a classic ATM debit card, only better – as it provides secure access to your cash whenever, wherever you are, alongside giving you the benefit of purchasing items and withdrawing cash in local currency.
It is one of three Mastercard debit card brands, second in popularity only to Mastercard (the third option is Cirrus, the largest ATM network in the world). If you want to use the benefits of debit cards and are reluctant to put faith into credit cards, Maestro is the best option to start from. It's part of one of the most recognizable companies in the world, and supports online and debit card payments in almost every country in the world. It's a no-brainer really, especially if you live in the UK where using regular credit cards at online casino sites is strictly prohibited.
The debit banking service launched in 1991, which translates into over 30 years of experience in the field. By now, millions of happy customers have used Maestro cards issued by their reputable banks. And from what we've seen, the customer base will keep expanding as long as the credit card ban in the UK exists.
How to Make Deposits and Withdrawals with Maestro
To deposit using Maestro cards at online casinos, you need your card and the money stored on it. That's it. The procedure for debit cards is the same as for credit cards, so there's no need to learn complex rules and steps for Maestro casino deposits.
Here is how to deposit with Maestro.
Visit your casino's Banking page.
Start a new deposit request.
Select Maestro as your preferred banking service.
Enter the amount of money you'd like to deposit into your account.
Enter card details, including the card number and expiration date
Confirm the transaction
That should be it. If there are additional steps for security reasons, please follow the instructions so that you can successfully deposit funds at the casino.
HOW TO WITHDRAW WITH MAESTRO
Not all casinos accept Maestro card withdrawals. That's why it is important to have a backup option in mind when heading out to a gambling site online.
In most cases, e-wallets represent the best option as they are both fast and secure Moreover, e-wallets do not incur any fees on the players, so they are suitable for casino cashouts whenever you want. If in any case, the casino happens to offer a withdrawal service, please make sure you trust it completely and that there are no ways the casino could scam you. You can always go for a classic bank transfer, but if you are not living in the UK and you indeed are allowed to use credit cards, we recommend Visa.
Fees & Timeframes
Using Maestro at online casinos is free of charge. Casino websites rarely charge a fee for deposits and withdrawals, so you can always deposit funds without worrying about additional costs.
However, Maestro might pose an issue with fees as you might be forced to pay a small fixed (or percentage) fee for transferring money via this debit card. You can check all fee info right on the Mastercard official website.
As Maestro debit cards rarely facilitate withdrawals, we won't comment on Maestro card withdrawal speed. The only thing that matters is that Maestro debit card deposits are instant and free of charge.
Why Use Maestro
Why not? Maestro is, besides Visa and Mastercard, one of the three most popular debit cards in the world. It's everywhere, and anyone with a bank account can get one if they want.
It belongs to a world-renowned banking brand, it's free, it's safe, and it's fast. Sign us up!
UK casino players are especially big fans because they are no longer able to use credit cards for casino deposits and withdrawals. That's why it was important for them to find a reliable option that can support their casino banking. And guess what? They all confirmed that Maestro debit cards are a superb choice for a casino deposit method!
You cannot always and everywhere initiate withdrawals, which is a huge bummer honestly, but don't let that get you down. It's still a super casino banking service available at most Mastercard online casinos.
Pros and Cons
Widespread and popular

Trusted like Visa and Mastercard

Easy to use
Maestro withdrawals are typically not available